Is Your Dog or Cat a Tripawd Hero?
You might have noticed the new Tripawds Facebook Page cover banner, which features three different Tripawd Heroes.

The dogs and cats spotlighted are from the pages of Tripawd Heroes Volume 1, an inspawrational and informative photo book we created to show the world that it's better to hop on three legs than to limp on four.
The book is available in various formats from the Tripawds Bookstore, or you can personalize your own unique edition featuring your Tripawd's story with his or her photos on the cover and a full page inside, along with stories of 24 other incredible Tripawd Heroes.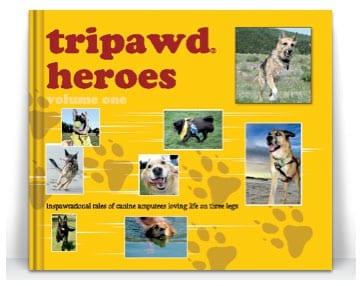 From each new edition of the book that Tripawd pawrents like you order, we will select three lucky Tripawd Heroes to be featured atop the Tripawds Facebook Page. These three featured heroes will change every month. We will post photos and links throughout that month to their blogs or forum topics for details about their amazing stories.
Your Tripawd Can Be an Internet Sensation
Tripawd Heroes Volume 1 is a colorful photo book featuring 25 inspirational dogs and cats loving life on three legs. This informative book is a perfect thank you gift for your veterinary professional, and will definitely help ease the fears of a worried pawrent who reads it in your vet's lobby.
A personalized copy of Tripawd Heroes makes a wonderful keepsake, and a great gift for anyone with a three legged dog!
To order your own custom copy and be considered as a featured hero on the Tripawds Facebook page, please visit the Tripawds Gifts Blog.
Get Free Tripawd Heroes Book Customization!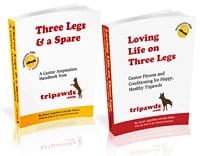 Want us to waive the customization fee for your personalized Tripawd Heroes book? When you purchase the Tripawds Library Bonus Package, you receive two helpful canine amputation resources plus a coupon code for free design of your custom Tripawd Heroes book, among other fun freebies!
With the Tripawds Library, you get both Three Legs and A Spare, and Loving Life on Three Legs, for comprehensive canine amputation recovery and care information. Upon download, you will receive a page filled with bonus material including a coupon code for free Tripawd Heroes book personalization, a free copy of the KillBarney Tour e-book, a Tripawds Etsy Store coupon, and much more!