NOTE: Before contacting us here at Tripawds, please visit the Tripawds Discussion Forums for quick feedback and support from members about cancer in pets or amputation for dogs and cats. Or, download the Tripawds e-books for immediate answers to the most common dog amputation recovery and care questions.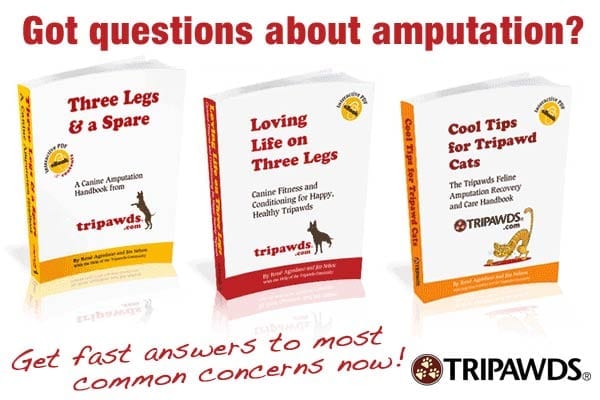 Contact Tripawds
Looking for Be More Dog?
On October 2019, Tripawds founders Rene Agredano and Jim Nelson published their book Be More Dog: Learning to Live in the Now. Please visit bemoredog.net/media to find complete author bios and contact information for media appearances.
Tripawds Email & Social Media:
Contact us directly via email at: jerry (at) tripawds.com
Connect with Tripawds via your favorite social network:
Address:
Please notify us if sending time sensitive material.
Do NOT return products to this address!
Please contact us below for details.
Tripawds
240 Rainbow Dr., #14065
Livingston, TX 77399
Contact the Tripawds Foundation here.
There are many ways you can help keep Tripawds online!
Contact:
Website Administrator and Privacy Representative: Jim Nelson