Tripawds Media Queries
Review the Tripawds media resources below for more information about the Tripawds online pet amputation support community. To request interviews and media appearances with its founders, please contact Rene Agredano and Jim Nelson here.
Jim Nelson & Rene Agredano
Tripawds
240 Rainbow Drive.
#14065
Livingston, TX 77399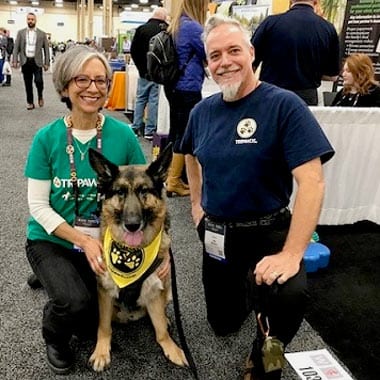 Tripawds Media Resources:

About the Tripawds Community
Tripawds is the largest online support community for amputee pets and their people.
Made possible by the Tripawds Foundation, Tripawds hosts 1500+ three-legged dog and cat blogs, popular discussion forums, a live chat, and numerous free resources for pet parents facing amputation for their beloved family pets. Start here for an overview of all Tripawds resources.
History of Tripawds
Jim Nelson coined the term "Tripawds" and registered the tripawds.com domain in late 2006 after his dog Jerry had a forelimb amputated due to canine bone cancer. He and his wife Rene Agredano first started their Tripawds Blog as a way to document Jerry's treatment plan and share his progress with friends and family. As the blog's readership grew, the couple installed discussion forums to provide a platform for anyone to share the stories of their own three legged dogs and ask each other questions related to pet amputation recovery and care. Later, a live chat room was added and Nelson developed the Tripawds Blogs network to host free three-legged dog and cat blogs for members. Since then, the Tripawds Community has grown to be the largest online support community for amputee pets and their people. Veterinarians around the world frequently refer amputation clients to Tripawds for information and emotional support.
In 2007, Nelson and Agredano sold their house, nearly everything they owned, and their home based business in Eureka, California. They purchased a fifth wheel trailer and new truck, and six months after Jerry's amputation, they left Eureka, California to travel country enjoying the remaining time they had together while blogging about their adventures. Jerry succumbed to cancer on October 3, 2008 after beating the odds he was given at diagnosis for nearly two years. In the summer of 2009 they adopted Wyatt Ray, a three legged German Shepherd puppy from German Shepherd Rescue of Northern California. By 2020, Wyatt was still traveling with them as the official Tripawds spokesdog and appearing with them at special events around the United States.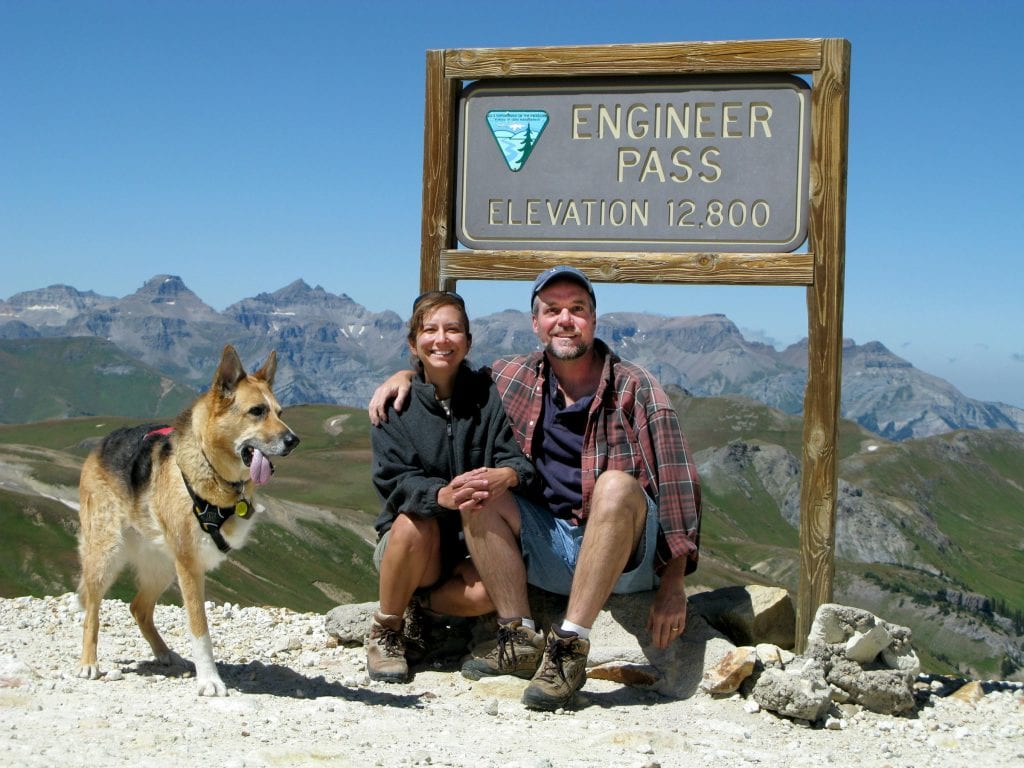 In February, 2009, Nelson and Agredano were featured in the PBS: Nature episode "Why We Love Cats and Dogs." The program delves into the bond created between people and their pets, with Nelson and Agredano illustrating the lengths people will go to for the love of a dog.
Nelson and Agredano launched the Tripawd Talk Radio podcast in 2011 and continues to interview orthopedic surgeons, oncologists, and other veterinary experts. The couple presented a keynote address during the 2012 Greyhounds Rock canine cancer conference in Fredericksburg, Virginia. The talk, entitled "Be More Dog" addressed various recommendations for coping with a dog's limb cancer diagnosis. During a 2012 pet blogging conference, Nelson was interviewed for a segment on the Hallmark Channel's "Who Let The Dogs Out" television program.
On October 3, 2019 Nelson and Agredano published their first memoir, Be More Dog: Learning to Live in the Now. The book documents their travels with Jerry, and the many lessons he taught them during their first two years traveling the country with him. Featuring a foreword and original title panel illustration by MUTTS comics creator Patrick McDonnell, Be More Dog was ranked a #1 New Release in Travel With Pets and Veterinary Surgery by Amazon. The book also describes how they found their purpose, and turned their passion into a full-time labor of love by serving others. The subtitle sums it up: Enjoying Every Day to the Fullest on the Road to Happiness.
Tripawds Foundation
In 2014, Nelson and Agredano formed the Tripawds Foundation 501c3 public charity to support the many free pet amputation resources and fund various direct assistance programs. The Foundation serves to maintain an educational forum for concerned pet parents, as well as a resource for animal organizations and shelters with needs related to amputee animals.
The foundation's ASAP fund offers financial assistance for canine or feline amputation surgery. The Maggie Moo Fund provides free rehabilitation services three-legged dogs and cats. The Tripawds Foundation also hosts the toll-free Tripawds Helpline hosted by volunteers who provide information and support during the difficult time when coping with a cancer diagnosis or amputation for their pets.
The Tripawds Foundation exhibited at its first veterinary industry conference in 2016 at the American Animal Hospital Association annual meeting in Austin, Texas. The foundation has since exhibited multiple times at the Western Veterinary Conference and other conferences to inform veterinarians and technicians about the many resources and assistance programs available to pet amputation clients.

Tripawds Publications
Tripawds e-books are the only comprehensive pet amputation recovery and care guides for helping three legged cats and dogs. Be More Dog tells the story of Jerry and how the Tripawds community came to be.
The first canine amputation recovery and care handbook.
Rehab, conditioning, and other considerations for keeping three-legged dogs fit and strong.
The first feline amputation recovery and care handbook.
Download the Be More Dog Media Sheet for an overview, book details, author talking points, audience demographics, and contact information.
Title: Be More Dog: Learning to Live in the Now
Authors: Rene Agredano and Jim Nelson
Publication date: 3 October 2019
Publisher: Agreda Communications
ISBN (Print): 978-1-7334689-0-9 (US)
—Retail price: $14.95
ISBN (Ebook): 978-1-7334689-1-6 (US)
—Retail price: $4.99
Available In: e-book | perfect bound
Genre / Categories:
1. Non-fiction/ Pets / Dogs / General
2. Non-fiction / Travel / Road Travel
3. Non-fiction / Spirit Mind and Body / General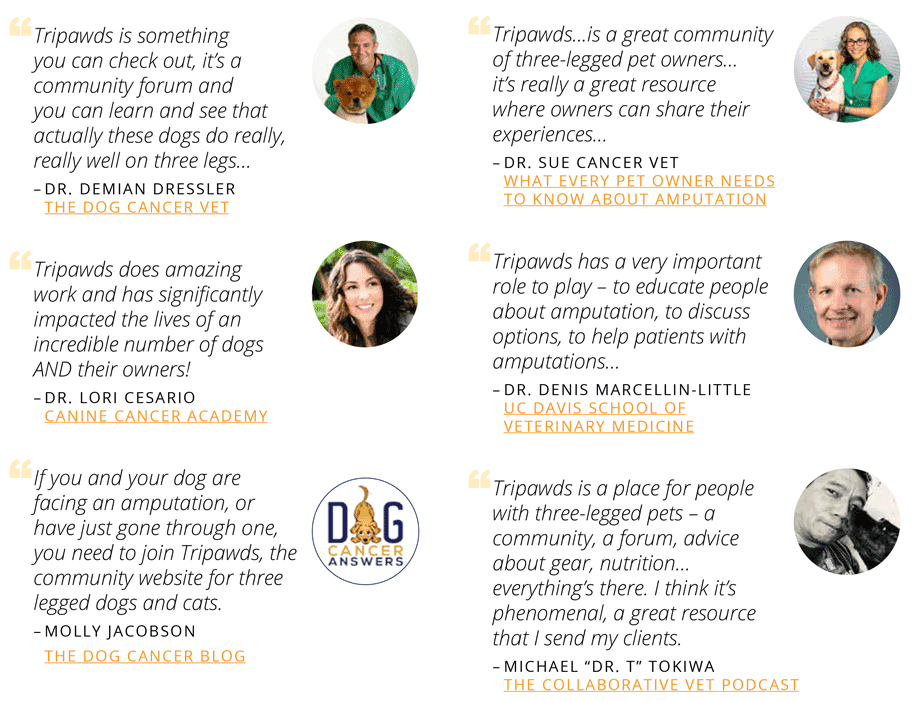 Tripawds Founders Media Appearances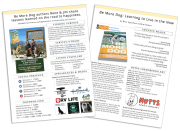 To inquire about appearances or author interviews for your publication, blog, news station, or podcast, please contact Rene and Jim directly with details about your audience.
Prior Television & Radio Appearances:
Published Articles and Book Reviews:
Popular Podcast Appearances:
Photos for Tripawds Media Use
These Tripawds media photos are free to download and re-use for profile articles, book reviews and announcements. Please credit Tripawds as the photographer, and send notification with link or publication title whenever shared online or in print. Click to enlarge and save high-resolution files.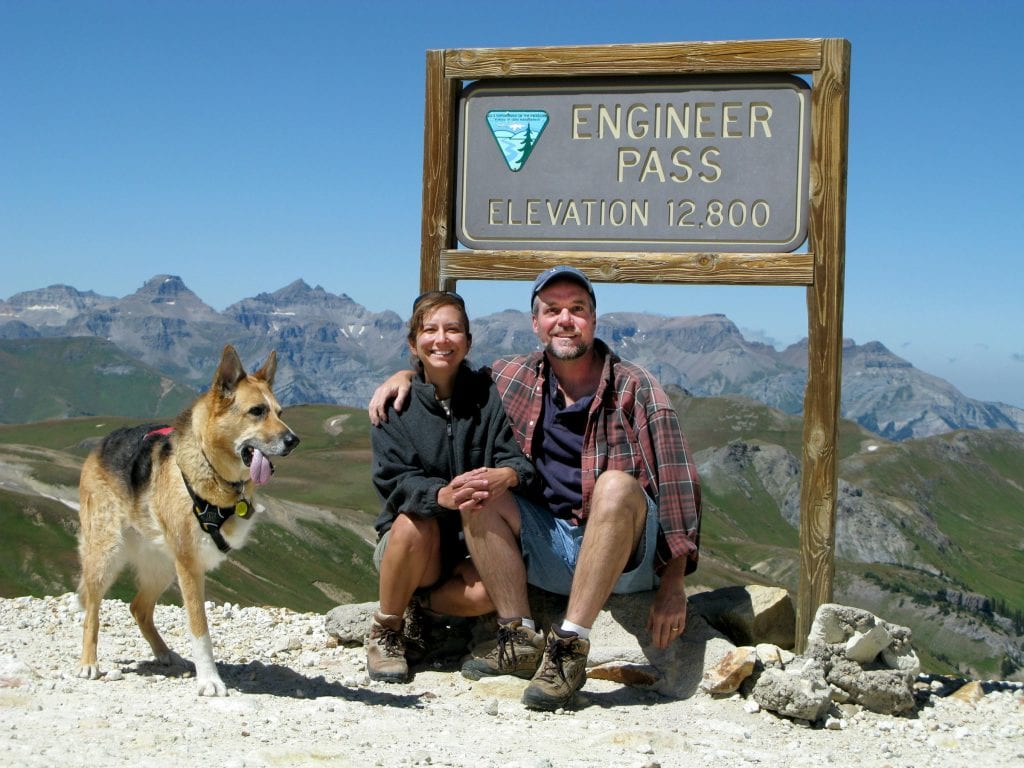 ROW 1:
Jim, Rene, and Jerry – September 2008
Jerry in PBS Nature Production – 2009
Nature: Why We Love Cats and Dogs – 2009
Jim and Rene, on the road with Jerry
ROW 2:
Jim and Rene, on the road with Wyatt
Jim, Rene, and Wyatt
Jim Nelson
Rene Agredano
ROW 3:
Be More Dog Book
Be More Dog Book
Be More Dog Front Cover
Be More Dog Back Cover
ROW 4:
Three Legs and A Spare E-book
Loving Life on Three Legs E-book
Cool Tips for Tripawd Cats E-book
Tripawds Logo
Tripawds Founder Bios
Please feel free to use these author biographies when writing articles about Tripawds or publishing Be More Dog book reviews and announcements. (Additional Be More Dog Media Resources)
50 word bio
Jim Nelson and Rene Agredano bought an RV in 2007 to travel with their dog Jerry after he lost a leg to cancer. Their journey inspired them to create Tripawds, the animal amputee support community. In 2019, they published their story, Be More Dog: Learning to Live in the Now.
150 word bio
Jim Nelson and Rene Agredano live and work from the road in their RV. Their nomadic life began in 2007 when they sold their home, business and nearly everything they owned to travel the country full-time with their terminally-ill dog, Jerry.

Given just a few months to live after his leg amputation due to bone cancer, Jerry defied the odds and loved life on three legs for two years. That bittersweet journey inspired the couple to create Tripawds.com, the world's largest online support community for three-legged pets and their people. In 2014 they formed the non-profit Tripawds Foundation to assist amputee pets and their people everywhere. Their 2019 memoir, Be More Dog: Learning to Live in the Now tells the full story, and was ranked a #1 New Release in both Travel with Pets and Veterinary Surgery categries by Amazon. The couple continues to document their full-time travels at LiveWorkDream.com.
"What a treasure trove of information and support you have created here! It's an excellent resource, I'm very glad to have found you all!" –rh3anon

"I am deeply impressed that people over here are so nice and knowledgeable! " –ame0307

I feel great comfort from reading all these messages, thank you for all the support. The more I read and the more videos I watch, the more settled I feel. –kathryn84
Follow Tripawds Everywhere!
Social Proof for Tripawds Media Notability
Tripawds members frequently post praise for the community support and resources in the discussion forums. Tripawds social media fans and followers enjoy more support and inspiration via Facebook, Twitter and other popular platforms.
FACEBOOK: @tripawds // 23,700+
TWITTER: @tripawds // 4,300+
INSTAGRAM: @tripawdscommunity // 9,650+
YOUTUBE: @tripawds // 1,500+
"Rene and Jim: First of all thank you for starting this much needed community. I do not know how I would of gotten through the last year without you." —brownie1201

"I really just wanted to say thank you! My husband and I have found this site incredibly valuable, for stories to products." —lukethebloodhound

"Thank you to everyone on this amazing site! It is so helpful to know that I have a place to go where people understand." —kkillionmeuller

"The last 3 weeks have been a roller coaster and I couldn't have gotten through it without all of you." —Jo & Horace

"I am tearing up as I respond, it's so nice to have found a community like this as I've felt so alone." —jezebel

"First of all, I absolutely love this site. It's helped tremendously with this new journey of continuing life with my pup as a Tripawd." —romythetripawd

"I have been spending a lot of time on the Tripawds website and forums. It has been a godsend." —kathryn

"It gives me comfort to read each and every response of this Tripawds family, this is an awesome community and I am so thankful and lucky to have found you guys." —yaya

Tripawds.com Statistics and Demographics
Registered Members:  21,300+
Hosted Member Blogs:  2,050+
Monthly Pageviews: 97,900+
Monthly Unique Visitors: 27,500+
Gender: Female (72%) Male (28%)
Geography: US (76%) UK (8%) CA (6%) OTHER (10%)
Contact Jim and Rene with Tripawds Media Queries
Please include details about your target audience and show statistics when requesting podcast interviews with Tripawds founders and Be More Dog authors Jim Nelson and Rene Agredano.