Prepare to be inspired as a member of the Tripawds community! Sign up today and join our Tripawds three legged dogs and cats blogs to share the story of your amputee hero. It's simple. It's fast. And best of all, it's free!
TRIPAWD information relating to animal and pet breeding, selection, grooming, feeding and nutrition is the resource that you can trust.
The Tripawds Community Inspires!
Register as member now and create your blog at the same time.
If you are already a Tripawds member, simply make sure you are logged in and add a blog to your account.
Your blog will appear online at yourblogname.tripawds.com. Then it will automatically become part of our growing network of more than 1,500 Tripawds Three Legged Dog and Cat Blogs.
Why Make a Tripawds Blog?
Join Tripawds today to become part of our network of amputee pets blogs, discussion forums, private messaging, a live chat room and more!
As part of the world's best amputee pets community, you can start a Tripawds Blog! It's so much better than a Facebook or Instagram page. We offer THE best way to share your pet's story forever. New members can search and easily find it, and your pet's story will give hope and inspawration to others who are scared and looking for help.
Already have a WordPress or Blogger blog? Easily import existing posts and pages!
Create your free Tripawds community account to receive an email with log-in details. Then:
Chronicle your pet's journey and pour out your emotions in a blog.
Upload photos on your blog or in our Discussion Forums
Add multiple users to your blog so the whole family can participate.
Visit the Tripawds technical support discussion forum, and watch our tutorial videos for help getting started
Upgrade to a Premium account for personal assistance from our own Admin Guy
We will never share your personal information and basic accounts are absolutely Free!
For a small fee to help offset the costs of digital storage, Tripawds Supporters get extra features to make the most of their blog.

Make your blog better. Become a Tripawds Supporter!
| | | | | |
| --- | --- | --- | --- | --- |
| Tripawds Blogs | Free | Supporter | Supporter II | Supporter III |
| Banner Ads on Blog | | | | |
| Disable Ads on Other Tripawds Blogs | | (5) | (10) | (25) |
| Basic Comment Spam Protection | | | | |
| Enhanced Spam Protection | | | | |
| Subscriptions to Blog Comments | | | | |
| Simple Contact Form Creation | | | | |
| Enhanced Video Embedding | | | | |
| Search Engine Optimization | | | | |
| Subscribe to Blog by Email | | | | |
| Blog Statistics & Shortlinks | | | | |
| Premium Blog Theme Selection | | | | |
| Personal Tech Support | | | | |
| Upload Space | 100 MB | 500 MB | 1 GB | 2 GB |
| Cost | FREE | $25 / year | $49 / year | $129 / year |
Explore the World's Best Support Community for Three Legged Dogs and Cats!
About the Tripawds Foundation
Subscribe to Tripawds News
Stay informed with email updates from the Tripawds community! Receive the latest news, popular blog posts, hot forum topics, and informative articles from the archives. Unsubscribe anytime and keep a Tripawds Esty Store coupon!
Tripawds News
Subscribe to receive Tripawds News to get a free copy of Tripawd Heroes e-book and Etsy Store coupon!
Meet our Chief Fun Officer, Jerry G. Dawg
Hi, I am Jerry G. Dawg, and in 2006, when I was eight years old, I was diagnosed with terminal bone cancer. Doctors amputated my leg in order to give me more quality time. My parents, Jim and René, were emotionally devastated. They didn't know anything about canine cancer, amputation surgery or tripod dogs, so they started blogging and making movies about my life as a way to cope.
Doctors only gave me four months to live. But I didn't care, because time means nothing to us dogs. Living for the moment is all that matters, so I decided to show my people how to Be More Dog.
In June, 2007, we hit the road to travel North America in our RV. Mom and Dad drove me 30,000+ miles, inspiring people from California to Maine to Florida, by showing them how awesome three legged dogs can be. Together, we spread the word that "It's better to hop on three legs than limp on four!"™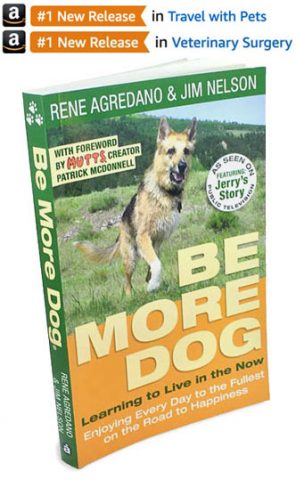 My people and I had an incredible ride together, until October 3, 2008, when I earned my angel wings under beautiful Montana skies — almost two years past my diagnosis. Although I no longer hop on this earth, my spirit lives on forever through this website and discussion forums for three legged pets and their people.
In 2009, PBS first aired the Nature episode, Why We Love Cats and Dogs. This show depicts the bonds people develop with their animals. It featured my travels with my people—Jim Nelson and René Agredano who founded this site after my cancer diagnosis to help others cope with the difficult decisions they faced.
Today, my people continue our mission to support those facing a cancer diagnosis or amputation for their dogs and cats. Between 2009 and 2020, Tripawds spokespup Wyatt Ray Dawg carried on my legacy from coast-to-coast.
Now, you can help carry on the inspawrational legacy of courageous Tripawds past and present. Share the amazing story of your own three legged hero. Sign up for your own blog and get started today!
Who are Jim and Rene?
Jerry was the Chief Fun Officer of Agreda Communications, the marketing firm founded by Jim Nelson and René Agredano. He was the original inspiration behind Tripawds, and the primary reason they sold everything they owned in 2007 to travel the country together with him in an RV, as featured in Nature: Why We Love Cats and Dogs.