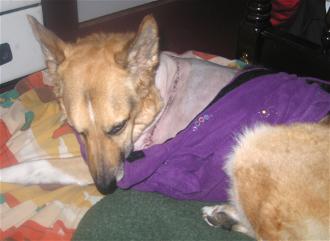 It may not look so much like it but I am really glad to be home, even if there are no turkey leftovers this year. I can tell Jim and Rene are happy that we're all finally home too!
They took more pictures of me but you'll have to check out the Photo Album to see the gory ones. Rene thinks they're gross, and she wouldn't even let Jim get a copy of the CT scan from Dr Stipnik … she said he was kind enough to go in to the hospital on Thanksgiving day to discharge me so I could come home.
The scar may look bad but I sure like it. You should've seen the mass they took out with my leg. It was huge!

I guess the scan showed such a deformation of my shoulder that Jim and Rene were quite surprised. They never noticed by looking at me, but they couldn't have. This thing was growing inward and pressing against my spine and lungs. No wonder I was in so much pain and panting all the time.
The Doc was concerned about not being able to get all of the tumor after seeing the CT scan. But he later told Jim and Rene that it had a pretty clear definition from my good body tissue.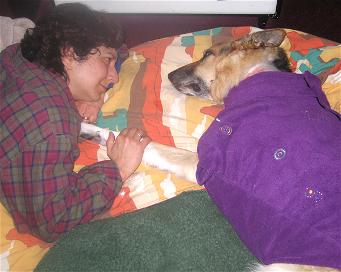 He's confident he got as much of it as possible. He discussed how the scans of my lungs looked good, but that the cancer has probably already spread in microscopic form. He's also confident, however, that this surgery will make me much more comfortable. In fact, my blood pressure was actually low for a dog in my condition.
Doctor Stipnik also explained, however, that my surgery will not change my prognosis of three to six months — whatever that means. Rene and Jim talked with him about all sorts of herbal remedies, chemotherapy treatments, dietary supplements, and a bunch of other stuff while I sat there waiting to see them so we could just finally go home. They discussed how all dog patients are different, and they mentioned some cool "Wonder Dogs" who'd I'd like to meet.
I'm basically just glad to be feeling so much better now. I can get around alright. it's just a bit awkard. And tiring. I'm mostly resting and soaking up all the love. My people tend to personify me though. They say I look a bit confused and bored. They may be right.