Tripawds Founders Featured on PBS!
Nature's Why We Love Cats and Dogs premiered nationwide on all PBS stations February 15th, 2009. But the episode continues to run once in a while, so check your local PBS listings
If you're new here and asking, "So what?" … this was a big deal for us here at tripawds.com because this episode of Nature features me and my pack on the road sharing that incredible bond which only true animal lovers can understand.
Check it out and tell a friend! Watch the episode online or get Why We Love Cats and Dogs on DVD at Amazon.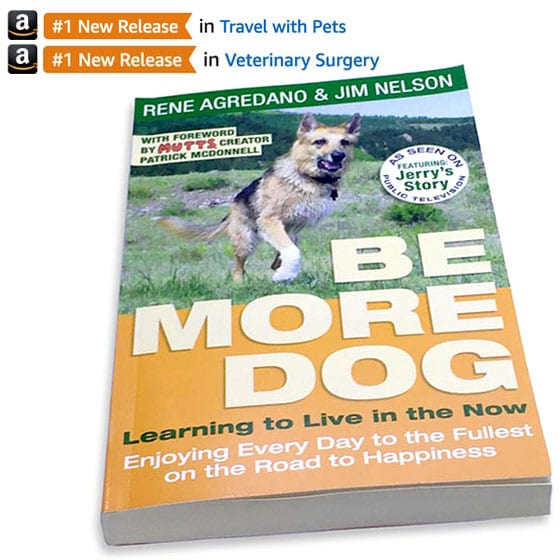 Get the Full Story
In October, 2019 – on the eleven year anniversary of Jerry's passing – Rene and Jim published their book that tells the entire story, from the beginning. Discover how the they bought an RV to travel the country with Jerry after his amputation, and the many lessons they learned from their three legged co-pilot those first couple years on the road, in Be More Dog: Learning to Live in the Now.
Featuring the foreword by MUTTS creator Patrick McDonnell, readers will enjoy his original title panel illustration, and discover the NOW! NOW! NOW! strip that touched Jim and Rene, right when they needed it most.