I joined my people – in spirit and on stage – as they helped launch Nature's Why We Love Cats and Dogs at the recent TCA Press Conference. The event turned out to be a bigger deal than they expected, but then they really had no idea what to expect.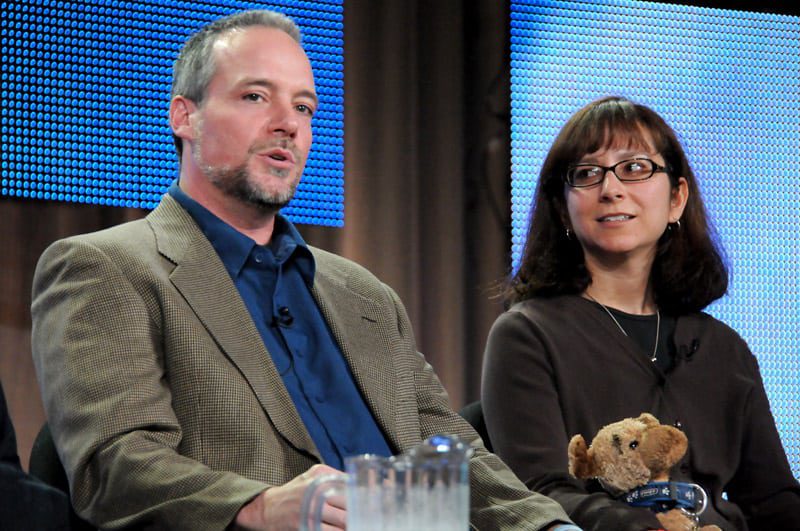 Jim and René sat on a big stage under bright lights with the program producer Ellen Goosenburg Kent, animal behavior expert Sarah Wilson, and PBS executive director William Grant; and I sat on their laps. After being introduced by WNET's vice president of content, they walked on stage while a trailer played on huge screens.
Watch Nature's Why We Love Cats And Dogs February 15, 2009 at 8:00 p.m. (Check local PBS listings for station and time.)
When the lights came up on a ballroom full of reporters, the questions began immediately. How did you decide to sell your home and travel in an RV? How old was Jerry? How'd he lose his leg? Is he still with you? Will you get another dog? Are you still traveling in your RV?
It was all over in an instant. Or so it seemed. But there were plenty of cat questions too. And questions about therapy dogs, animal shelters, and Obama's dog.
It was strange seeing me larger than life, in front of such an audience, but luckily they were finally able to see the finished program the night before in their hotel room – good thing they brought a laptop! It blew away all of their expectations, but again, they had no idea what to expect.
By no means is the show all about me. It consists of interviews with dozens of pet owners – cat people, dog people, and those who love both. We hear from animal behavior experts who help explain Why We Love Cats and Dogs. The program delves into the relationship we share with our animals, and they share with each other. My story is but one of many touching human / animal bonds.
There is the cat who saved an alcoholic's life. The woman who broke up with her boyfriend because she couldn't love him like she loved her dog. And many more. There is even some science explained behind cat agility training. Yes, cat agility!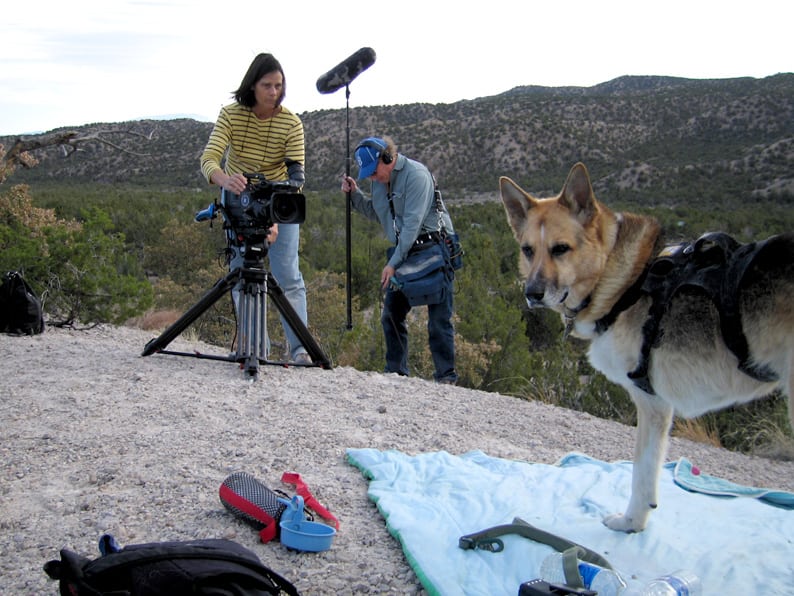 Two segments feature me in my element – out in the woods with my people, and at my first oncology visit where Dr. Mullins discussed treatment options.
The Nature crew followed us around for a couple days and got to see how I loved life on three legs, and how my people loved life with me.
We are honored that PBS chose us for this program, and that they chose this program to promote the upcoming season of Nature. So mark your calendars and stay tuned for more details.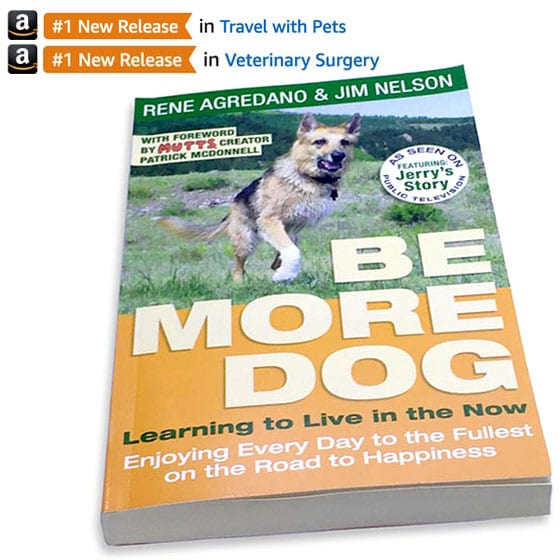 UPDATE: Get the Full Story
In October, 2019 – on the eleven year anniversary of Jerry's passing – Rene and Jim published their book that tells the entire story, from the beginning. Discover how the they bought an RV to travel the country with Jerry after his amputation, and the many lessons they learned from their three legged co-pilot those first couple years on the road, in Be More Dog: Learning to Live in the Now.
Featuring the foreword by MUTTS creator Patrick McDonnell, readers will enjoy his original title panel illustration, and discover the NOW! NOW! NOW! strip that touched Jim and Rene, right when they needed it most.