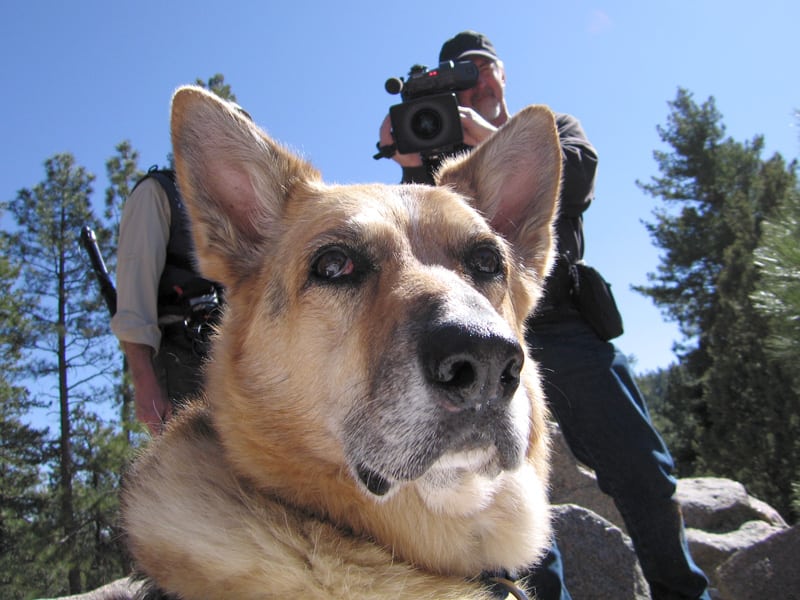 When I was being filmed for the PBS Nature show "Why We Love Cats and Dogs" the show's producer told us about another documentary she was working on.
It was a story about desert dogs that U.S. soldiers had bonded with while on duty in Iraq, even though the military has a "no pets" rule for deployed soldiers. Her movie is called "No Dog Left Behind," and it shows on the Military Channel network (scroll down for a preview).
One of the Iraq war dogs featured in this documentary was Nubs. He isn't a Tripawd, but Nubs is a real hero to us, and we love his adorable book!
Wild packs of dogs roam everywhere in the dangerous deserts of Iraq, living short, brutal lives. But one special dog found refuge with a lonely soldier named Major Brian Dennis.
Nubs didn't care about the military's "no pets" rule. He stuck around, and showed this soldier and all who encountered him that love, faithfulness and companionship will always prevail, even during wartime.
When Major Dennis' troops had to move over 70 miles away and the military gave strict orders to get rid of Nubs, our four legged hero ignored that command. This brave, formerly abused wild dog set out in freezing weather and dangerous wartime conditions to find his brokenhearted best friend.
Nubs' book, "Nubs: The True Story of a Mutt, a Marine & a Miracle" is now in print. We received a review copy, and loved this book from cover to cover. Although it's written for kids, the colorful photos and graphics make the story an entertaining read for adults too.
Nubs book can be purchased here. Remember, every purchase made through this link helps support Tripawds' efforts to keep our community online!
This dynamic duo are world famous celebrities now, making public appearances everywhere, like on the Today Show:
[youtube]http://www.youtube.com/watch?v=GZc4Jks_f_Q[/youtube]
Meanwhile, if you have cable or satellite television, you can see an in depth version of Nubs' story, in "No Dog Left Behind."
[youtube]http://www.youtube.com/watch?v=lM0DEGMT4ds[/youtube]