Scroll Down to Chat Now
You must be a Tripawds member to join the live chat below. If you do not see the chat room, please register for your free account or log in to chat now.
Help Tripawds Everywhere!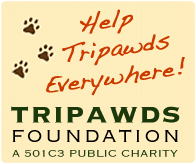 Help all amputee pets and their people with a charitable contribution to the Tripawds Foundation.
FYI: Post a comment to let others know you are here! If no Online Members are listed, nopawdy is home. Post in the forums for more helpful feedback from members.
Current Tripawds Time: January 22, 2019 5:09 pm U.S./MST, GMT-7 (Refresh to update.)
Nopawdy Home?
Help Keep Tripawds Online!

If you find this site helpful, please support the Tripawds Foundation to keep the blogs, forums and live chat online and free to use. Your charitable contributions will help us help amputee pets and their people everywhere!