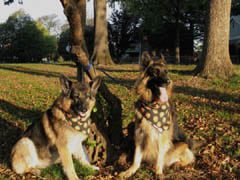 Recently, New York resident Yvonne Gonski wrote to us after watching the PBS show we were featured in, called Why We Love Cats and Dogs. She was moved by Jerry's story, and wanted to share her own experience with Prana, her amazing nearly fifteen year old German Shepherd girl.
Sadly, Prana recently passed away after a courageous battle with pneumonia. She will be missed dearly. Her Mom wrote this great post for us, before Prana went to the Bridge. We publish this story in tribute to this amazing girl. May her spirit fly free.
Here is Prana's inspawrational tale . . .
If you're wondering what the secret is to ensuring a long healthy life for your dog, Yvonne Gonski has two words: "raw foods." And although many of you Tripawds are battling cancer and might be avoiding raw foods right now, we thought your pawrents still might find these general concepts about home made dog diets to be useful.
"I have been raising German Shepherd dogs for the past 28 years. My journey of learning to provide my dogs with alternate methods of care began 15 years ago, following the passing of my three male German Shepherds.Although two of them died from age related conditions, I started to question the commercially prepared food I was giving them and the conventional vaccines and medications they received over the years.
One of the books that got me started was The Complete Herbal Handbook for the Dog and Cat, by Juliette de Bairacli Levy A strong advocate of a raw foods diet and the use of herbs to treat most canine diseases, she bred Afghan Hounds for over fifty years.
Her lines are virtually disease free and many of her dogs typically lived into their twenties. Her book has become my bible for feeding and treating my dogs with herbs when they are ill.
What Does Prana and Vahana's Raw Diet Look Like?
Following her guidelines and recommendations, I feed my dogs raw meat, using:
leg of lamb
turkey
lean beef, including calves liver
For the morning meals I use a combination of:
rolled organic oats
rye and barley flakes
some cooked brown rice or bulgur wheat
ground nuts and/or seeds (flax, sunflower)
grape nuts cereal
small amount of grated white cheese with a tablespoon of flax seed oil
On two nights per week, my dogs get a rest from meat and get a semi-vegetarian meal including:
tuna fish
wild salmon with brown rice
organic sweet potato or beans, which I break up in a food processor.
One day a week, they get a complete fast with only water or honey mixed in water.
Fasting is extremely important as it gives the body a rest and allows it to remove toxins that accumulate over time. On their fasting day they receive antiseptic herbs, which help to remove toxins from the body.
My Shepherds have done extremely well on this diet. My older bitch, Prana is 14 years old, going on fifteen. Vahana, her sibling, is going on seven. With all of the physical problems and illnesses Prana has encountered over the years, I attribute the raw foods diet to her longevity.
Raw Diet and Natural Healing Mentors
I have encountered many teachers along this journey, two of which I will always be indebted. I learned of Marina Zacharias through an ad she once placed in "The German Shepherd Review," published by The German Shepherd Dog Club of America. Marina has a web site www.naturalrearing.com where she sells supplements, homeopathic remedies, glandular products and the herbal line developed by Juliet Levy who I mentioned above. Marina is very knowledgeable in most canine disorders and is always available to help her clients through difficult times. She once helped me with one of my dogs who was gravely ill when no other vet could.
Marina is the one who referred me to Dr. Marty Goldstein when my Shepherd, Prana, was a year old and was exhibiting signs of some serious hormonal disorders. Some readers of this site may already be familiar with Dr. Marty Goldstein, who has a practice, Smith Ridge Veterinary Center in South Salem, New York. "Dr. Marty," as he is known to his clientele, is God's gift to the veterinary profession. He had the courage and the audacity to practice "outside the box."
When I first brought Prana up to see him in August of 1995, he told me the most poignant thing I have ever heard from any clinician, human or veterinary. He said "look, I can't heal her, only she knows how to heal herself. I can give her supplements to stabilize the organ systems in her body, but only she knows how to heal herself."
It took a while for this to sink in, but with all the literature he provided and many discussions over the years, Dr. Marty has taught me all I know about veterinary medicine. He taught me to look at disease in a different way. He placed Prana on a program of various supplements, glandulars, homeopathic remedies and one day, after seven years, she suddenly changed. She gained weight, all of her coat grew back, her appetite improved.
Prana was born with defective adrenal glands, has hypothyroidism, developed Pannus at age 8, which is an autoimmune disease of the eyes, a genetic "Shepherd thing," pancreatic insufficiency, another "Shepherd thing" and for the past two years is battling degenerative spinal myelopathy, the canine equivalent to multiple sclerosis. She is still on Dr. Marty's program and despite all of her medical challenges, continues to take life, one day at a time.
Over her entire life, Prana has become a master healer. Dr. Marty was right; it took seven years, but eventually the intelligence in Prana's body shed the toxins, diseased tissue and was able to heal many of her disorders. There are some she is still working on, but I always tell her "just do the best you can."
To gain a full appreciation of Dr. Marty's work, especially with cancer, you must read his book The Nature of Animal Healing. I had the privilege of learning of the book's contents first hand during our visits to him over the years. To truly appreciate the miracle of healing especially in animals, Dr. Marty's work stands alone."
Our deepest condolences go out to Yvonne and Vahana. Thank you for being an inspawration to us all, may our dogs live long happy healthy lives just like Prana did.