Not all Tripawds are cats or dogs. Through the years a variety of other animal amputees have joined us, like Janet and Patsy the Cockateil amputees, Calypso the Tripawd Turtle and of course, Uno the One-Legged Chicken. Today for our Tripawd Tuesday spotlight we'd like to introduce you to another amputee hero, Bugs the Three Legged Rabbit!
Three Legged Rabbit Survives Bacterial Infection at Tufts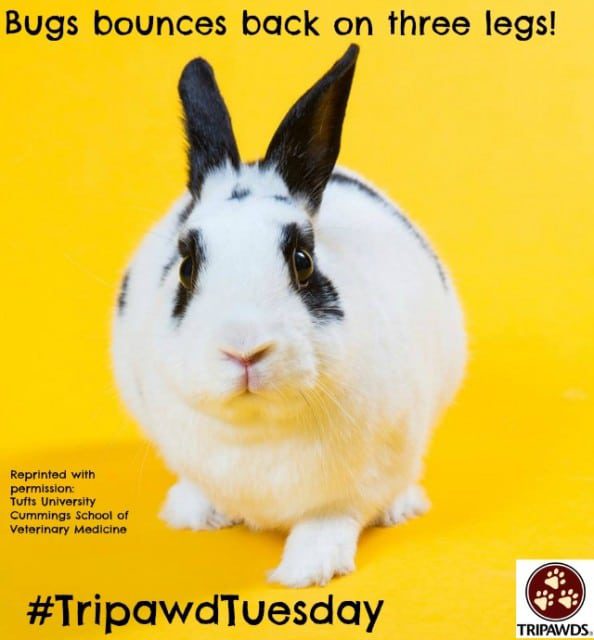 Bugs is from Maryland. One day he woke up to excruciating pain in his right front paw. When he started limping, his human John Kalliel took Bugs in to see their veterinarian. Radiographs were taken and the vet could clearly see something attacking the second toe of Bugs' right paw. But the diagnosis was inconclusive.
"The bone was getting eaten away by something," Kalliel later told a reporter at the Tufts Cummings School of Veterinary Medicine magazine. It was some type of infection, but the vet didn't know what exactly. To keep it from further disintegrating the bone, Bugs underwent a toe amputation. It helped for a little while, but the limp came back.
Meanwhile, Kalliel learned that Bugs' infection was caused by the pathogen Mycobacterium. This was bad news. Mycobacterium can cause tuberculosis, which can be transmitted between animals and people. It's resistant to many antibiotics and is notoriously difficult to treat.
Kalliel took Bugs to the experts who could help at Tufts University's Cummings School of Veterinary Medicine. Two exotic animal vet experts acted quickly to prevent the bacteria from spreading. They took Bugs' leg all the way up to his scapula, and also removed a lymph node. But that's not all the vets had to do. "Because of the risk that Bugs' infection could spread to people and livestock, she communicated frequently with state veterinarians in Massachusetts and New Hampshire and with officials at the U.S. Department of Agriculture," says Tufts writer Genevieve Rajewski.
Bugs' story has a happy ending. Tufts' vets learned that the strain of mycobacterium that invaded his bone wasn't as serious as other forms. And this three-legged rabbit is now doing great. "I feel really lucky we caught the infection early enough," Kalliel said. "Bugs has adjusted to three legs so quickly, and he has honestly never seemed happier."
His story goes to you show all of us that when given a chance, all animals have a good chance at bouncing back from a serious illness and amputation.
With thanks to Tufts Cummings School of Veterinary Medicine magazine for the above photo and allowing us to re-tell this wonderful story!
Read All Tripawd Tuesday Stories
Your Pet Can Star in Tripawd Tuesday
Each Tuesday, Tripawd dogs, cats and other critters from around the world can enter for a chance to be "Tripawd of the Week." Just share your Tripawd's story and you're entered to win! On every Tuesday of the week, tell us about your three-legged hero. Just follow these easy steps:
In a short paragraph or two (or longer if you'd like!), describe your three-legged hero's story.
Include photos or links to videos already uploaded to YouTube.
Include a link to your Tripawds Forum topic and/or Tripawds blog, social media handles, etc.

Email your story and photos

to us.
All entries must be received by Saturday at 11:59 pm. One Tripawd story will be selected at random to be featured the following Tuesday.