Did you know that even turtles can get along with one less leg? Well, turtles don't really have legs, they have flippers, usually four. But just like dogs and cats, even turtles can get along as a Tripawd.
Calypso is a turtle with three flippers.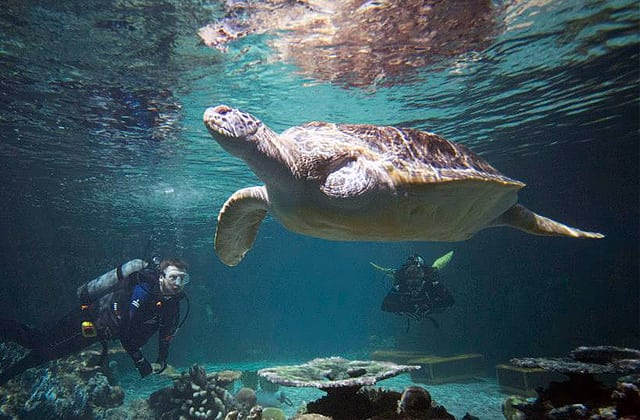 Meet Calypso, the Tripawd Sea Turtle
Calypso is a green sea turtle who was found in the year 2000 by Riverhead Foundation for Marine Research and Preservation. In shock and alone, she was a wee thing weighing in at just six pounds. Marine biologists estimate she was born in 1998.
Nobody knows how it happened, but when she was found in Long Island Sound in New York, her front left leg flipper was badly damaged and infected. In order to save her life, marine biologists amputated the diseased appendage. Because of her "disability" she was transported to live out her remaining days in the National Aquarium in Washington, DC.
Like all Tripawds, Calypso proved that even though she lost a leg flipper that it's not going to stop her from loving life. She's put on a little weight since she was found. Now she weighs a typical green sea turtle weight of 500 pounds! Calypso lives a great life in the "Blacktip Reef" exhibit of the National Aquarium. She is the only permanent sea turtle resident at the aquarium.
Years ago it was thought that Tripawd sea turtles couldn't survive in the wild. But in reality, sea turtles probably have the same resilience that Tripawd dogs and cats do. Calypso's caretaker Jackie told the North Carolina Aquarium "I have personally observed two sea turtles in the wild that only had three flippers. Both of them seemed to be doing fine, but both were missing rear flippers."
Green sea turtles can be found in over 80 countries. But because of harmful fishing practices, nesting beach destruction, pollution and turtle harvesting, they are an endangered species.
Calypso is an even rarer, one-of-a-kind Tripawd Turtle. The loss of her flipper is a great reminder of why it's critical for all of us to learn how to protect our marine environment.