You are gonna love today's Tripawd Tuesday hero. Some of you old time members may recall hearing about Cemil, an Antolian Shepherd diagnosed with osteosarcoma in 2009. Today we are THRILLED to tell you that seven…yes, SEVEN years later he is going strong!
Reality Check: Life as a Giant Breed Amputee Dog
Did someone say giant breed dogs can't live life on three legs? If so, Cemil didn't pay any attention to those naysayers! Still, it hasn't always been easy, especially now that Cemil is a mature pup. We wanted to get the real scoop about giant breed Tripawd dogs and got in touch with his mom Mary. She was kind enough to give us a reality check on what it's like for a 150-pound senior Tripawd dog.
During the last seven years, what three things occurred with Cemil that you didn't expect to happen at the beginning of your journey?
First, that he reached his 4th birthday. It was 8 months out, beyond the odds that he'd make it. And he just had his 10th last October.
Next, Disability. It looked to me like hopping around too much would put a strain on his neck, shoulder and back, so I only let him exercise as much/as little as he wanted to. Which wasn't really much. That is a regret. There are physical therapy tools that could have strengthened him so he'd be in less pain now.
Finally, Attitude. He endures disability and pain without complaint, makes the best of his situation and is always happy to meet someone new, even if he doesn't feel great.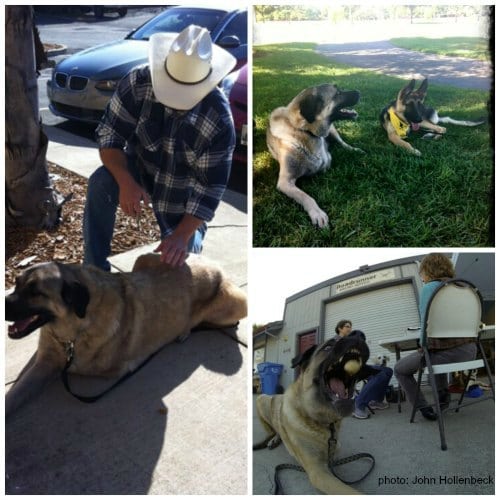 Describe a day in the life of Cemil. How has it changed through the years?
His sleeping place was always at the foot of the bed, his head resting on my ankles. Now, he can't make the jump so he sleeps on the dog bed (couch) in the living room. If, in the night, he wants a drink of water or to go out, or just a Mama-moment, he barks to wake me up instead of taking care of it himself.
To get to his room in the garage where he eats, he goes the long way–out the sliding door to the patio, and around to the garage. From the house directly to the garage, there are 2 steps. That's one too many.
After his breakfast, he goes back the way he came and settles again on the couch or on the floor looking out the window. Sometimes he'll join me on the patio while I drink my coffee, sometimes it's too much to go out again. If the other dogs bark at the squirrel, or the dog next door, he'll jump up and participate and then go back to the couch. That was the time they'd all play together, but he doesn't do it anymore. They have long naps while I'm at work, then I come home and the process (outside, inside, outside, inside) is repeated for dinner.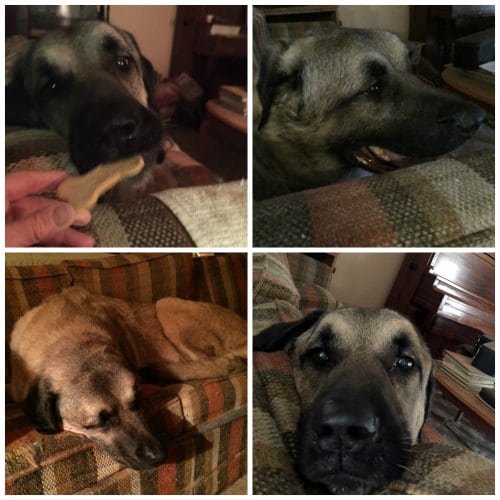 When someone visits, he greets them enthusiastically and spends a moment or two with them before lying down again. Brushing him (I call it brush-love) is a bit of a challenge because his standing up limit is pretty short, and it's harder to brush a dog that's lying down.
And the biggest problem is that he can't jump into the truck anymore, so to go somewhere is really difficult, and sometimes impossible.
What are the 3 biggest treatments/therapies for his health and mobility that you pursued with him? Which helped? Which didn't?
I have to think that the Hoxsey formula and the AHCC that Dr Williams recommended at the beginning were instrumental in keeping his immune system tuned up. However, every dog is different, and those aren't a silver bullet that works for all. But I do know that a well-tuned immune system is critical, however you get there.
For Cemil, we gradually adopted a raw diet including green tripe, and I gave him a supplement to support his liver. With his current mobility issues, Dr Williams recommended a Hyaluronic Acid product called Lubrisyn, and that seems to help him. I have prescriptions for Tramadol and Rimadyl, but they don't seem to work as a daily regimen.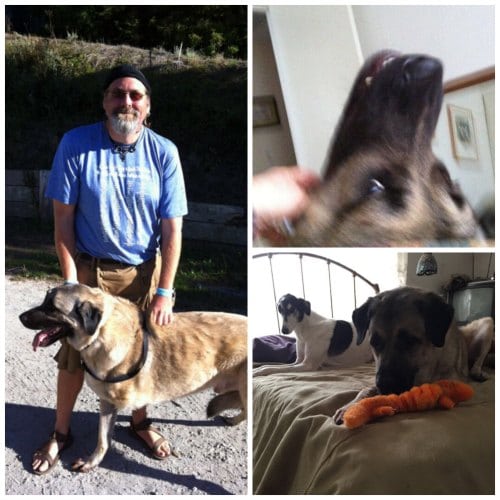 You are such an expert about giant breed dogs on 3 legs. Anything else you'd care to add? Thoughts for people who are just getting started?
This is the hind-sight observation: More strength-building exercises would help (this is just my opinion). My chiropractor explained to me that joints wear out. It's normal. The muscles are what hold you up and help you keep moving, so they need to be kept strong.
More About Cemil
Tripawd Tuesday Celebrates Cemil, a Four-Year Osteosarcoma Survivor
Cemil's Blog: The Early Tripawd Days
Share Your Tripawd Tuesday Tale!
Each Tuesday, Tripawds from around the world can enter for a chance to be "Tripawd of the Week." Just share your Tripawd's story and you're entered to win! On every Tuesday of the week, tell us about your three-legged hero here in the Tripawds Discussion Forums or on the Tripawds Facebook page. Just follow these easy steps:
In a few short sentences, describe your three-legged hero's story.
Include a photo or video.
Include a link to your Tripawds Facebook page, Forum topic and/or Tripawds blog (if applicable)
All entries must be received by Saturday at 11:59 pm. One Tripawd story will be selected at random to be featured the following Tuesday.