Giant breed dogs are often seen as poor candidates for amputation surgery, but Cemil the Anatolian Tripawd is on a mission to show the world that's not always the case.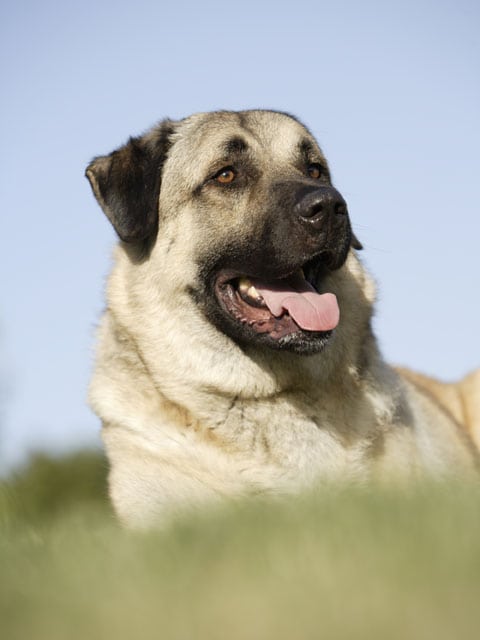 This 150-pound, four year osteosarcoma survivor has not only beaten the odds as a bone cancer hero, but has defied all expectations as a giant breed dog living as a Tripawd.
Since 2009, Cemil has quietly inspired our community and everyone he meets, by living life to the fullest and not letting cancer get him down. He's literally a miracle on three very big paws, and today we're proud to share this special Tripawd Tuesday full-length interview with his Mom, Mary.
Cemil is exactly how many years out from his diagnosis & amputation?
The whole thing started January 19, 2009. He'd been limping for about a month. Nothing had helped so I took him to see the vet. She couldn't find anything so she wanted to do an x-ray. I waited in the waiting room, and soon she came out, invited me back into the examining room and said, "I have some bad news."
She told me she suspected bone cancer and asked me questions to eliminate any other possibilities. She showed me the x-ray and explained about the thumb print of thin bone and the starburst behind it and then gave me a few days to do research and decide what I wanted to do.
I ended up at Tripawds, where I found the courage to go through with the amputation (Jan 26, 2009).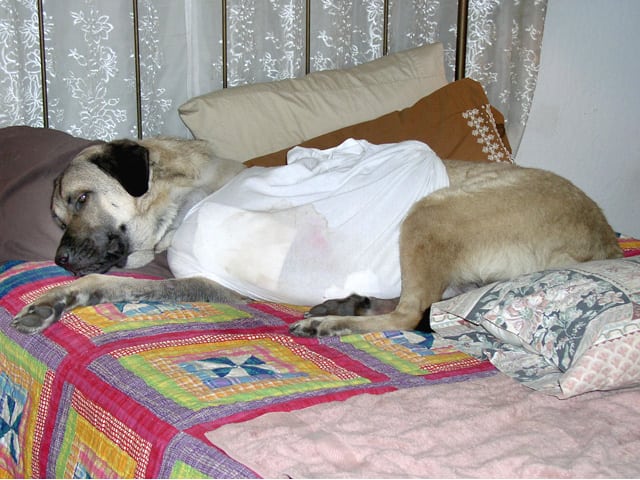 Cemil is about 150# so he stayed there an extra day with the staff working with him on all the things he'd need to do, like walk, eat, potty, and step over a curb.. I had prepared a nice bed for him on the floor beside my bed but he came inside and immediately jumped up on my bed, where he stayed all night. In the morning, he lost his balance and fell off, which made me feel terrible, but no harm was done. That was his only bad crash.
What treatment(s) did and does he receive, if any?

The acupuncturist who was Alle's doctor (one of Cemil's siblings) took over his care and recommended Hoxsey and ImmPower (which is AHCC). I had him on other supplements too: salmon oil and acai berry powder and probably others, but I don't remember. I made a smoothie of leafy greens to go over his food every morning and I think yogurt was in the mix too. I also switched him to grain-free food. I don't do the smoothie anymore but he still gets the Hoxsey, AHCC, salmon oil and cod liver oil, acai berry powder, and also Flexamin to keep his joints happy, and he gets a raw meal 3 times a week.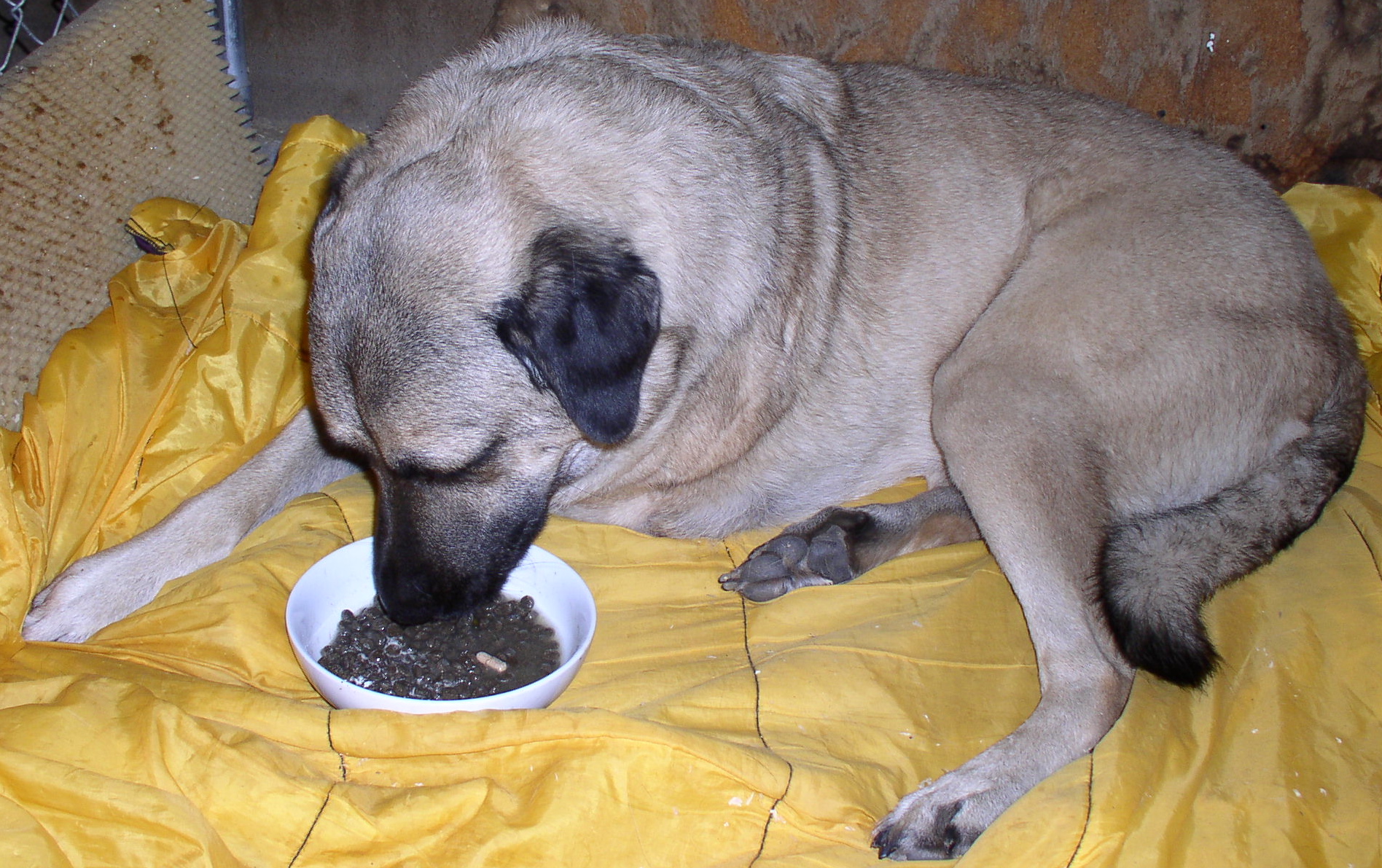 What is a day in the life of Cemil like?
Cemil says: "Work day, pretty boring. Eat, sleep, eat, sleep."
Saturday and Sunday, better.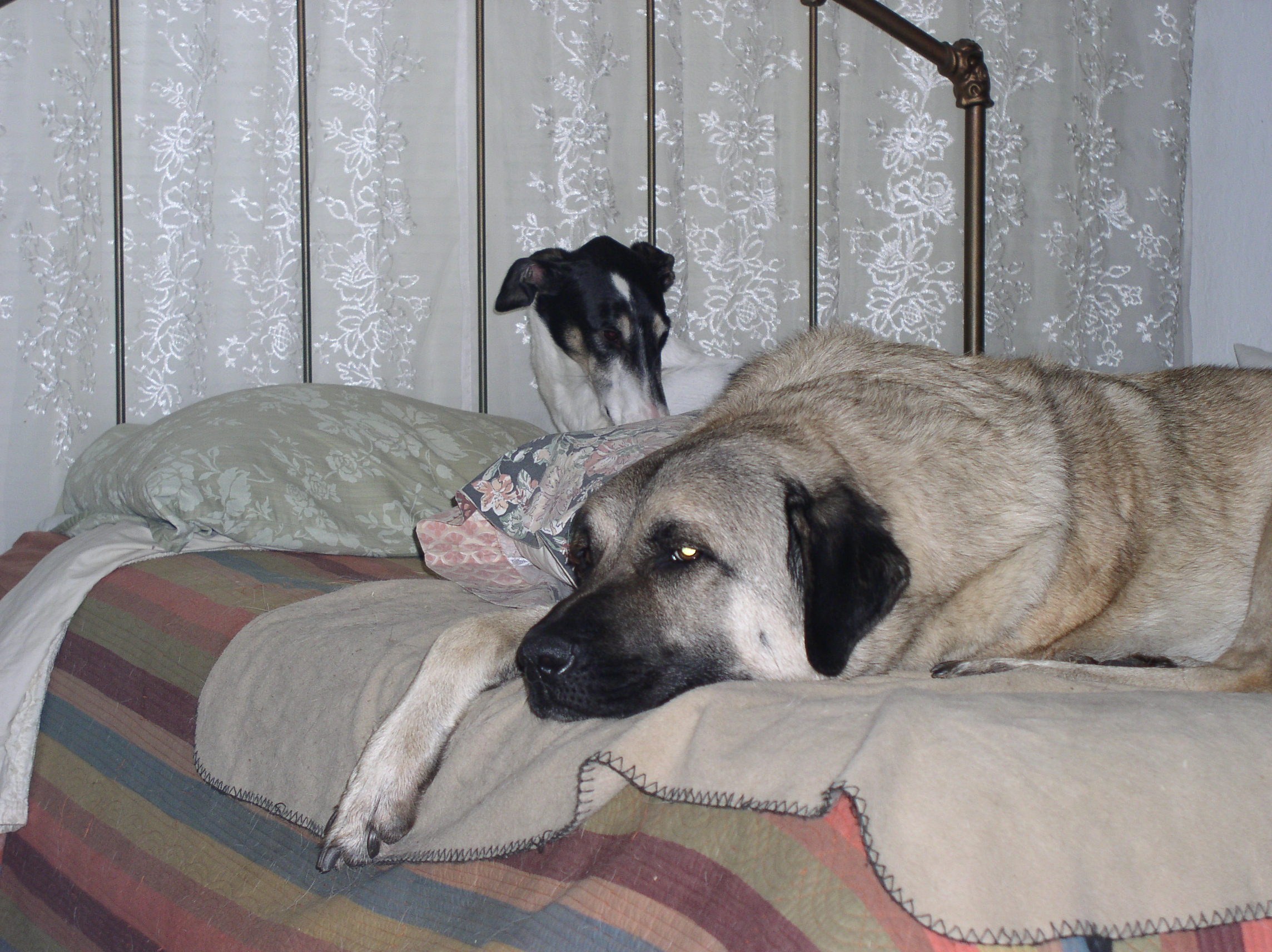 Slowly wake up, stretch and get loves and scratches, pats, pounds on the chest (Mom read somewhere that it keeps the insides healthy), kisses; then kisses and paws from (sibling) Mujde and finally Mom gets out of bed.
We go outside to check out the world while she lets the chickens out and gets our breakfasts ready. Meals are great. Then she feeds all the other critters while we digest our breakfasts and she lets us out of our rooms when she freshens our water buckets. She eats breakfast, we hang out. She drinks coffee, we hang out. She hangs out, we hang out.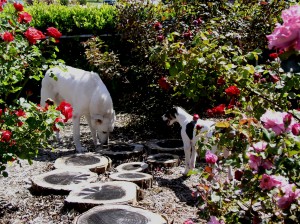 Somebody walks by outside the fence, Mujde barks her head off. Sometimes I help her, sometimes not. I watch over the chickens and rabbits, and Mom and the others; Alex the cat shows up sometimes to sit on Mom's lap while she drinks coffee and I check out the neighborhood smells that he brings home. It's like reading the local newspaper.
Mom putters around the house and yard doing things related to dirt and I watch over it all. Mujde threatens anyone who walks by and (sibling) Radzi mostly naps on the bed. We spend a lot of the day like that. On Saturday nights, we get raw chicken for dinner which is gone in an instant, and then we hang out together some more. Come to think of it, we spend a lot of time like that.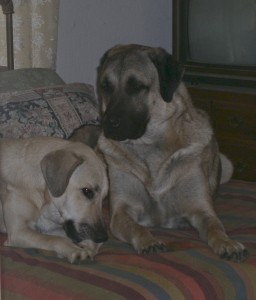 Sometimes, other dogs and people come to visit and we play dog park. Even less frequently, we go in the truck to see someone else.
Life is pretty much about spending time together and appreciating it.
What are Cemil's favorite activities?
Cemil loves to meet new people. At the dog park, he goes around to meet everyone and they call him The Mayor. Sometimes there's a dog he invites to play, but mostly he likes the people.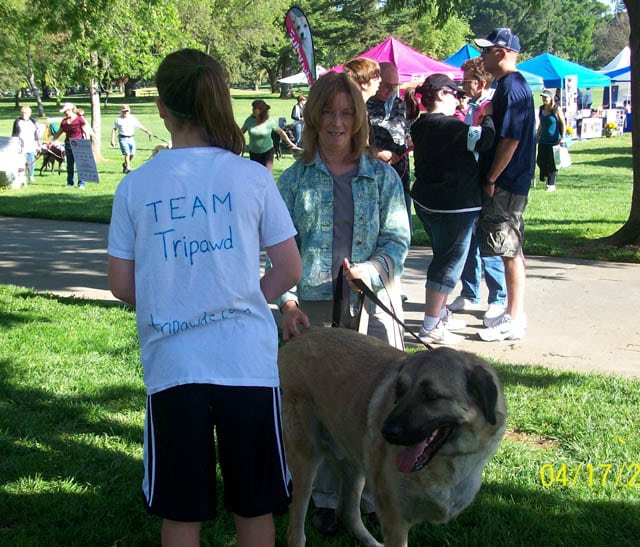 How is he different from his packmates in terms of activities, attitude, stamina, etc.?
Cemil's fur buddies are Radzi, a Chart Polski, and Mujde, an Anatolian-Lab cross. And Alex the cat. Alex is pretty much a free spirit who roams around the neighborhood collecting smells, then brings them home for Cemil and Mujde so they know what's going on. Radzi and Mujde are into hiking and athletic stuff; Cemil is a couch potato because every hop pounds on his back and shoulder. So long walks are out for him. Anatolians are about watching over their kingdoms anyway, so it works out.
[youtube]http://youtu.be/XveTJQRS3Rg[/youtube]
What are the biggest challenges he faces as a giant-breed Tripawd?
The biggest challenge is a long walk. We went to a picnic one day and there was a dog-guy there who took Cemil for a walk around the block. Cemil is a trooper and went along (Mom wasn't paying attention and didn't realize what was happening until they were gone); for the next few days, he was really stiff and sore.
In looking back on the last four years, what are the biggest lessons you've learned in living with Cemil and his diagnosis?
That living in the present is the only reasonable way to live. Dogs don't waste time trying to go back to the way things used to be. The "New Normal" becomes the way of life.
Sometimes people refer to him as "disabled". Wrong. He finds a way to be able to do everything he could do before.
Love is the bottom line. It's the beginning and the end of everything important.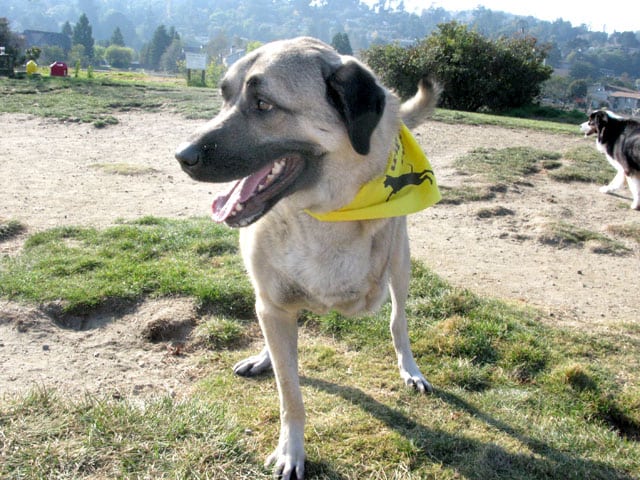 Celebrate your own three-legged hero in
"Tripawd Heroes, Volume 1" featuring your Tripawd and
25 more inspawrational canine amputees
loving life on three legs!
How to Get Featured on Tripawd Tuesday
Each Tuesday, Tripawds from around the world can enter for a chance to be "Tripawd of the Week." Just share your Tripawd's story and you're entered to win!
On every Tuesday of the week, tell us about your three-legged hero here in the Tripawds Discussion Forums or on the Tripawds Facebook page. Just follow these easy steps:
In a few short sentences, describe your three-legged hero's story.
Include a photo or video.
Include a link to your Trpawds Facebook page, Forum topic and/or Tripawds blog (if applicable)
All entries must be received by Tuesday at 11:59 pm. One Tripawd story will be selected at random to be featured the following Tuesday.