Bringing home a new Tripawd dog or cat is like bringing home a newborn human. There's lots to think about but we're here to help make the transition easier.
How To Prepare Your Home for Pet Amputation Recovery
Today's blog is our ten best tips to prepare your home for a new three-legged hero.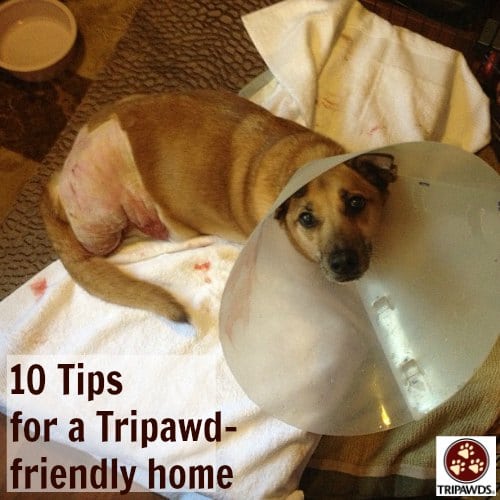 1. Add traction to slippery floors.
Place carpet runners, yoga mats or even anti-slip decals in paths your dog walks throughout your home. Slippery floors are a Tripawd's worst enemy.
2. Raise food and water bowls.
One less leg throws your dog or cat off balance in certain situations. Elevated dishes make it for them to reach their food without tipping over.
3. Place baby gates at staircases and other hazardous spots.

If you have staircases in your home, block them off with baby gates. Too much activity like doing stairs soon after amputation surgery can lead to an accumulation of fluid build-up known as a seroma. Worst case, a scary accident could happen if your Tripawd isn't ready for stairs.
4. Cover your pet's bed with towels.
Speaking of a seroma . . . bodily fluid buildup after amputation surgery is common. As long as the fluid is more watery than bloody it's usually harmless and can be drained in your vet's office. If you suspect your Tripawd has a seroma, let your vet know. In the meantime, that fluid will probably go all over your pet's bedding. Have plenty of towels for your recovering Tripawd's sleeping area.
5. Create a safe, confined recovery space.
If your Tripawd just had surgery, create a safe recovery spot with x-pens. Even dogs who aren't crate trained will usually feel comfortable in a X-pen. Place it where your dog is relaxed while recovering. Some dogs want to be with the pack, some don't. All dogs are different.
6. Have a firm, comfortable bed ready.
As comfy as they look, big fluffy pet beds will cause an amputee to trip. The best beds for Tripawds are firm, supportive mattresses.
7. Stock up on tasty treats and food.
Pain medication will often cause animals to lose their appetite. Try not to panic, but do encourage your Tripawd to eat by having the craziest, tastiest foods and treats your dog loves. Home cooking is always a hit but go slow with anything you try; you don't want to upset your dog's digestive system.
8. Consider a pet ramp.

Not every Tripawd needs a ramp for the car or home, but we're including this here because many people ask about them. These ramp training tips might encourage your dog to use a ramp, but if not, never fear. Read on to find out how you can assist your dog without a ramp.
9. Invest in a Tripawd-approved dog harness.
Any of the harnesses we recommend in our Tripawd Gear Shop will help you help your Tripawd up and down stairs, in and out of the car and with any other tricky situtations you may encounter. Harnesses are important for dogs who go many places in the car. If a dog never travels and doesn't have stairs at home, a harness may not be necessary for the time being. But as a Tripawd ages, harnesses come in very handy so you can assist when they are having mobility challenges. Don't wait, get your Tripawd used to a harness now before it's needed in an emergency.
10. Stock up on interactive games, bones. etc.
Keeping the patient calm during recovery is essential. This can be difficult, especially for younger, active cats and dogs. Exercise your new Tripawd's mind to alleviate boredom. Play interactive brain games and spend lots of one-on-one bonding time together to take their mind off recovery. Even after a Tripawd is healed, interactive brain games and activities that cause your dog or cat to think are a great way to spend time together while decreasing the risk of injury from inappropriate physical activity.
Want more helpful Tripawd tips?
Download Tripawds e-books for fast answers answers to common concerns about pet amputation recovery and care.

$3 OFF All Tripawds E-books with Coupon Code: HOME
Bonus Tripawd Tips for Cats:

Ensure your new Tripawd cat has an easy in/out litter box with low edges. Pee pads to catch elimination accidents are also helpful.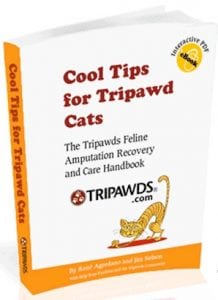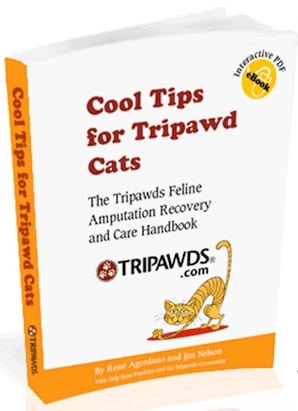 Find many more helpful tips for tri-kitties from members in the blogs and discussion forums!
Any questions?
Do you have other tips you'd like to share about bringing home a new Tripawd cat or dog? Let us know, we'd love to hear about ideas that helped your three-legged hero during recovery and beyond.
Need help finding the many other Tripawds resources and assistance programs? Start here.