Today for Tripawd Tuesday we are thrilled to present Bandit, yet another example of how an osteosarcoma diagnosis doesn't come with an expiration date stamped on your dog's butt!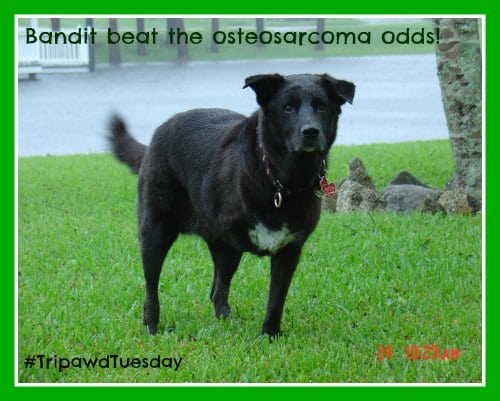 Bandit is an angel now, but she beat bone cancer for over six years!
We just learned about her and couldn't wait to share her story. Her momma Elizabeth faced bone cancer and amputation way back in the year 2000, long before Tripawds and during a time when most people wouldn't even consider amputation. Can you imagine?
Thanks to brave Elizabeth and Bandit's brave decision to move forward on three legs, more people started to see that an amptutation diagnosis isn't the end of the road. Tripawds might not even exist if it wasn't for packs like theirs!
So please, join us in a BIG three-paw salute to Bandit and Elizbeth and enjoy their amazing story of beating osteosarcoma.
"Tripawds Don't Walk, They Run!"
"Bandit was diagnosed in 2000 at 6-1/2 years old. We lost her in 2007, 6-1/2 years later (at the age of 13).
Although the diagnosis was devastating, we immediately started researching the options and finding out all we could about her tumor and prognosis. The decision to amputate was the most difficult decision I've ever had to make.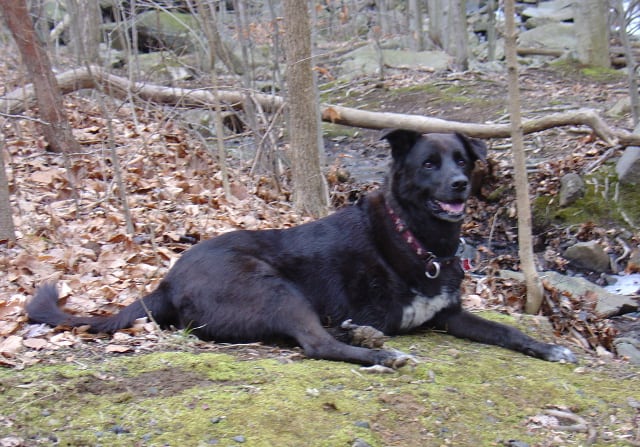 She surprised us by sailing through the surgery and recovery with no issues, and likewise sailed through her chemo with no side effects. Just another adventure in her most exciting life.
We learned that tripawds don't walk; they run! The experts told us that after amputation Bandit wouldn't be able to swim. Well, nobody told her. She swam right after her stitches came out and almost every day thereafter. She continued to hike as well, vaulting over every obstacle with abandon; not only surviving but thriving.
From her we learned to never give up."
Share Your Tripawd Tuesday Tale!
Each Tuesday, Tripawds from around the world can enter for a chance to be "Tripawd of the Week." Just share your Tripawd's story and you're entered to win! On every Tuesday of the week, tell us about your three-legged hero here in the Tripawds Discussion Forums or on the Tripawds Facebook page. Just follow these easy steps:
In a few short sentences, describe your three-legged hero's story.
Include a photo or video.
Include a link to your Tripawds Facebook page, Forum topic and/or Tripawds blog (if applicable)
All entries must be received by Saturday at 11:59 pm. One Tripawd story will be selected at random to be featured the following Tuesday.