Tripawd cats and dogs aren't the only animals who can live a great life with one less limb. Today on Tripawd Tuesday, let's take a look at another species that can get around really well as amputees: birds!
Meet Janet and Pasty. These two cockatiels each lost a leg on the same day, but they went on to live great lives!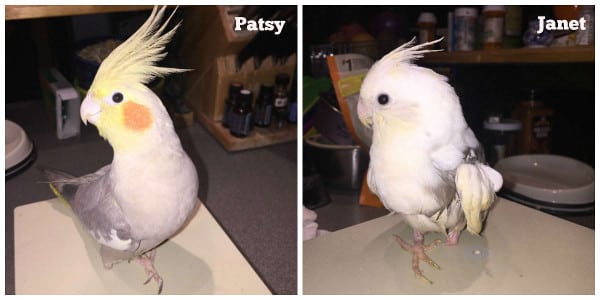 We learned about these bipawd birds from Dr. Laurie Hess, DVM, Diplomate ABVP (Avian Practice). She's an awesome exotic animal veterinarian in New York who founded the Veterinary Center of Birds and Exotics. Dr. Hess is a board-certified bird specialist, one of only about 125 bird specialists in the world.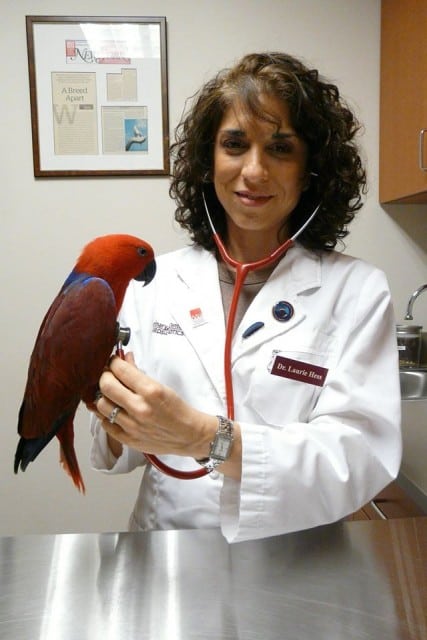 Here's how Dr. Hess met Janet and Patsy:
Q: What happened to Janet and Patsy?
A: An Amazon parrot in the house flew on their cages and bit a leg off each of them, leaving them each with only one normal leg. We amputated the injured leg off each of the birds, and they did great.
Q: Was this your first bird leg amputation?
A: No. I have been an exotic animal vet for over 20 years and have done many amputations on different species.
Q: How did the owners react when you told them amputation was needed?
A: Initially they were shocked, especially because both of their birds needed it. But once they saw how well the birds did after, they were happy.
Q: How much time did the birds need to learn balance?
A: Literally just a few hours.
Q: Did they have any side effect like seromas, appetite loss or wound care problems?
A: Nothing! They did great.
Q: Are they still living?
A: Yes. Very happily.
Dr. Hess is the founder of The Veterinary Center of Birds and Exotics, the only American Animal Hospital Association-accredited bird and exotics specialty referral hospital in NY, and the only hospital caring exclusively for birds and other exotic animals in Westchester and surrounding counties. Read more about caring for exotics in Dr. Laurie Hess' blog.

Share Your Story on Tripawd Tuesday
Each Tuesday, Tripawds from around the world can enter for a chance to be "Tripawd of the Week." Just share your Tripawd's story and you're entered to win! On every Tuesday of the week, tell us about your three-legged hero here in the Tripawds Discussion Forums or on the Tripawds Facebook page. Just follow these easy steps:
In a few short sentences, describe your three-legged hero's story.
Include a photo or video.
Include a link to your Tripawds Facebook page, Forum topic and/or Tripawds blog (if applicable)
All entries must be received by Saturday at 11:59 pm. One Tripawd story will be selected at random to be featured the following Tuesday.