Here's a Tripawd Tuesday spotlight that will have you cheering and smiling all week long. Meet the adorably talented Miss Olive!
Miss Olive is host of Florida's Doggy Diva radio show, where every Saturday morning she and her mom, Susan Marie, talk about all things pets. With a focus on animal rescue and related causes, the dynamic duo makes life better for all creatures.
Besides being a DJ, Olive is author of "Diva Delights," an editorial column in Suncoast Pet magazine! And this September she's the cover girl!
Who is Olive the Doggy Diva?
As you can see, Olive is one special Italian Greyhound. She lost a leg to cancer and later, most of her teeth had to be extracted because of neglect by her previous owners. Despite starting out with tough circumstances, she found her way to Susan Marie's pack. Soon afterward, she got on the fast track to stardom and has been a Florida celebrity ever since!
On her Doggy Diva website, Mom Susan Marie says; "The neglect and illness that she has experienced has never affected her loving, gentle spirit; she always is ready for a snuggle and a special Olive kiss."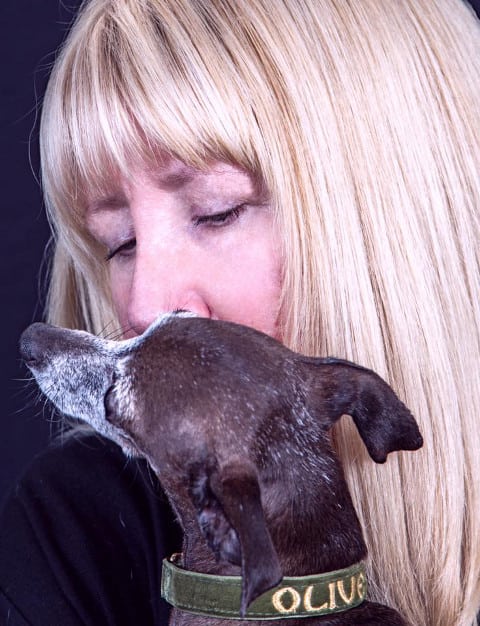 Together, Olive and Susan are tireless advocates for animal welfare issues. Each Saturday morning on their show they work to raise awareness about important issues affecting animals. From disaster preparedness to spay/neuter, they're making sure that all animals have a voice and caring advocates.
As no stranger to pet cancer, many years ago Susan Marie cared for her first Tripawd, Maggie, who lost a leg to osteosarcoma. It was way back before Tripawds existed. Brave and courageous, with no role models like the Tripawds Nation to lean on, Susan Marie proceeded with amputation and Maggy went on to enjoy more quality time on three legs.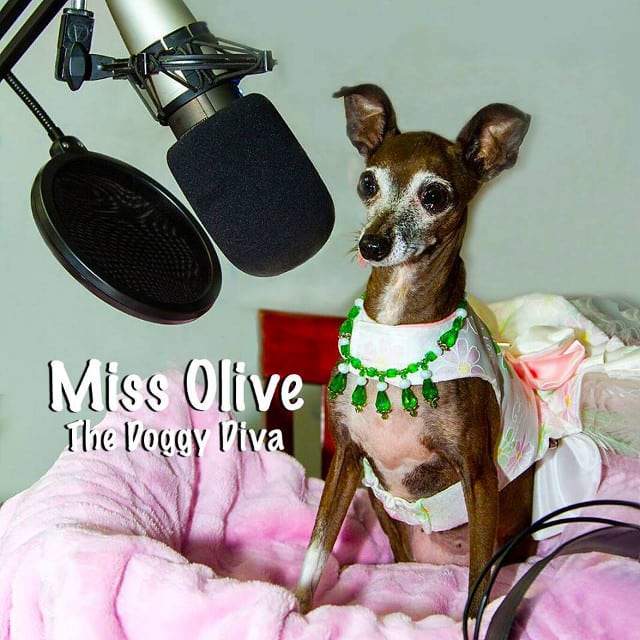 Susan Marie recently wrote to us and shared the following:
"Our trials and tribulations with cancer and our experience from our years with our beloved Maggy is what qualified us to adopt Olive – a blessing. I so wished you guys were here for us with Maggy's cancer – but thanks to Maggy we know so much more now. We lost Maggy years ago but we have such happy memories of her and our little tripawd community at the dog park- it kept us going!"
Today, Olive carries the torch of inspawration for Florida's animals and beyond. She and Susan Marie will join the Tripawds Foundation Helpline Host crew in the coming weeks, so they can be there for others who are just starting out life on three legs. Let's give them both a 3-paw salute!
Olive Stars in Suncoast Pet Magazine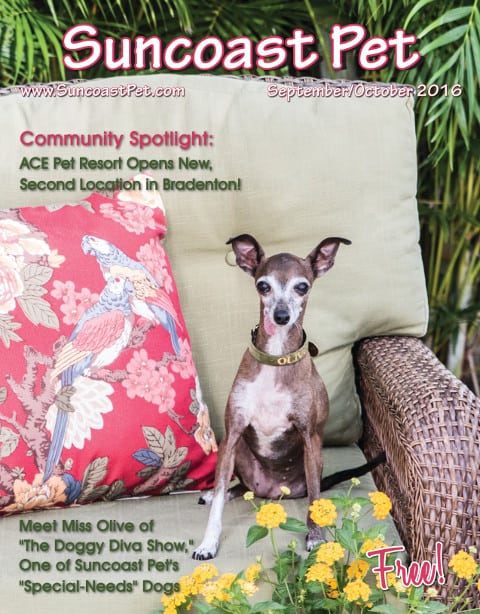 Olive and her inspawrational life on three legs is so amazing. You can read more about her because she's the cover girl in this month's Suncoast Pet Magazine!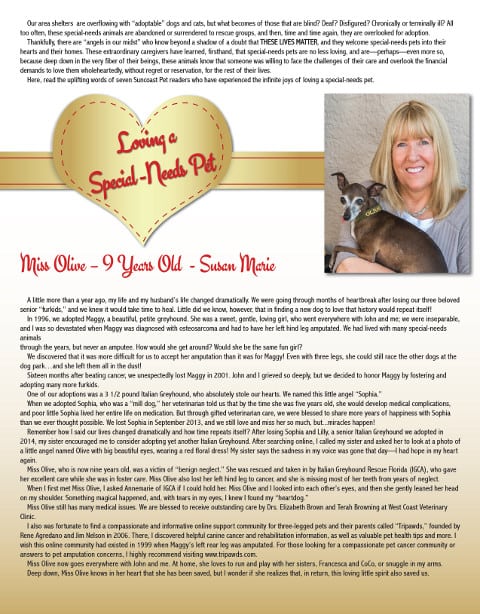 Thank you to Suncoast Pets Magazine, Susan Marie and Olive for these great photos!
Read All Tripawd Tuesday Stories
Share Your Tripawd Tuesday Tale
Each Tuesday, Tripawd dogs and cats from around the world can enter for a chance to be "Tripawd of the Week." Just share your Tripawd's story and you're entered to win! On every Tuesday of the week, tell us about your three-legged hero here in the Tripawds Discussion Forums or on the Tripawds Facebook page. Just follow these easy steps:
In a few short sentences, describe your three-legged hero's story.
Include a photo or video.
Include a link to your Tripawds Forum topic and/or Tripawds blog, social media handles, etc.

All entries must be received by Saturday at 11:59 pm. One Tripawd story will be selected at random to be featured the following Tuesday.
Save