Do you cringe when you see a dog in the back of a pickup truck? We sure do, because loose dogs in pickup trucks lose legs. We're glad that one dog who fell out of a truck is now enjoying a hoppy new life with caring humans. Today's Tripawd Tuesday spotlight about her will inspire you to educate people about the dangers of driving with a dog in a truck bed.
India Falls From Truck and Into the Tripawd Life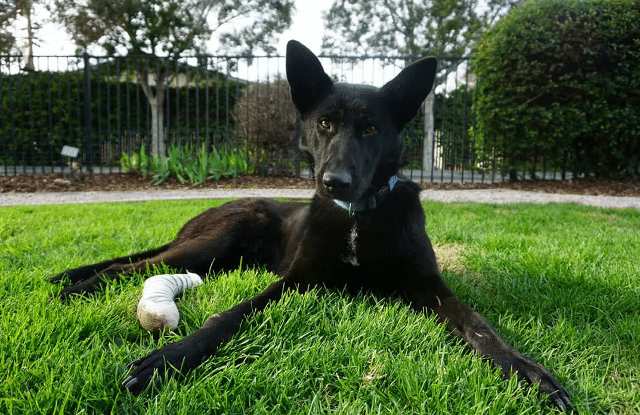 Sadly, many dogs fall out of trucks and end up seriously injured. Dogs just like India, a gorgeous black German Shepherd who lost her leg but found her way to a wonderful pack in Southern California.
"Yes, she was tied up in the back of a truck. I'll say, at least he tied her up, but he left it too long and that's how she got dragged. Dogs just shouldn't be in the back of trucks," says Dawn Carty, India's new mom. Dawn saw that India was one of our Tripawd Rescue postings and knew immediately she wanted to adopt this gorgeous girl.
India at the vets from BAGSR on Vimeo.
"The kid that had India felt she wouldn't be able to hike with him anymore, so he wanted to put her down. Terrible. Even if she couldn't hike anymore, you keep her…you made a commitment when you got an animal. Sorry, I get so mad, I could go on and on about this subject," says Dawn. We share her thoughts and couldn't agree more.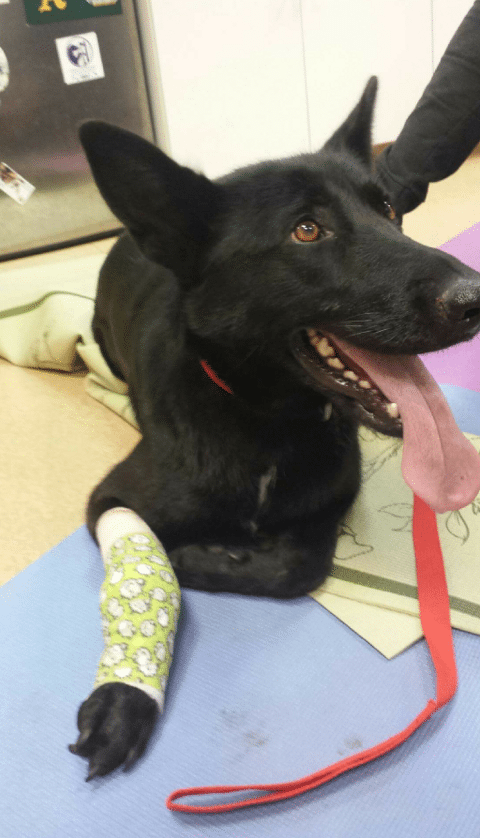 India's exceptionally lucky, because Dawn isn't new to being a Tripawd Mom. "Our last Tripawd was Dino. The story I heard was that Dino got his paw messed up in a chain link fence and the guy didn't have the money to take him to the vet; it got worse and worse until he finally took him in and he had to lose the entire leg."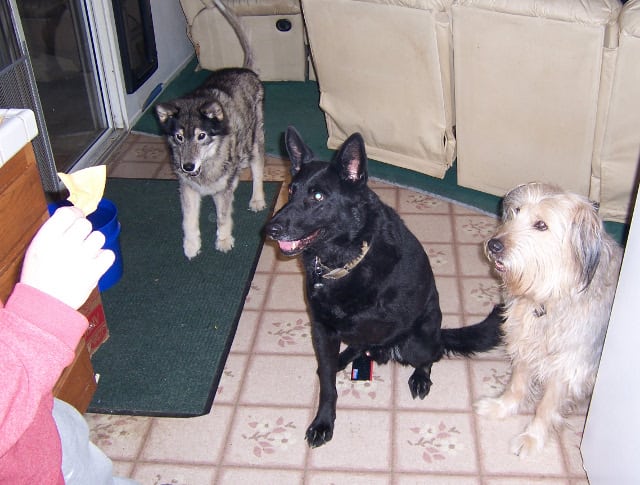 Dino ended up at the pound and eventually into Dawn's caring home. "Once he settled in, it became clear that someone put a lot of time into him; best trained dog I have ever had."
Meanwhile one thing is clear: India is in the best home she's ever had. "I'm thinking India might like a buddy one day," says Dawn.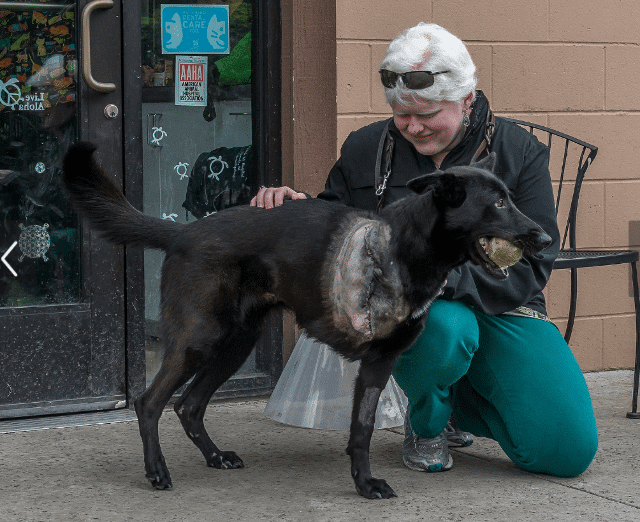 "After Dino, and now India, I have taken a liking to the 3-legged ones. My door is always open to any type that show up needing a home though."
Many thanks to Dawn Carty for sharing India and Dino's Tripawd love story. If you'd like to share your own, here's how:
Read All Tripawd Tuesday Stories
Share Your Tripawd Tuesday Tale
Each Tuesday, Tripawd dogs and cats from around the world can enter for a chance to be "Tripawd of the Week." Just share your Tripawd's story and you're entered to win! On every Tuesday of the week, tell us about your three-legged hero here in the Tripawds Discussion Forums or on the Tripawds Facebook page. Just follow these easy steps:
In a few short sentences, describe your three-legged hero's story.
Include a photo or video.
Include a link to your Tripawds Forum topic and/or Tripawds blog, social media handles, etc.

All entries must be received by Saturday at 11:59 pm. One Tripawd story will be selected at random to be featured the following Tuesday.
Save