The Tripawds spirit is shining brightly in the Midwest. On September 17, twenty Tripawds family members gathered at the 2016 Puppy Up Walk in Wheaton, Illinois. Not only did our angels, heroes and moms and dads come together to finally meet in person, but they also shattered fundraising records for this Puppy Up Walk:
Team Tripawds raised $6,165, of the$13,385 received
for Puppy Up Wheaton!
Tripawd family members left to right Greg, Cooper, Sherry, Sadie, Paula, Nitro, Stephanie, Neka, Christine, Otis, Linda, Max, Me, Sassy, Donna. In Front  Cadence, Heather & Joe, Glenn and Murphy. Thanks for the photo Michelle!

It started earlier this summer, when Christine, Otis and Tess' Mom, organized the team fundraising page. As team captain, Christine got the ball rolling, encouraged members from two states away to join the fun and kept up momentum — even as she worked through heartache and prepared to set Otis' spirit free.
What a beautiful day when our Tripawds family came together in person. People who had never met before, joined together to walk for an awesome group that works hard to stop a disease that takes almost half of our animals every year.
Otis' spirit guided Team Tripawds.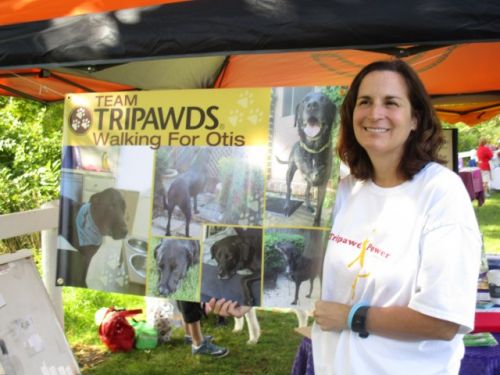 Even as she coped with grief, Christine carried on the team spirit. Thanks to her, each member received a swag bag! Christine reached out to Andrew Krichbaum, owner of Pet Necessities, an independent, family owned pet products store in Western Springs, Illinois. Andrew made sure Team Tripawds members were greeted with a bag of goodies from his store!
Thanks for the great treats, Pet Necessities!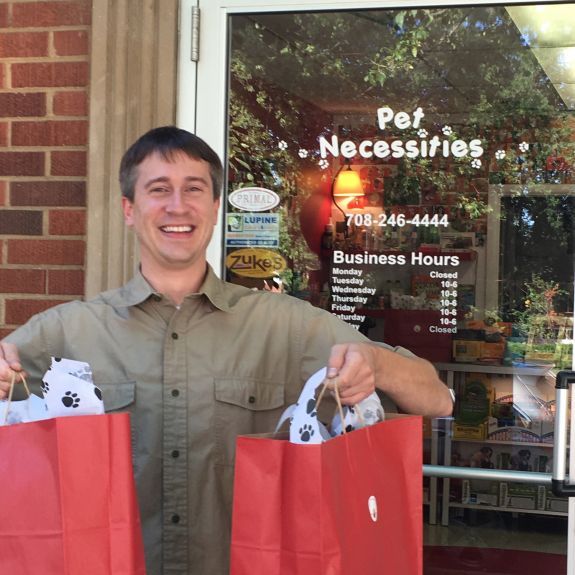 Lookin Spiffy in the the Tripawds Traveling Display
Tripawds' Midwest Spokesdog Cadence (a 5+ year osteosarcoma survivor!), Mom Heather and Dad Joe were in charge of the official traveling Tripawds Foundation exhibit. We owe this pack a debt of gratitude for overseeing the duties of receiving, setting up and re-shipping the display after the event.
Thanks for representing, Cadence, Heather & Joe!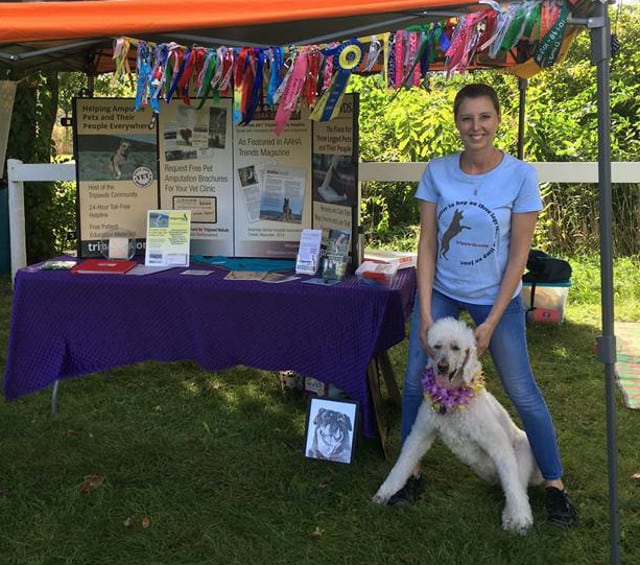 Stop by Cadence's Facebook page, Sassy Sugar Bear's blog and also Murphy's blog for more great photos of the amazing day.
The Tripawds Tribute Leash, an ongoing community project made with love.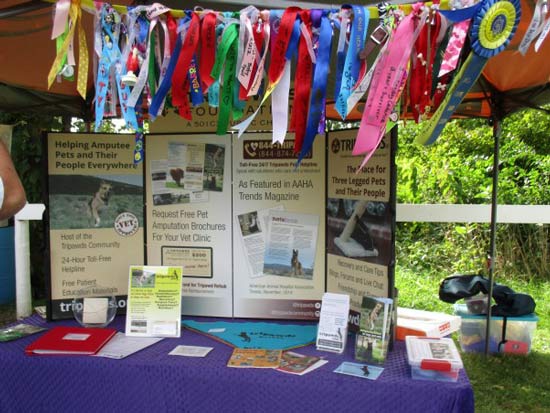 Many thanks to Michelle for taking these photos AND to everypawdy who helped staff the booth and walked with Team Tripawds!
Represent Team Tripawds in Your Town
Tripawds Foundation needs great people like you to participate in events like Puppy Up! Walks, the Morris K9 Cancer Walks and other special animal health events. It's a big commitment to be in charge of the display and exhibit, but we're here to help every step of the way.
Spread the word about Tripawds Foundation to veterinarians and pet lovers.
Look for animal-health related events near you.
Send us information about the event.
If the exhibit fee is affordable, the foundation will cover the cost and sign up!
We'll ship the Tripawds Traveling exhibit to you.
After the event, you ship it back and we'll reimburse you for shipping costs.
It's that easy!
The more places that Tripawds Foundation can exhibit, the more we can all get the word out that it's indeed better to hop on three legs than to limp on four!
Go Team Tripawds!
Save
Save
Save