When it's love at first sight with a Tripawd, you just know it. This lucky Akita Tripawd was adopted less than a year ago by Jaime and Sheldon Sheridan in Ontario, Canada. Her people wrote to us recently to share her Tripawd Tuesday rescue story, which we know you will adore!
Kita Kuma Bear Meets Her Furever Family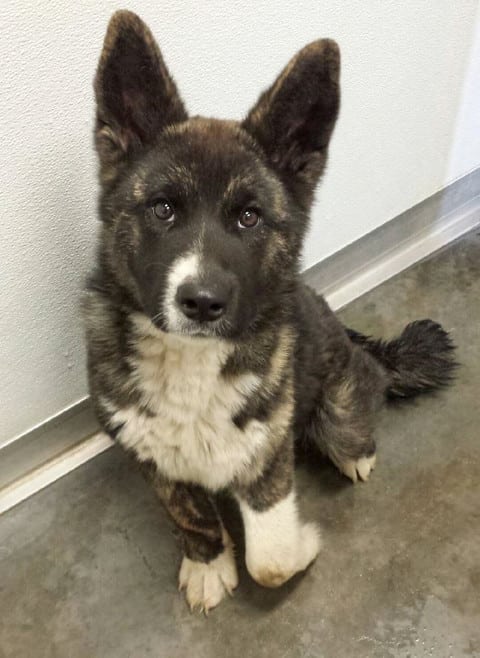 We adopted her when she was 7 months old…. 3 months after having her leg removed after a car accident/ city found her and her leg had healed the wrong way… when they found the owners they didn't want her anymore! I can only say thank goodness because then we could have her!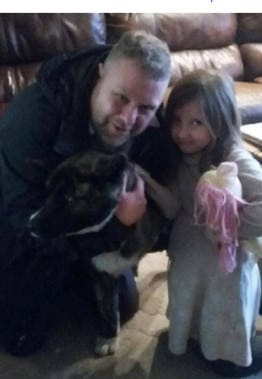 It started with me (Jaime) showing Shel (my hubby) dogs everyday on my FB feed who needed new homes… and EVERYDAY – he looks and smiles and says nothing…. UNTIL we saw Kita…..
We were driving home from breakfast and I was showing him the picture of "how cute" she was, and he said… "now that dog we could adopt"! WHAT!!! Okay okay okay! So I jumped right on it – and as I did, I realized Kita was in Alberta.. and we are in Ontario – that did not phase my husband… we will figure it out if we get approved! And so we did!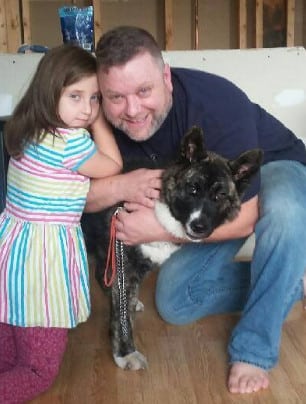 With the help of family and friends and all the staff at the shelter Kita was on the move!
Here are photos of when Shel and Carly finally got to meet her – it was a few days after she left the shelter, after a road trip to Edmonton a sleepover at my friends and then a shift to my brother-in-laws Kita had no idea these two were finally "the ones"…. Still confused by all her adventures she kept moving along!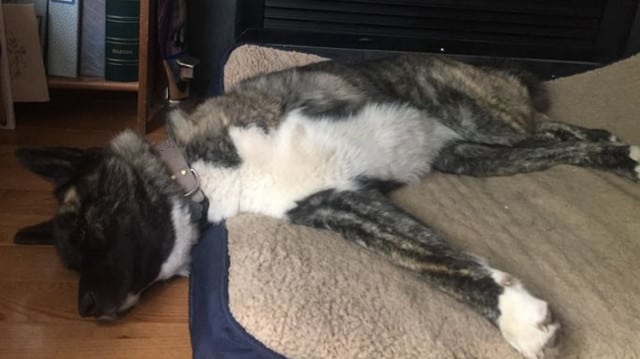 After several calls to Air Canada, Shel was excited to get her home, they got her to the airport to fly direct Edmonton to Ottawa – to find out the winter embargo had come into effect with this plane that flies this route (so Kita was not going anywhere)….. with the help of family – and lots of tears – Kita left the airport – and Shel and Carly had to come back to Ottawa without her. She went back to our brother-in-laws and they worked at sending her Cargo… not what we wanted at all… but our hands were tied.
Poor Kita finally got dropped off in Edmonton to fly Calgary, Toronto and then finally over to Ottawa almost 20 hours later…. When she arrived she was scared and did not want to leave her kennel to the point that after we left her for a bit – we removed the lid to help her see it was okay to come out…. At first she would not look at me and she was so stiff…. My heart felt so bad…. But in no time at all it began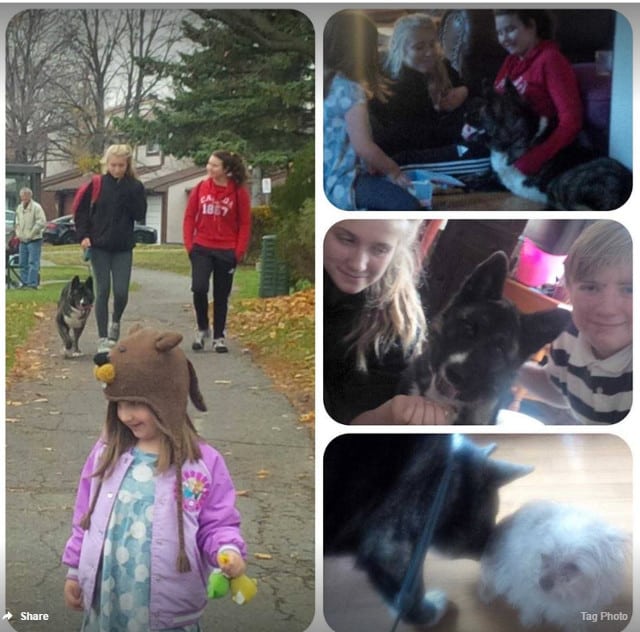 After much needed sleep…………
And some much needed cuddles to let her know we loved her………… and needed her……..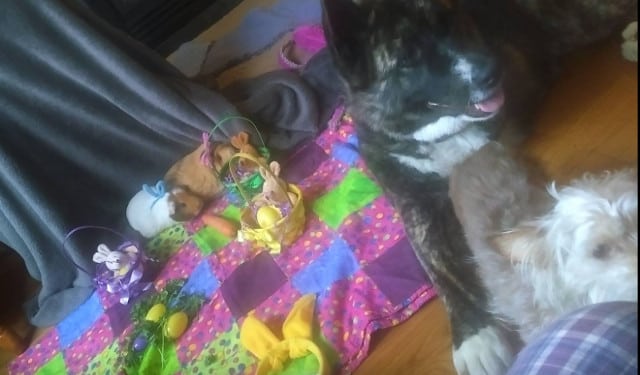 She was needed to find eggs at Easter………
And we needed to learn what she was telling us – with her eyes!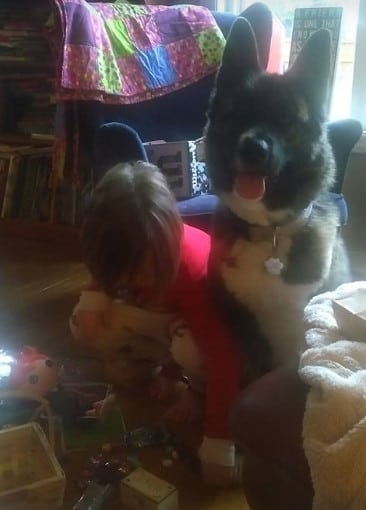 Her smile brightens our day!
It wasn't long before we changed her name to Kuma (Bear in Japanese – 1. Because she has such a big squishy head – and 2, EVERYone we met asked what her breed was (Akita) then her name (Kita) and so many people thought we were repeating ourselves – haha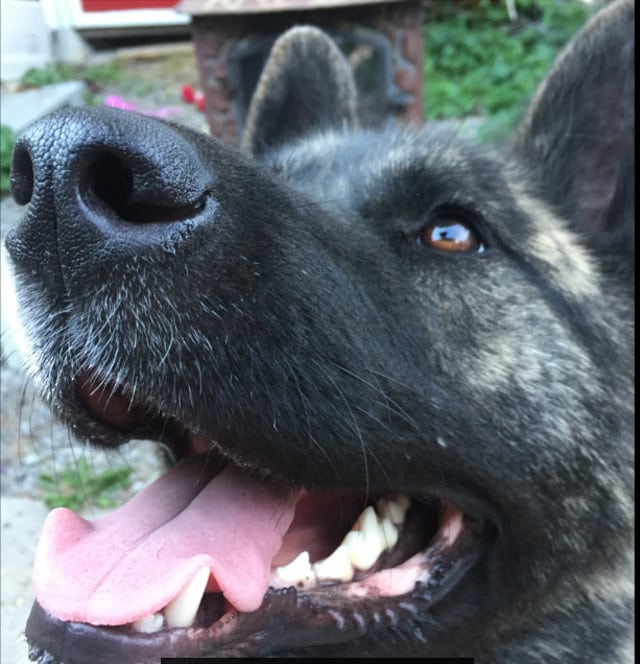 She also learned to stare at me until I got up to get them treats…..
(With our dog Pixelle/ Kuma and then Jessie who we were pet sitting)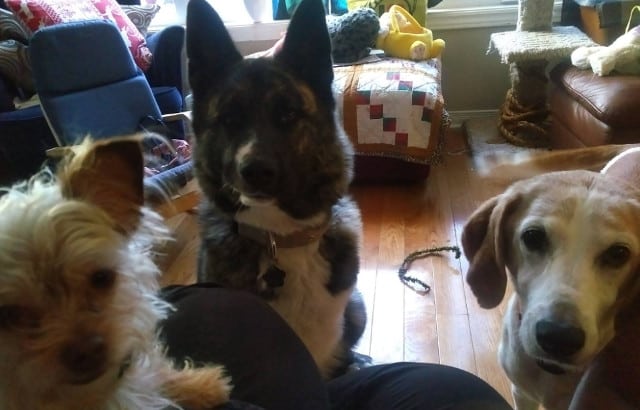 Always trying to keep track of us… even when resting….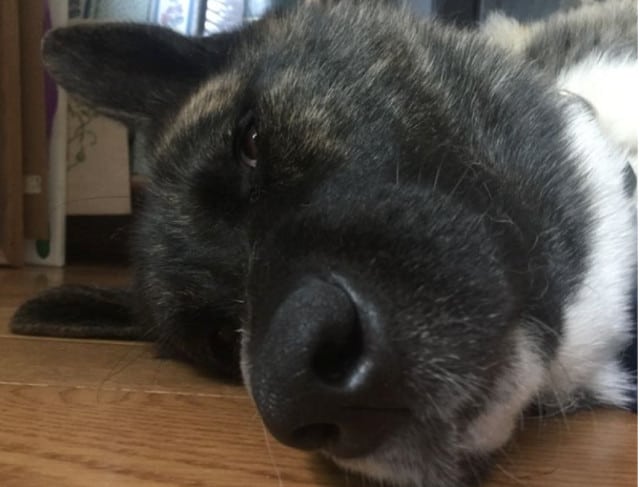 She loves to hop in the vehicle and go to any party!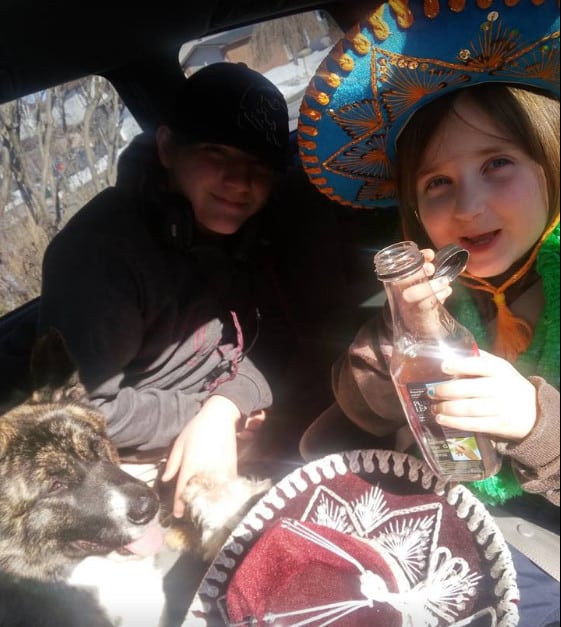 She loves to listen to any teenager that comes by!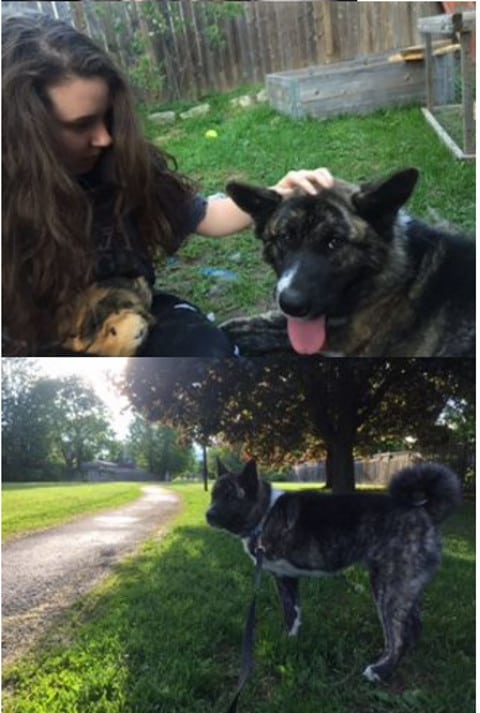 And watches for us on the trails!
She loves camping in tree-houses and loves watching the beautiful view!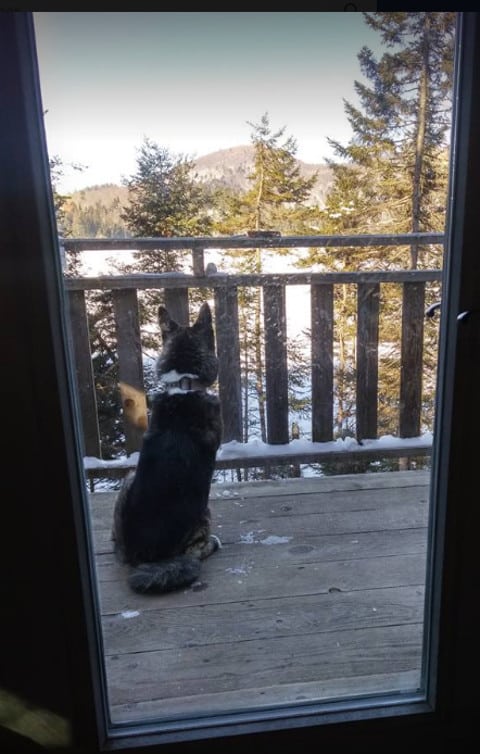 Three legs do not slow her down! Here she is carrying her food to the tree house!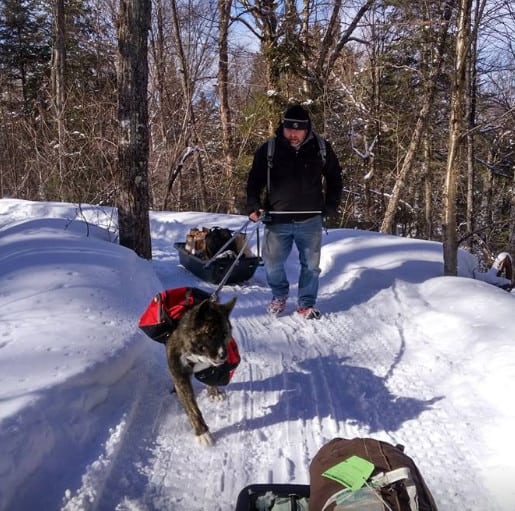 She is Jaydon's good luck charm!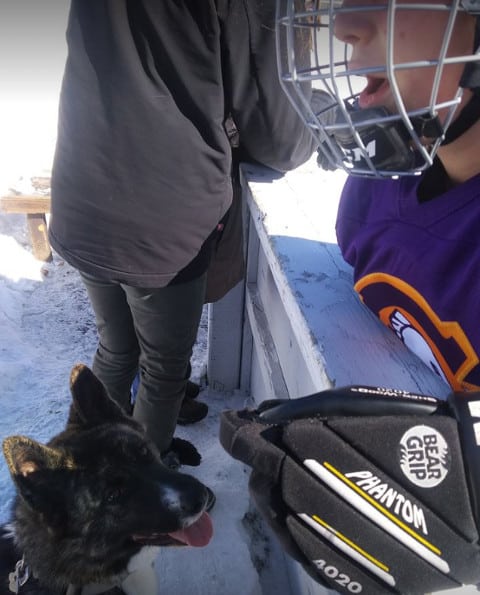 Our winter baby! We are not telling her about Ottawa's humidity in the summer till later!
Note to self – she does not like cross country skiers – if some come towards us she runs back to the car….. and does not wait for anyone… "Every man for himself"! BUT if there AREN'T any skiers – then she will protect you and guard you!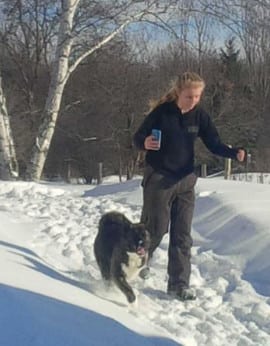 When we learned about Akita's we knew we had to be VERY careful around the cats and guinea pigs… in this photo she had been lying down in the run with them while we were cleaning cages – and little Abbey Ray was by her chest – I think loving the fur… but as soon as I come by she always hopes up!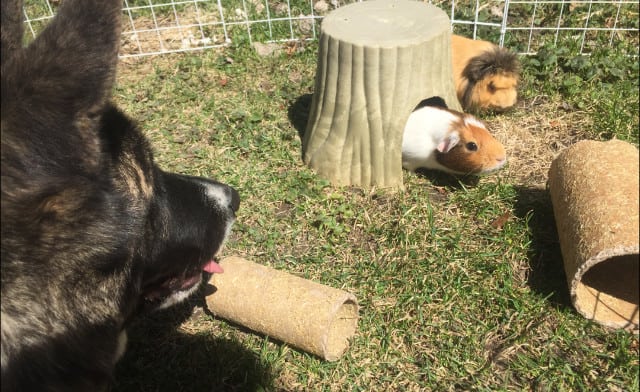 Everytime we tell her to get out – she looks away – and IF she hops out – she ALWAYS hops back in!
Tell me, why do we love her so??? We have not even had her in our home a year yet….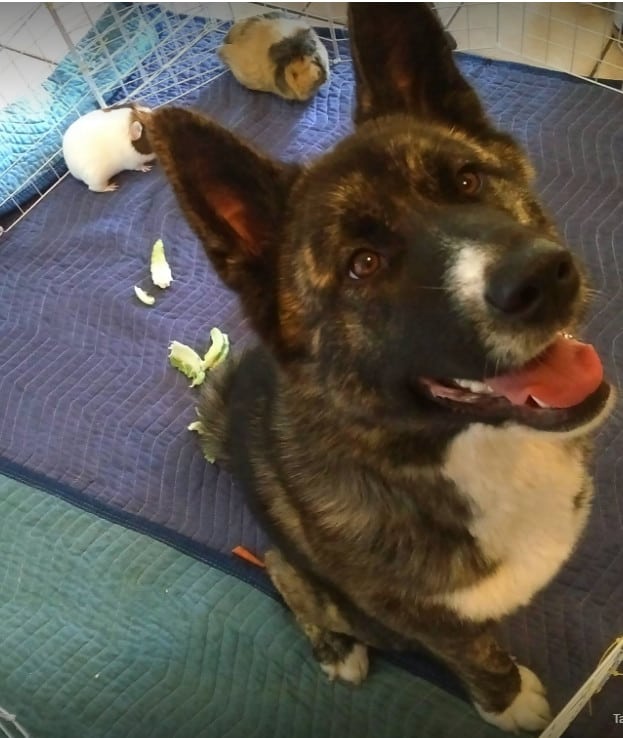 She watches over us…. She is our guardian, she is family, she shoves her feet in our face and we love it!
She loves unicorn blankets as much as Carly!
She brings balance in our home.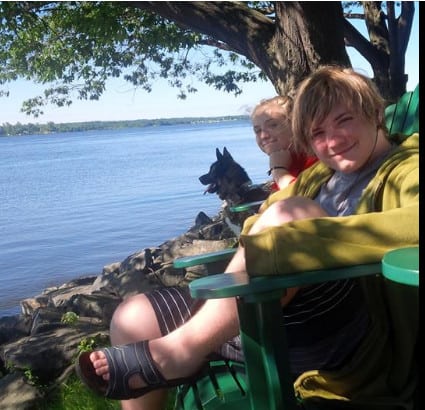 Celebrating the end of a school year! Of course we left for a night away and Kuma HAD TO come! First time in a hotel, and she fit right in! She is good medicine!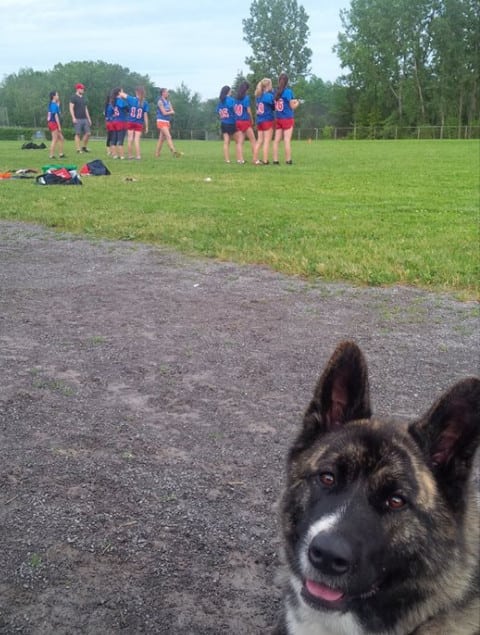 She is also the Girls Touch Football mascot! She brings them good luck!
It is like we have always had her……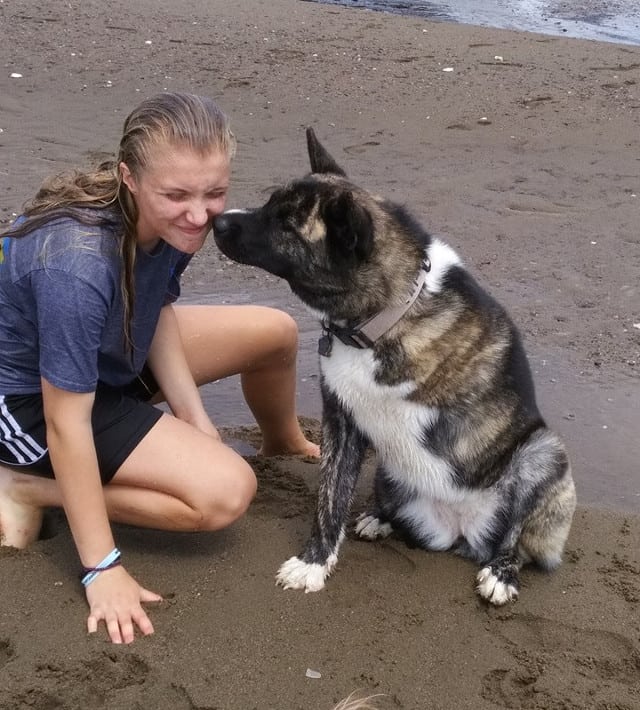 Read All Tripawd Tuesday Stories
Your Pet Can Star in Tripawd Tuesday
Each Tuesday, Tripawd dogs, cats and other critters from around the world can enter for a chance to be "Tripawd of the Week." Just share your Tripawd's story and you're entered to win! On every Tuesday of the week, tell us about your three-legged hero. Just follow these easy steps:
In a short paragraph or two (or longer if you'd like!), describe your three-legged hero's story.
Include photos or links to videos already uploaded to YouTube.
Include a link to your Tripawds Forum topic and/or Tripawds blog, social media handles, etc.

Email your story and photos

to us.
All entries must be received by Saturday at 11:59 pm. One Tripawd story will be selected at random to be featured the following Tuesday.