Most people don't know that three-legged dogs and cats aren't really "special needs" at all. Sure, we need to be a little more careful with their activity and fitness needs, but Tripawds are equally as lovable, amazing and capable as other four-legged animals. Lucky is no exception. Her mom Amy decided to send a Tripawd Tuesday story to us and we're so glad she did! Here's Lucky's tale as told by Amy.
Lucky's Three-Legged Rescue Tale
"I love Tripawds and sharing stories about our three legged animals who hold a special place in our hearts. Here's mine.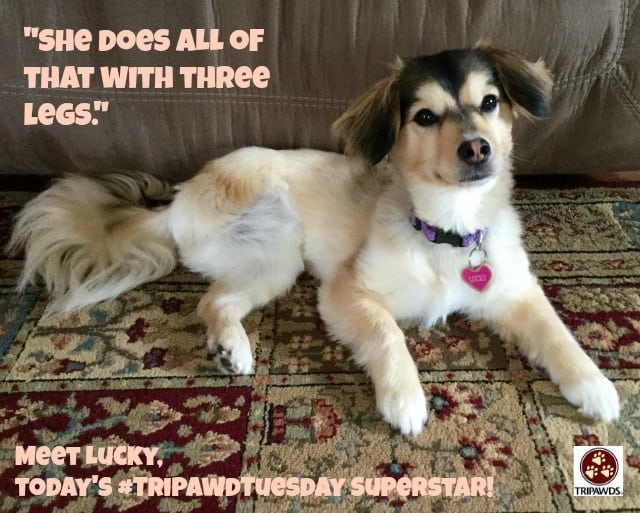 This is Lucky. We adopted her almost 3 years ago from a rescue organization. I have always found three legged dogs to be special and beautiful. I first met Lucky who was formerly know as "Eileen" (get it?!?) exactly one month after my other dog had passed away.
She came right over to me and laid down at my feet. That was it, I was in love!
We were told she was between 6 and 9 months old when we adopted her and she had lost her leg due to being hit by a car when she was a puppy which is pretty amazing she even survived that ordeal! We were told she may have trouble with stairs, may not be able to jump up and may have trouble on walks. Well, I can say that none of that was true. Lucky does everything and anything a dog with four legs can do (if not better). Most people see her run and jump and then are amazed when they realize she does ALL of that with three legs. Lucky to survive and thrive on three legs and we are so Lucky to have her in our lives.
Sincerely,
Lucky's Mom
Amy Nichols
Cincinnati Ohio
Read All Tripawd Tuesday Stories
How to Share Your Tripawd Tuesday Story
Each Tuesday, Tripawd dogs and cats from around the world can enter for a chance to be "Tripawd of the Week." Just share your Tripawd's story and you're entered to win! On every Tuesday of the week, tell us about your three-legged hero. Just follow these easy steps:
In a short paragraph or two (or longer if you'd like!), describe your three-legged hero's story.
Include photos or links to videos already uploaded to YouTube.
Include a link to your Tripawds Forum topic and/or Tripawds blog, social media handles, etc.

Email your story and photos to us.
All entries must be received by Saturday at 11:59 pm. One Tripawd story will be selected at random to be featured the following Tuesday.
Is your dog or cat a Tripawd hero?