This community is a beautiful tapestry of Tripawds. From diagnosis to recovery and beyond, newcomers turn to your stories for the truth about three-legged dogs and cats. Each Tripawd story matters. It doesn't matter if you have a dog or cat, chicken, rabbit or any other critter. If you can spend just a few minutes to tell us about your Tripawd, you can bring comfort, hope and confidence to worried pet parents.
How to Share Your Tripawd Story
Our community has many ways you can tell the whole story about your three-legged hero. You can do it in more detail than any other place on the internet. Here's how you can share your Tripawd story with us..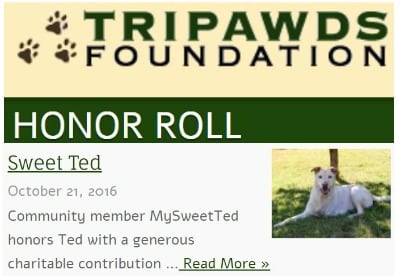 1. Pay Tribute on the Tripawds Honor Roll
There are so many Free Tripawds Resources because this is a user-supported community. Donors help keep Tripawds online. Donations are why the Tripawds Foundation makes life better for Tripawds with programs like the Maggie Moo Fund for Tripawd Rehab and the Amputation Surgery Assistance Program.
We couldn't be here without member support, so why not consider sharing your Tripawd story with a charitable contribution to Tripawds Foundation? Make a tax deductible contribution today and send us your story. It's that simple! All donors receive a tribute post about their Three Legged Heroes and Angels on the Tripawds Honor Roll.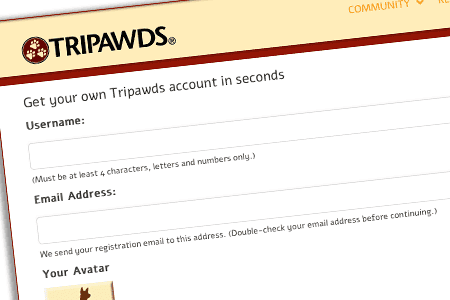 2. Start a Free Tripawds Blog
A Tripawds blog is such a great source of hope for pet parents. Our member blogs are one of the first places people turn to for examples of Tripawds. Our data shows us that people search the blogs for the real story on recovery, mobility, cancer and everything in-between. Start a Free Tripawds blog to let others know about your hero. It's easy!
And if you want to support the community while you're at it, start a Tripawds Supporter Blog! Supporter blogs have no advertisements, more upload space for photos, and cool features like spam protection. The Tripawds Supporter blog feature chart has details.
3. Become a #TripawdTuesday Superstar
Our (almost) weekly Tripawd Tuesday feature is a crowd favorite. Each Tuesday, Tripawd dogs and cats from around the world can be a "Tripawd of the Week." Just email your Tripawd's story with a photo or two and you're in! Follow these simple steps:
In a short paragraph or two (or longer if you'd like!), describe your three-legged hero's story.
Include photos or links to videos already uploaded to YouTube.
Include a link to your Tripawds Forum topic and/or Tripawds blog, social media handles, etc.

Email your story and photos to us.
Submit your Tripawd Tuesday feature.
4. Post in the Tripawds Discussion Forums
The Tripawds Discussion Forums are the backbone of our community. It's the first place people discover on the internet when looking for information about dog amputation, cat Tripawds and help with life on three legs. The Forums have many places for you to share your Tripawd story. Depending on where you are in the journey, you can Share Your Story, Give a Shout Out or introduce us to your Tripawd rescue in "Beyond Cancer."
Don't underestimate the difference your Tripawd story can make. Just a few minutes putting something together can make a huge difference for an animal somewhere in the world. Thank you for considering it!
Become an official Tripawds Ambassador!
Get everything you need for you and your three-legged dog or cat to show the world that Tripawds Rule!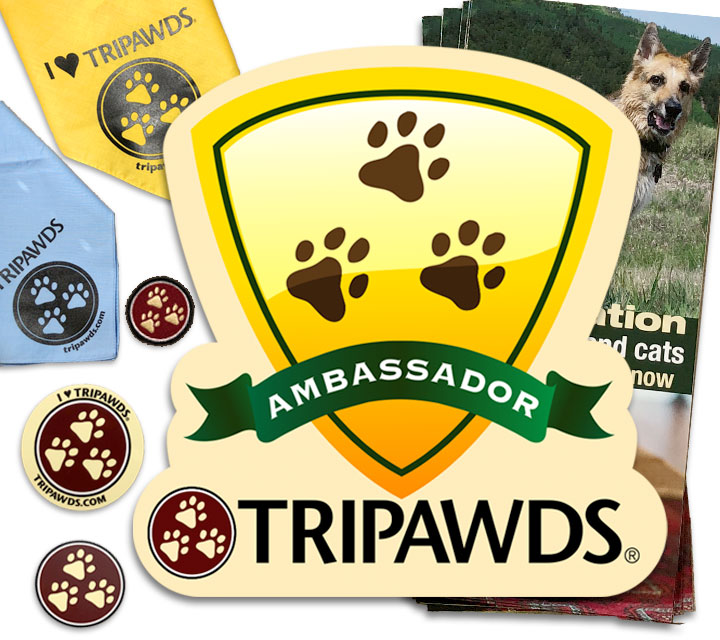 Be an official Tripawds Ambassador to help show the world it's better to hop on three legs than to limp on four. Show Your Tripawd Pride! You'll also get everything you need to share this community's free resources and amputee pet programs that help three legged cats, dogs and their people.