Our Tripawds Spokesdawg Wyatt Ray has become quite the role model for three-legged dog fitness. But he didn't get there overnight. After his amputation it took months for him to rebuild strength.
That was nearly eight years ago. Wyatt has come a long way since then, and we have too when it comes to understanding how to keep a Tripawd safe and injury free. We are not certified canine rehabilitation therapists, but we have interviewed many veterinary specialists over the years (Don't miss our many orthopedic blog posts and videos or download Loving Life on Three Legs for fast links to lots of helpful tips!)
NEW: Get a 12-week At Home Exercise Program with Canine Rehab on Demand.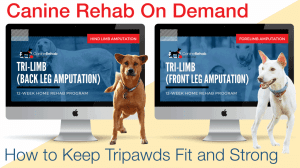 A rehab vet once told us something very important that you must remember: walks do not build strength, only endurance. More frequent much shorter walks are preferred at first. But core conditioning and weight bearing exercises are a must for improving strength and building muscle.
Today, we just want to show you this quick clip about Wyatt's newest exercises. Look at how strong he's become!
In this video, Wyatt is balancing on a FitPAWS Donut. See how his weight is on that rear leg? He is using his core muscles to stay balanced while Rene is making him reach from side to side.
NOTE: The Donut is an advanced workout, but there are many other ways to help your Tripawd get started building strength today…
NOTE: We always recommend consulting with a certified rehab therapist for a professional evaluation and homework exercises you can do at home. Get reimbursed for your first visit!
Starter Exercises Exercises to Help Tripawd Dogs Get Strong
Once your Tripawd has healed and the stitches are out, you can start with some basic balance exercises and stretches for dogs. Soon we'll follow up with Tripawd Cat Exercises!
1. Puppy Push Ups
From a standing position, have your dog sit, then lay down, then sit, and then stand back up. Repeat this no more than five times at first. A couple times a day will be plenty of exercise.
Learn more ways to keep three legged dogs fit and strong in the Tripawds e-books. Got questions? Download immediately for fast answers!
2. Cookie Crunches
With your dog standing, use a treat or toy to encourage him to stretch his body upward toward the tail. Do this for both sides and repeat. Do this three to five times on each side, working up to 10 (but go slow!). You can also practice this while your dog is laying on a firm surface. Be sure to reward every effort.
3. Develop Proprioception
The term "proprioception" is the mind's awareness of the body's position in space. After the amputation, your dog will need better proprioception in order to adjust his stance and his gait to compensate for the missing leg. There are various PROM (Passive Range Of Motion) exercises you can do to help. But you can start, simply by playing with his toes. Wyatt hated this! But by gently spreading his toes and patting at his feet so he would move them while standing up, he quickly learned to become more steady on his feet.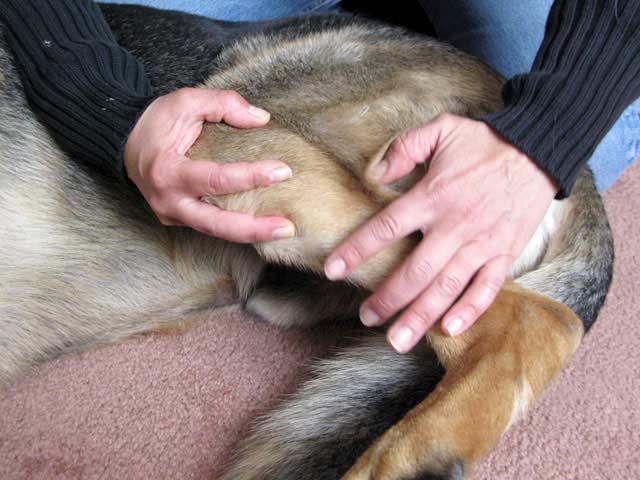 4. Weight Shifting
Get your dog to stand in place while gently pushing her slowly from side to side. Do not force her completely off balance. You don't want her falling over. You just want to notice her legs and core muscles tightening as she tries to remain upright. Blocking your dogs path and walking forward can force her to hop backwards — another easy challenge to help improve balance and confidence.
5. Unstable Surface Work
FitPAWS makes some great canine fitness equipment, but you really don't need to purchase anything for your first exercise routines. Take the cushions of your couch and lay them on the floor. Have your dog walk back and forth across them a few times. As your dog gets stronger, you can stack a couple cushions and have her stand on them while stretching like Wyatt did in this video.
If you are handy, you can make your own Buja Board for doing some fun balance exercises with your dog. Simply by standing on a wobble board, your dog is developing core muscle strength.
You can download free Buja Boad plans to make your own. And you will find much more helpful information about swimming, stretches, and exercises to keep your three legged dog fit and healthy in the Tripawds e-books, or by searching the blogs and forums. Don't just take our word for it. Watch the above video with canine physical therapist Dr. Laura Hady. She explains how the exercises help, and demonstrates the board with Wyatt and Max, a Rottweiler missing his front leg.
Whatever you do to help your dog, please be sure to start slowly. Perform a few quick exercises a couple times a day and you may soon notice a remarkable improvement. When it comes to rewarding your dog for putting up with your crazy exercises, use lots of praise, a favorite toy, or a low-fat treat. Fruit and vegetable pieces are much better than cookies — Wyatt loves green beans and carrots! Weight management is extremely important for keeping your Tripawd fit and strong.
When it comes to exercise, our best advice is to consult with a certified canine rehab vet tech for a professional evaluation and some fun exercises you can do at home. Thanks to the Maggie Moo Fund for Tripawd Rehab, you may even get reimbursed for your first visit from the Tripawds Foundation!
Can a Tripawd Swim?
One of the first questions we get from concerned new Tripawds members, is:
Will my dog ever swim again?
In this short video Wyatt proves it, Yes! A Tripawd can swim just fine!
Swimming is fantastic therapy, but it is most effective when enjoyed as part of a comprehensive canine conditioning program. Pay attention to the note in that video that explains how Wyatt swims so well thanks to proper nutrition and rehab exercises.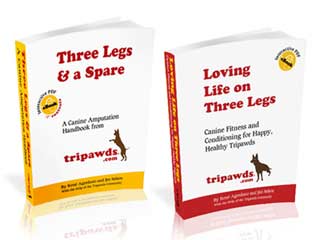 Watch The Tripawds News Blog for Tripawd Cat Exercises!