Ready to help your amputee dog get strong and fit? Now you can! A new Tripawd rehab home exercise program by one of the world's best canine rehabilitation therapist and veterinarians is ready to help!
Veterinarian-Approved Tripawd Rehab Home Exercise Program is the First of its Kind!
Head's up: Tripawds.com is an affiliate for this pawesome program. This means that a portion of every sale goes to help keep the Tripawds Community. Thanks for your support!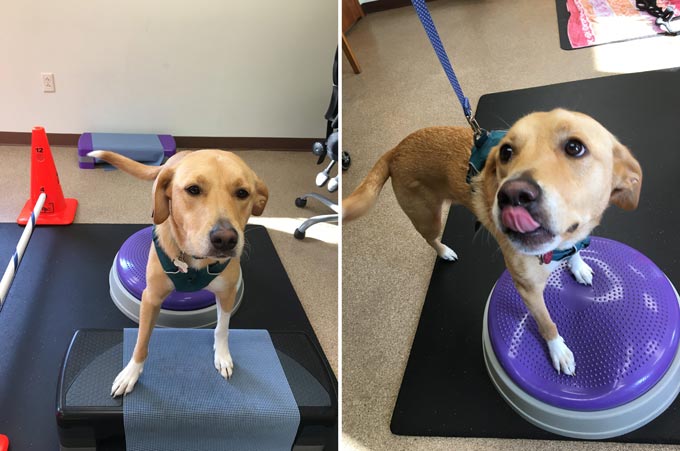 It's so hard to know how to help your hero get strong after amputation surgery. The Tripawds Foundation's Maggie Moo Fund for Free Tripawd Rehab can help, by paying for your dog's first rehab visit. But what if you don't have a dog rehabilitation center or physiotherapist near you?
Never fear! There's a way to help your Tripawd safely exercise after amputation surgery!
This is the first online, vet-approved Tripawd home exercise course of its kind. We are proud to bring it to you because it's made just for Tripawds, by experts in the field. This Webinar and 12-week Tri-Limb Home Rehab Program is a downloadable pet-parent course created by Dr. John Waterhouse, CCRP. Along with his wife, veterinarian Dr. Celia Waterhouse, they are founders of the Veterinary Teaching Academy and Canine Rehab on Demand.
Now, wherever you live in the world, you have access to one of the world's best veterinary canine rehabilitation (physio) therapy teams.
Get All Details About the New Tri-Limb Exercise Programs
We spoke with Dr. Waterhouse recently about his new at-home exercise program for Tripawds. Watch the video to learn about the courses, and get a video tour too!
No time to watch now? Download the Tripawd Talk Radio Podcast and listen on the go!
Learn and Get your Tripawd strong and fit, at home!
Both 12-week exercise programs just for three legged dogs include an educational lecture. Learn everything you need to know about amputation recovery for dogs, from a veterinarian's perspective! Most importantly, you'll learn how to keep your amputee hero safe when exercising.
Programs for Front or Rear leg Tripawds:
A nutritional plan with recommended supplements is also included!
Each Tripawd rehab exercise program includes detailed, step-by-step video instructions and downloadable guides. They're designed as 12 week programs. You will learn how to help your recovering Tripawd get strong, and stay there.
The best part? Every program includes lifetime access!
Learn More About These Exercise Programs for Amputee Dogs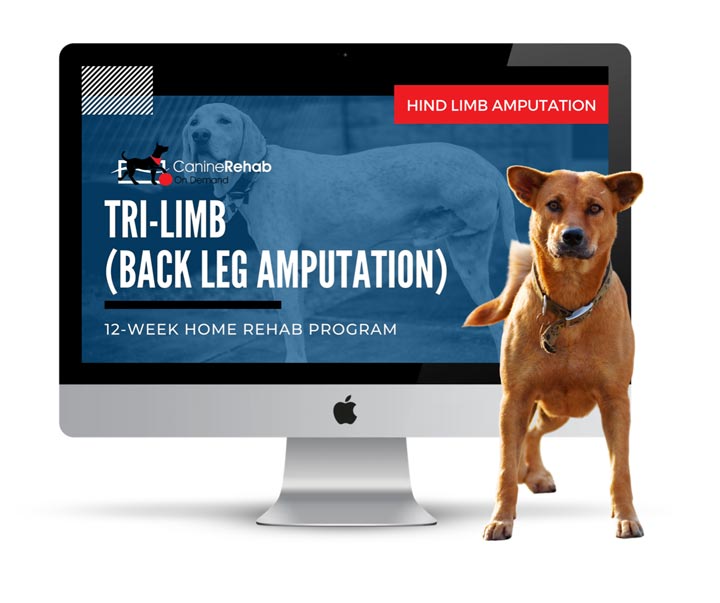 Learn how to help rear leg amputee dogs.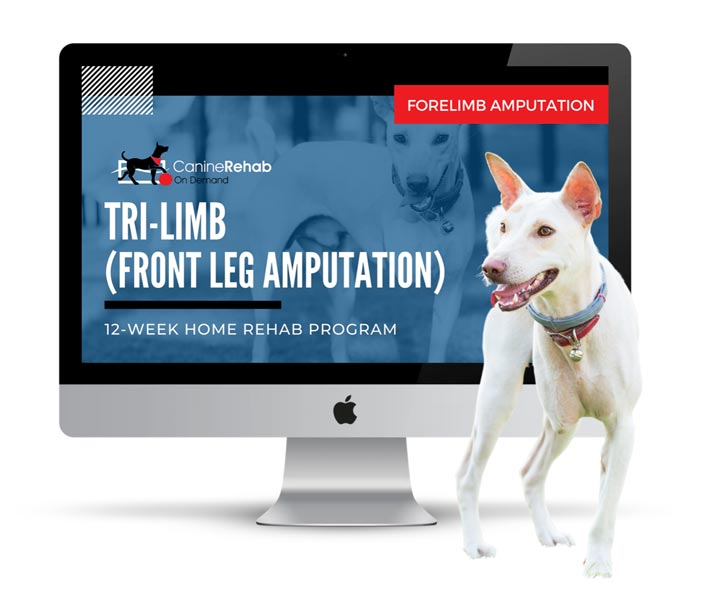 SEE ALL CANINE REHAB ON DEMAND PROGRAMS
LEARN MORE ABOUT CANINE REHAB ON DEMAND
We hope you find these programs as helpful as we believe they are. If they make a difference for your Tripawd, let us know. Contact us to share your Tripawd home exercise success story!