On this first Tripawd Tuesday of 2014 we'd like to introduce you to Maurice "la Matraque." This handsome Tripawd is from the great white north of New Brunswick, Canada. His mom Lisa recently shared his story with us: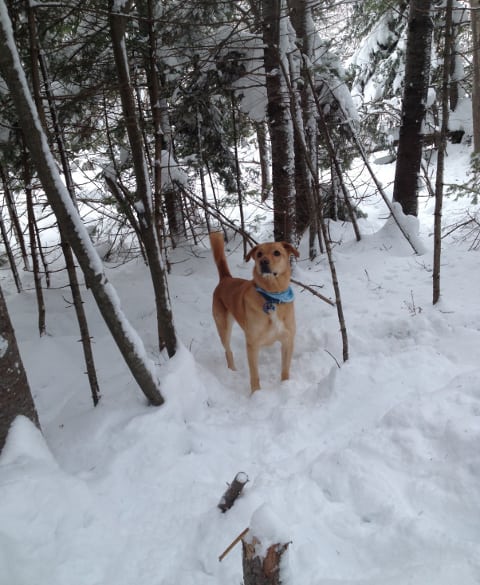 His nick name is Maurice la matraque (stick that cop use) because his tail is always wagging and a real danger to anything near by ex: coffee cup etc….and, he is also known as Maurice the dog with a chicken leg. His one and only hind leg is known as the chicken leg.
He will be 7 years old this year. He was hit by a truck on August 29. He had his hind leg amputated on September 1, 2013. I was not ready to lose my Maurice. I lost my little Sandrine, on June 21, 2013 from old age and renal failure. She was 13 years old. My boyfriend lost his white labrador to old age and bowel rupture on May 5, 2013. We were not ready to lose another dog. After that, October 25, 2013, my dear old cat Cyrano, died from renal failure at 15.5 year old.
Maurice has recovered like a champion. The loss of his hind leg has not taken his happy sweet loving personality away. The accident happened when he was walking with my boyfriend. Maurice was on a leash and he saw a cat. He took off like a bullet and "boom."
2013 was a difficult year BUT…I celebrate each day, the fact that my dog Maurice made it alive and well .He is even in charge of the squirrel patrol.
How to Get Featured on Tripawd Tuesday
Each Tuesday, Tripawds from around the world can enter for a chance to be "Tripawd of the Week." Just share your Tripawd's story and you're entered to win!
On every Tuesday of the week, tell us about your three-legged hero here in the Tripawds Discussion Forums or on the Tripawds Facebook page. Just follow these easy steps:
In a few short sentences, describe your three-legged hero's story.
Include a photo or video.
Include a link to your Trpawds Facebook page, Forum topic and/or Tripawds blog (if applicable)
All entries must be received by Saturday at 11:59 pm. One Tripawd story will be selected at random to be featured the following Tuesday.