Do you know someone looking to adopt a small Tripawd with a big heart? Then Xena is your girl! Today she's our Tripawd Tuesday featured story, please feel free to share it with others.
Meet Xena the Princess Warrior
"Hello, my name is Xena. It used to be something else but when Charlyne's Pound Puppies rescued me after being hit by a car, they decided I was a princess warrior! Because of the car accident I had to have my leg amputated.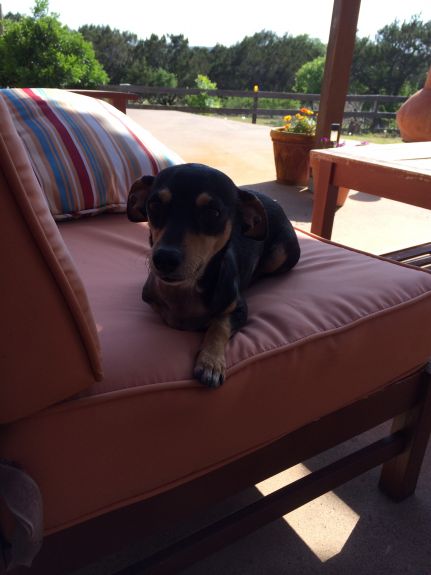 Now I am a Tripawd, and proud of it. I can run as fast as ever (just not as long as I used to)! I had a hard life before C.P.P. took me in. It frightens me when people shout at me or raise their hand to me. But I forget easily and can't wait to snuggle up as close as I can to my family members. I like dogs that are about my size and cats are ok too. I weigh about 10 lbs and am a Miniature Pinscher mixed with something else…perhaps a dachshund.
[youtube]http://youtu.be/kMymBwNBgtc[/youtube]
Being a tripawd makes me a little less perfect than the other pups needing homes, but I promise to love you unconditionally furever."
Help find Xena a forever family.
Follow her Tripawds Blog, and contact:
Charlyne's Pound Puppies
http://poundpups.org/
Call (512) 832-4101
For more information or email: info@poundpups.org
How to Get Featured on Tripawd Tuesday
Each Tuesday, Tripawds from around the world can enter for a chance to be "Tripawd of the Week." Just share your Tripawd's story and you're entered to win! On every Tuesday of the week, tell us about your three-legged hero here in the Tripawds Discussion Forums or on the Tripawds Facebook page. Just follow these easy steps:
In a few short sentences, describe your three-legged hero's story.
Include a photo or video.
Include a link to your Trpawds Facebook page, Forum topic and/or Tripawds blog (if applicable)
All entries must be received by Saturday at 11:59 pm. One Tripawd story will be selected at random to be featured the following Tuesday.