At the BlogPaws Social Media Conference we often meet other animal-centric people who are helping a specific niche of the animal kingdom like we are. This year we had the pleasure of meeting Sharon Seltzer, founder of "Lessons From a Paralyzed Dog."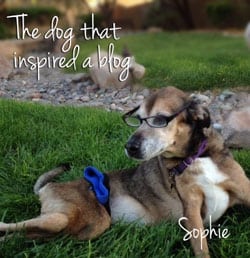 Sharon is on a mission to make life better for handicapped and special needs pets, and she does so in honor of Sophie, her beloved senior dog who became paralyzed from an undiagnosed illness. She was kind enough to submit the following guest blog post to introduce Sophie's story and let folks know that they are definitely not alone. Let's give a big 3-paws up to this pawesome duo for making life better for paralyzed animals and their pawrents!

Lessons From a Paralyzed Dog is quite a mouthful for the name of a website, but I think it is the perfect fit for a site dedicated to handicapped and special needs pets. The website is a tribute to my dog Sophie who loved being the fastest runner at the dog park until she became paralyzed from an undiagnosed illness.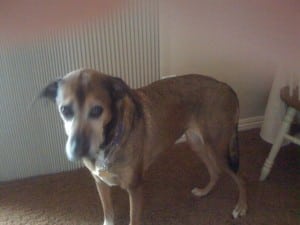 Sophie got her nickname as the fastest runner at the dog park because of the way she would lure the other dogs into a game of chase. First she would get their attention by running and dodging past them. Then as they lifted their heads in the air to see what she was doing, Sophie would strut out in front of the pack. She'd turn around once to make sure all of the dogs were looking at her and then take off running as fast as she could. One-by-one each of the dogs would run after her. Sophie would be so happy she literally galloped from one end of the park to the other until everyone was exhausted. The imaginary race was her greatest pleasure.
In 2008, Sophie came down with a progressive paralysis that took away her ability to run, walk and later stand or even sit upright. For next five years she bravely learned to enjoy a new "normal" way of life and so did my family.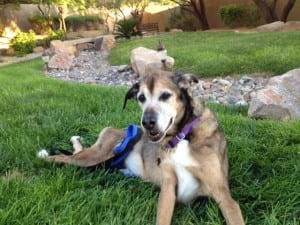 Lessons From a Paralyzed Dog is about that journey. We also highlight other amazing animals with special needs, health tips for caregivers, rehab techniques and resources about products and clinical trials.
I hope some of these topics will be useful to tripod pets and their owners, as well. When I met the founders of Tripawds, I realized the missions of our two groups were the same. We both want to use our personal experience with a disabled pet to help others who are going through a similar situation. It's lonely when you think you are going through a life-changing event with your cat or dog all by yourself. Below is a sample of the type of stories you'll read on our site.
Lesson #1 For Owners Of Paralyzed Pets
One of the first lessons I had to learn to keep Sophie alive was how to express her bladder. Too many paralyzed dogs are euthanized because their owners can't quite get the hang of this technique.
Here is my story:
"At first I turned to our veterinarian who patiently tried to explain the process and how Sophie's body should feel when her bladder was full. His instructions didn't make sense to me. He wanted Sophie to lie down during the process, but my dog had spent the past 10 years standing upright to pee.
To make matters worse she hated the idea and fought me each time we tried it.
I knew Sophie would die if I didn't get this part of her care right so in exasperation I turned to the Internet. To my surprise it led me to YouTube where all sorts of helpful videos popped up on the screen.
One video in particular showed a woman walking her paralyzed female dog outside for the maneuver. She very clearly explained how to hold the dog's rear harness, which was exactly like the one I used, while lifting the dog's lower belly over her free arm. The pressure of the dog's body against her arm emptied the dog's bladder. The instructions were simple, practical and crystal clear about a dog's anatomy.
I took Sophie outside to our lawn and followed the method. It worked like a charm. There was no stress to my dog because she was in a familiar position. The pee flowed from her body like a normal dog. It was one of the most thrilling experiences in my life and it literally saved Sophie's life.
After five years I became somewhat of an expert in expressing my dog's bladder and learning to tell if she was full. For me, a full bladder felt very much like finding a furry tennis ball in Sophie's lower belly. Gently pushing on that tennis ball emptied it."
Being the caregiver for a handicapped or special needs pet can by scary. Their wellbeing rests in your hands and I understand the feeling that you don't want to fail them. I hope we can answer some of your questions at Lessons From a Paralyzed Dog
Sharon is an animal writer and co-founder of the Heaven Can Wait Animal Society rescue group. She shares her life with her dog Cody and three semi-feral cats. She was also the caregiver to her beloved dog Sophie who was paralyzed for 5 years.