In the recent past, when a Tripawd needed another leg surgery or had a hip issue, there were few, if any options to provide a better quality of life.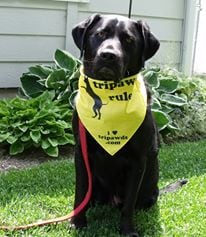 But thanks to a few forward-thinking veterinarians and courageous Tripawds and pawrents, exciting new orthopedic procedures are being perfected to give Tripawds another lease on life.
Murphy is a Labrador Retriever from Idaho. He's a three-legged dog who has firsthand experience with today's advances in orthopedic veterinary surgery procedures and he's our featured Tripawd Tuesday Hero.
Read on for an inspiring way to start your day!
Total Hip Replacement After Rear Leg Amputation
In March 2013 his Mom Kathi joined the Tripawds community and shared his recovery story:
Murphy was hit by a car in October, which was what started this whole experience. His left knee was completely torn up to the point that after three weeks in the hospital, the doctor decided that it was best for his recovery if the leg was amputated. The femoral nerve was damaged so badly that he had no retraction response and the leg just dragged along when he tried to walk.
In addition to the damage to the left leg, his right hip was dislocated. He has very shallow hip joints, and consequently became a chronic dislocater. This is what led to the (total hip replacement) THR. We were very fortunate to have an outstanding orthopedic surgeon-+ less than four hours from us (not terribly far by Idaho standards). He refused to give up on Murphy even when I was almost at the end of my rope.
The THR was the eighth surgical procedure since October, and I just wasn't sure how much more we could put Murphy through. He was a great patient and so very resiliant. Nothing much ever seemed to get him down. The last time the hip went out, he was almost walking on his front legs like a circus dog. In all, he spent more than a month in the hospital since his accident.
He is now almost four months post amputation and five weeks post total hip replacement. The doctor feels that the muscles in his leg are now strong enough that there isn't as much worry about another dislocation. The KYON replacement that he has needs about four months' healing time for the bone to grow into the implant. Our biggest problem is keeping him slowed down. We can't wait for the day when he can go out into the yard without a leash.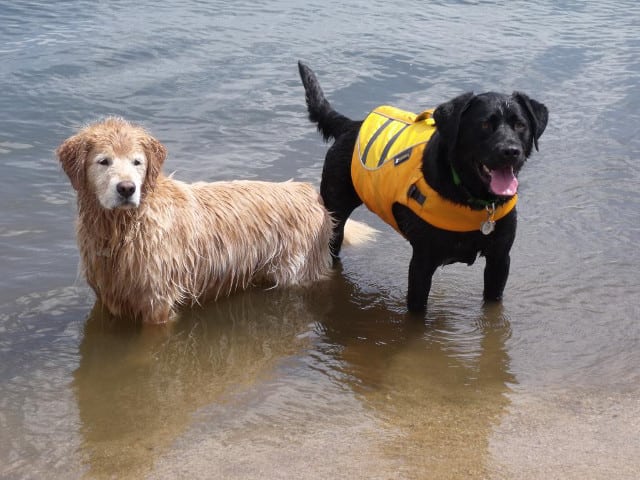 Our surgeon teaches the hip replacement to other vets and is a nationally renowned orthopedist. Murphy is his fourth tripod, and all of them have done well. Here is a link to the hip replacement that he had, if anyone is interested: Sun Valley Animal Center.
Murphy has passed his one year ampuversary with flying colors and just this week passed his one year "hip-u-versary" of the date he had his total hip replacement. He's doing great! You can follow Murphy's story here in the Tripawds Discussion Forums, at Murphy's Facebook Page and over at his YouTube Channel, Murphy the Three-legged Dog.
How to Get Featured on Tripawd Tuesday
Each Tuesday, Tripawds from around the world can enter for a chance to be "Tripawd of the Week." Just share your Tripawd's story and you're entered to win! On every Tuesday of the week, tell us about your three-legged hero here in the Tripawds Discussion Forums or on the Tripawds Facebook page. Just follow these easy steps:
In a few short sentences, describe your three-legged hero's story.
Include a photo or video.
Include a link to your Trpawds Facebook page, Forum topic and/or Tripawds blog (if applicable)
All entries must be received by Saturday at 11:59 pm. One Tripawd story will be selected at random to be featured the following Tuesday.
Save
Save
Save