It's Tripawd Tuesday everypawdy! Today we're celebrating those very special foster pawrents who open their hearts and homes to "special needs" animals. Tripawds member Sandy Early is one of these incredible people, and today we're sharing her story about how her rescue work ended up bringing two very special Tripawds into her life, Tulo and Blake.
"I have been rescuing Dobermans since 1980. I work with Colorado Doberman Rescue (CDR). People get puppies and don't realize what they are getting into. Dobermans MUST be trained. These are working watch dogs. They want to please you and protect you. When people don't want to put in the training time they end up with a very large furry problem that does not take "leave em alone" as an answer, so they give them up.
My first, Brownie was a starvation abuse case. I fell in love with him and went on from there. He was so smart it was scary at times. Then came Tak who had lived in a muddy pen till I got him at age 6. Jamie Scot was a 90# baby at age 10 months who had no training. Yikes! Then came Tulo who was never let inside so was not even house trained at 12 months.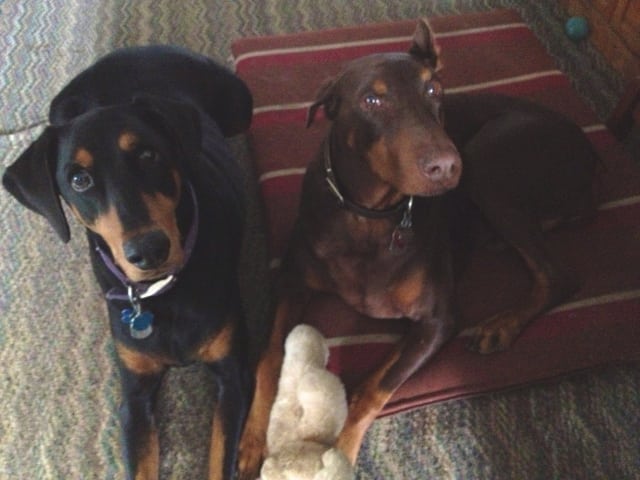 One day in 2009 when delivering some paperwork to CDR on an adoption home visit I met Blake, a big red Doberman missing his right hind leg and the inside toe on his remaining back leg- probably from a traffic accident. He was malnourished when he came to Special Needs Dobermans and was going twice a week to aqua therapy to strengthen his muscles. He is a calm thoughtful dog that joined my ADD Doberkid Tulo and his tabby cat buddy.
We were a big happy family till December of 2013 when I suddenly noticed Tulo's glands being very swollen. He was diagnosed with Lympho sarcoma. We have gone though months of keeping Tulo as healthy as possible and pain free. Then in June suddenly our tabby cat also got sick. She was suffering from heart failure and we lost her great company. Then 4 weeks ago I had to say good by to Tulo at age 7.
Now my beloved Tripawd Blake and I are moving forward. He was not supposed to outlast all the rest of his buddies but he did and I am so grateful to be here with him. He never gives up. Clearly he was not 8 when I got him as he is still going strong showing few signs of age.
Life is not easy for him but he wakes up every morning and tells me how happy he is to wake up with me. He walks with me, camps with me and is a true gentleman. The first past of his life was not great. His ears are cropped badly and one goes up and one goes down, but to me he is perfect. It is now unclear who rescued who. Here is to Blake and all the Tripawds out there!"
Get Featured on Tripawd Tuesday
Each Tuesday, Tripawds from around the world can enter for a chance to be "Tripawd of the Week." Just share your Tripawd's story and you're entered to win! On every Tuesday of the week, tell us about your three-legged hero here in the Tripawds Discussion Forums or on the Tripawds Facebook page. Just follow these easy steps:
In a few short sentences, describe your three-legged hero's story.
Include a photo or video.
Include a link to your Trpawds Facebook page, Forum topic and/or Tripawds blog (if applicable)
All entries must be received by Saturday at 11:59 pm. One Tripawd story will be selected at random to be featured the following Tuesday.