Making the decision to amputate a pet's leg is tough. It's even more difficult when the dog or cat is older. Today's Tripawd Tuesday will give hope to any pet parent faced with the decision to amputate a senior dog or cat's leg. Watch 12-year old Meisie get around on three legs and love life as a Tripawd! Here's her story as told by her humans, Karen and Shane.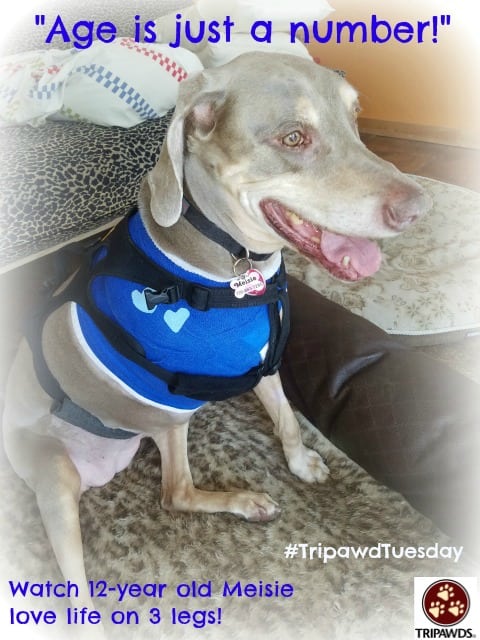 Our beautiful Weimaraner, Meisie, was diagnosed with bone cancer in her right front leg in April 1, 2017. It was devastating to hear the news, and everything happened so fast afterwards, we were reeling a week later !
Within 3 days if her diagnosis, Meisie had her leg amputated. It was hard to see her after the surgery as she struggled to get around, and we had doubts as to whether we did the right thing for her.
Within days, she was moving around really well, and had figured out how to master our staircase.
A month later, she is back to her playful, happy self. We call her Happy Hoppy now. She celebrated her 12th birthday on April 23…and we pledged to give her the best summer if her life this year !
Karen and Shane Hyde
Read All Tripawd Tuesday Stories
We Want Your Tripawd Tuesday Story!
Each Tuesday, Tripawd dogs and cats from around the world can enter for a chance to be "Tripawd of the Week." Just share your Tripawd's story and you're entered to win! On every Tuesday of the week, tell us about your three-legged hero. Just follow these easy steps:
In a short paragraph or two (or longer if you'd like!), describe your three-legged hero's story.
Include photos or links to videos already uploaded to YouTube.
Include a link to your Tripawds Forum topic and/or Tripawds blog, social media handles, etc.

Email your story and photos to us.
All entries must be received by Saturday at 11:59 pm. One Tripawd story will be selected at random to be featured the following Tuesday.