Don't let today's Tripawd Tuesday go by without reading about Maggie, a former puppy mill breeding dog. She was abused and abandoned before finding her way into the hearts of great humans who helped her become a beloved certified therapy dog! We know you'll love her story as much as we do.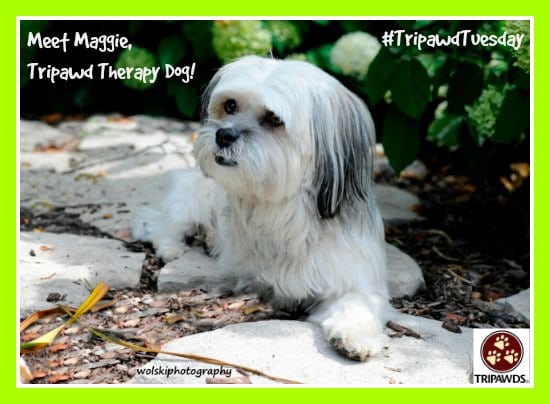 Mike and I adopted Maggie, who is supposed to be a Havanese/Lhasa Apso mix, in February 2013 from the Marion Grant Humane Shelter in Marion Indiana. Maggie had lived on a farm and was being used to produced litter after litter of puppies. In September 2012, her former owners returned from a "trip" and found Maggie, who was due with her latest litter of puppies, sitting in the driveway. Her right front paw had been torn off. They did not know if she'd been caught in a trap or if a wild animal had attacked her.
Maggie had the puppies that night and her right front leg was amputated at the shoulder the next day. The vet kept her for three weeks rather than sending the new mother and surgical patient back into that home environment. After being returned to the family, they apparently took her to Marion Grant Humane Shelter in December 2012 when (presumably) the puppies were weaned and sold. They just left her without providing any background information. When the shelter manager called around and located the vet who'd performed the amputation, he provided the whole story and expressed astonishment that they would surrender a dog with such a wonderful temperament. However, her usefulness to her former owners had ended.
At the same time, I was looking for a second dog on Pet Finder. After a search for a small special needs dog, I saw her face and knew that she was our new dog. Since my husband Mike, is an amputee from the Vietnam War, our house was already set up for an amputee and she'd fit right in – and she has.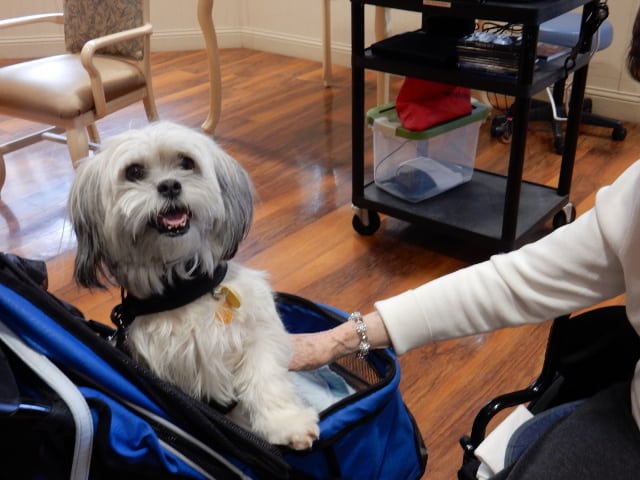 We were lucky enough to live close to TOPS Rehab in Grayslake, Illinois and to have Dr. Laurie McCauley as Maggie's rehab vet. She is on a home exercise program, swims on a regular basis, and is learning how to walk in front cart.
Most importantly, she does have a wonderful temperament that is well-suited for pet therapy work. After passing the AKC Canine Good Citizen Test, she joined a local pet therapy group, Power Paws for Kids, and began visiting nursing homes and participated in reading to the dog's programs at public libraries and and at an elementary school.
Then after passing the Pet Partner's test with both Mike and I, she became a volunteer with Hospice of the Calumet in Munster, Indiana. When I take Maggie to the nursing homes, she rides in a stroller,which puts her at just the right height to be petted. She is always a big hit the physical therapy patients who can relate to condition. Mike uses a scooter and holds Maggie on his lap for visits.
So far, Maggie earned an AKC Advanced Therapy Dog title after completing 100 pet therapy visits. At the end of January, she will be evaluated by the Rainbow Animal Assisted Therapy group in Morton Grove, Illinois. If everything goes well, she may be assigned to the Shriner's Hospital in Chicago to work with children with amputations.
She is a an adorable dog and we are so lucky to have her in our lives.
Becky & Mike Buchanan
Share Your Tripawd Tuesday Tale!
Each Tuesday, Tripawds from around the world can enter for a chance to be "Tripawd of the Week." Just share your Tripawd's story and you're entered to win! On every Tuesday of the week, tell us about your three-legged hero here in the Tripawds Discussion Forums or on the Tripawds Facebook page. Just follow these easy steps:
In a few short sentences, describe your three-legged hero's story.
Include a photo or video.
Include a link to your Tripawds Facebook page, Forum topic and/or Tripawds blog (if applicable)
All entries must be received by Saturday at 11:59 pm. One Tripawd story will be selected at random to be featured the following Tuesday.