In November 2016, a six year old dog named Connor became a Tripawd because of cancer. Over the next few weeks we had the privilege of sharing in the joy of his recovery via email, and we joined his large fan club that cheered him on. But sadly on February 1, Connor suddenly earned his angel wings. Hearts shattered around the world when got the news. And although cancer took his young life, it cannot take Connor's sweet spirit.
In the spirit of Saint Valentine, the universal ambassador of love and devotion, we share this beautiful Tripawd Tuesday tribute to Connor. Written by his mom Nina, we know that if you love any animal, you will relate to her touching love letter to a once-in-a-lifetime dog.
Good Dogs Come Home
by Nina Hettema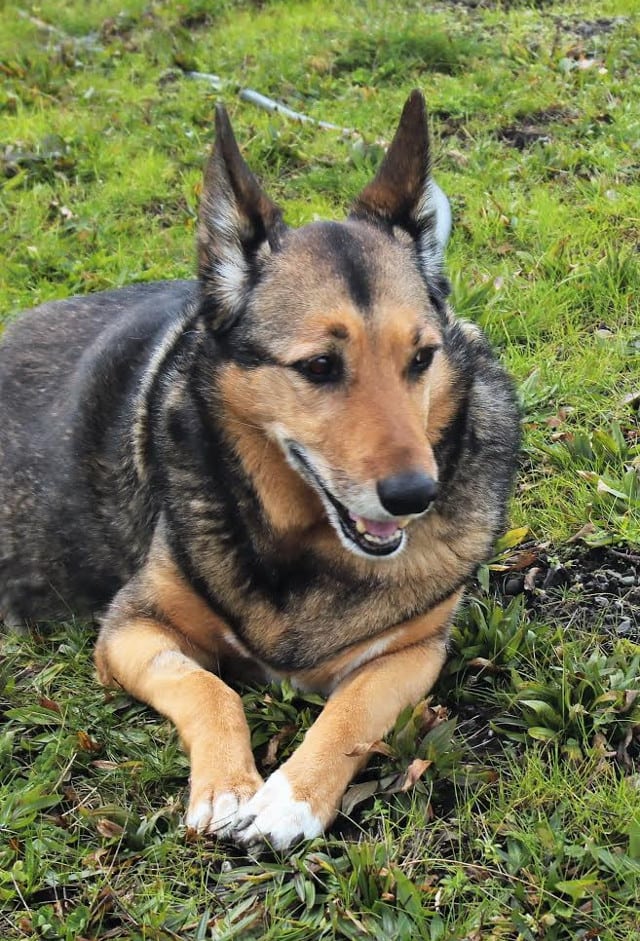 From the moment he crawled into my lap – twice! – and fell asleep there, the littlest rez dog pup, this runt of a sizable litter of bigger, stronger puppies, claimed me for his own, heart and soul. He let me look around at the other puppies, laughing all the while because he knew better. Because it was clear to him from the start, and then to me, that we were meant to be together; inseparable in fact. I was his chosen Mama, his Goddess, his entire world, and he would spend the next seven and a half years of his all-too-brief life proving to me every day that unconditional love is real, and its wellspring is in the heart and the eyes of the dog that adores you. There is no way to say how priceless a gift he has been to me. The best word for our mutual feeling was just…idolatry.
A Real Bodhisattva Canine
You know, I am sure I'm biased, but I've never known such a sweet-tempered, affable, kindly, loving critter. I often called him the Will Rogers of dogs – he just never met a man (or woman, child, dog, cat, etc.) that he didn't like. He was friends with everyone, a real Bodhisattva of the canine world. But when it came down to it, there was only one person in the world that mattered to him – and that was me. And he made sure I knew it.
He would come up and wake me every morning with his cold nose against my face. "C'mon Mom, let's get up and play!". A day when I left him just went on hold until I returned to his rapturous greeting. Going somewhere with me was bliss – it didn't matter where, he was my copilot, and you never saw a dog comport himself with more dignity and stature when he was beside me in the truck.
He was a fine traveler, and went to Oregon, Washington, and Texas (twice!) with all the good grace in the world. He took his job as watchdog and protector very seriously, and could scare people who didn't know that this huge wolfdog was just a big softie. He loved the world and everything in it, but mostly, he loved leaping and dancing in the snow, running in the woods, rolling in leaves, eating delicious food (especially his nightly treat of licking out his kitty brothers' cat food can), swimming in the creek, burying bones with the utmost stealth, playing ball with his best buddy Skye, playing tag and stick and hide-and-seek with Mom, snoozing on the biggest, softest bed he could slip into, and looking into his Mama's face with his chocolate eyes, his big soft head on her knee, and telling her of his boundless love for her, while she did the same to him. She'd sing their special songs, and he'd be at her side while she stroked his velvet ears, and there was nothing else in this world that was better than that.
Spring Will Come Again
And that's how we said goodbye today.
We had only the day before learned that his condition was far more critical than anyone knew. He needed us to act at once, to save him from pain and suffering that could come at any moment. Our time, which had been running out, was just suddenly . . . gone. But the immediate onset of grief and woe was a small price to pay, after the love and joy and happiness that was his gift to the world, to ensure that he made a good end.
And that he did. Singing, and whispering I love you, and lotsa petting and holding close, and looking into each other's eyes, and big sloppy kisses-on-your-mouth-and-oh-now-what's-with-this-teary-face, and "I'll be back, you'll see me again, don't you worry!"
The day had been grey, then the sun suddenly came out and it felt like spring for that last bittersweet half-hour together under the trees. And my world is very grey right now, but spring will come again someday, I know. He is out of pain now, and safe from all harm. He runs on four legs, young and strong and healthy once more in the Happy Hunting Ground. His love will stay faithful and true in my heart, and he'll be leading the pack when we meet at the Rainbow Bridge. My last hours in this world will be sweet with anticipation of that blessed reunion.
Farewell, good and faithful friend! Farewell, my darling boy.
Good dog, time to go home now, Connor. Be a good boy, and wait for me. Mama loves you.
Here's one of our songs, that I sang to him for the last time yesterday.
https://www.youtube.com/watch?v=CP6T5wqXN60
Connor Sends a Sign
P.S. I have to share with you the wonderful dream I had last night (it's Feb. 2, the next day).
I had told Connor to come and visit me, if he could. Well, he did, the very first night. He came running up to me, panting happily, grinning his big goofy grin, young and strong and on all four legs again. This is where it gets interesting.
With him was a big white dog, of a breed I could not recognize – it looked partly like a white lab, but had long feathery fur and ears like a Saluki or Afgan hound. It was very large – tall but svelte, and its demeanor towards Connor I could describe as "kindly alpha," like a big brother, and Connor was obviously deferential and quite smitten with him. As always, my telepathic communication with my boy was perfect.
"Hi Mom! This is my friend!! We're playing!! But I'm really busy right now, he's showing me everything!! We're having fun!! Lots of stuff!! I gotta go!!" and off they ran.
Checking in with me as he always did when he played with other dogs. It comforted me so much to know that he's not alone, he has a friend and guide to mentor him in his new home.
So, be assured, not only do dogs go to Heaven, there are angel dogs there waiting to meet them.
Read All Tripawd Tuesday Stories
Now It's Your Turn: Send Your Tripawd Tuesday Story
Each Tuesday, Tripawd dogs and cats from around the world can enter for a chance to be "Tripawd of the Week." Just share your Tripawd's story and you're entered to win! On every Tuesday of the week, tell us about your three-legged hero. Just follow these easy steps:
In a short paragraph or two (or longer if you'd like!), describe your three-legged hero's story.
Include photos or links to videos already uploaded to YouTube.
Include a link to your Tripawds Forum topic and/or Tripawds blog, social media handles, etc.

Email your story and photos to us.
All entries must be received by Saturday at 11:59 pm. One Tripawd story will be selected at random to be featured the following Tuesday.