Bone cancer is the most common reason why people join the Tripawds Nation. Accidents are another reason why pet parents join us. Sadly, many accidents are unavoidable, but some could have been prevented. In the spirit of animals who lost a leg to preventable situations, here are three ways you can help prevent amputation for dogs and cats.
How to Prevent Amputation for Dogs And Cats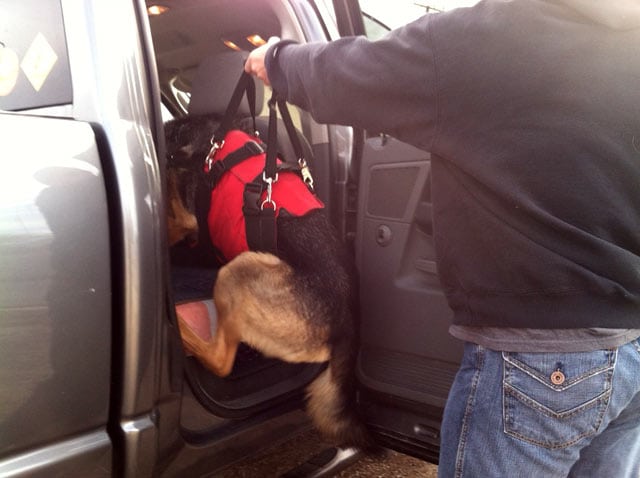 Most pet parents love their animals and don't realize they are putting their pets at risk in certain situations. These three common scenarios often lead to amputation. Here's what you need to know to educate fellow animal lovers about the risks.
Riding Loose in Trucks and Cars is Dangerous
Many laws prohibit it, but dogs riding loose in the bed of pick-up trucks is still a common sight on the road. And even if a dog is tethered in the back of a truck, horrific things can happen when a driver suddenly slams on the brakes. The same applies to dogs riding on ATV racks and motorcycles. If you know someone who does this, explain how animals often lose legs this way (and worse!). Let them know that if an animal falls out and causes a collision, the driver will be at fault.
Riding inside the passenger area is safer, but the best way to avoid injury and expensive vet bills is to use a crate or crash-test certified dog harnesses.
Use a Fence, Not a Tether
Tripawds Spokesdog Wyatt Ray is the poster child for the dangers of tethering dogs. When he was just eight months old, he was tied up outside in an Oakland, California back yard. His careless humans didn't look in on him and eventually the rope cut off circulation to his right rear leg. By the time they noticed his horrific leg swelling, it was too late. They surrendered him to a veterinarian because they didn't want a three-legged dog.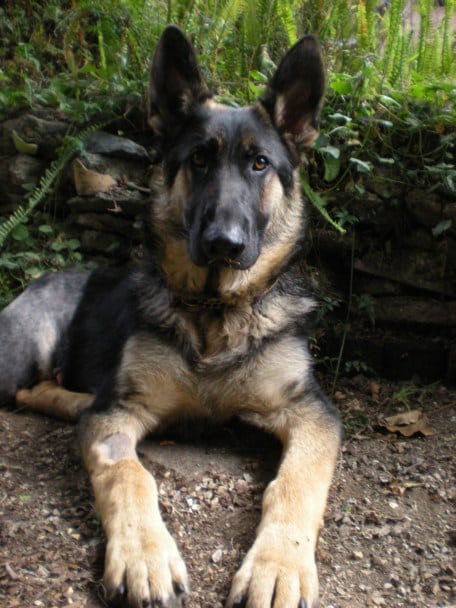 Laws against chaining and tethering dogs are being enacted in more places than ever but it's not enough. Many people just don't know what else to do when they can't afford to build a fence. We can help dogs stay safe by supporting animal welfare education efforts like Fences for Fido and The Coalition to Unchain Dogs. These groups build fences for financially-distressed people who love their pets but lack funds for proper care.
Help Pets Off Furniture and Out of Cars
Did you know that even cats don't always land on all four when jumping off furniture? We didn't either until Purrkins mom told us what happened to their cat Garfield:
We had a 16 year old cat named Garfield he was sitting on the kitchen table, one of the boys jumped up on the table and Garfield tried to get away and slipped off the tables edge, he tried to catch himself and in seconds he fell on the wood floor and not on his feet! I tried to catch him and there was no time it was a blink of a eye and Garfield was on the floor with a compound fracture bleeding from his back leg.
Whether your dog or cat has four legs or three, jumping off furniture and out of cars is a just bad idea. Rehab therapists tell us that over time, the impact of jumping causes joint stress or worse (especially for existing Tripawds). Sometimes accidents leading to amputation are unavoidable, we totally understand that. But there are many preventive measures pet parents can take. For example:
Set up pet stairs at your cat's favorite perching places. "Just think safer ups and safer landings," says Purrkins' Mom.
Use one of our favorite Tripawd-approved dog harnesses to assist your dog in an out of vehicles.
We know how much you love and care for your animal. It's up to great pet parents like you to gently educate others who don't know their animals are in jeopardy. Please spread the word and let others know how they can keep their pets from losing a limb. If you can think of other preventive measures, do share below, we'd love to hear your ideas!