In this week's Tripawd Tuesday we're sharing the story of Jake, an amazingly strong, brave and loyal Tripawd who recently earned his angel wings. His momma Elizabeth shared this beautiful narrative of their life together. We know you'll be inspired.

Godspeed Jake. You will never be forgotten.
We brought Jake's ashes home today so I thought it would be a good time to share his story.
In 2001, I was browsing the puppies at the local SPCA. There were too many to count and I studied each one individually. As I moved from cage to cage, I was caught off guard by a handsome black fur ball with ice blue eyes. I was quickly advised that his waiting list was full, so I admired him and moved on. I found an adorable puppy, akita mix, sweet as could be and claimed her as mine (well, I was #2 on her waiting list but surely I'd arrive before that other lady and she'd be mine!). The day came and I was so excited to go pick her up. As soon as the doors open, I was there…right behind the lady who had first dibs. I stood in the SPCA apparently looking quite confused when a volunteer asked me if she could help. I told her I was bummed that the puppy I came there for wouldn't be mine. She said, wait right here, I have a puppy you might be interested in. Five minutes later, out came that handsome little black fur ball with ice blue eyes. What??? That puppy's waiting list was full! Well, no one showed up for him she told me. The little puppy, only 9 weeks old, trotted up to me laid on my feet and rolled belly up exposing a beautiful white diamond patch on his chest. He had my heart at belly rub, I was his.
Three days after adopting Jake, he came down with Parvo. After two days in ICU, the vet told me they thought he wouldn't make it through the night. I went straight there, I had to see him. I sat waiting in a room, crying my eyes out over life not being fair. They brought him in and he looked pitiful. I held him in my arms, hugged him, kissed him and told him I loved him. He looked at me with his beautiful eyes and gave me a kiss. I cried almost all night. The next morning I called to get the bad news, and they said, I don't know what happened but he's doing great! I knew right then he was a fighter.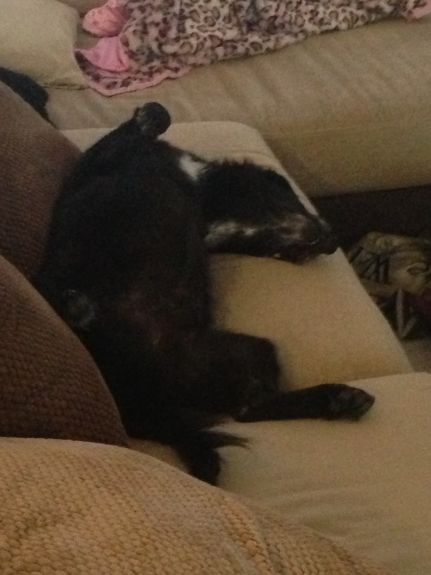 Jake was my best friend for over a decade. He was my camping buddy, my best hiking partner and greatest snuggler. He was at my side through my marriage, birth of my daughter, and my divorce. He was my study partner when I went back to school and changed careers. During every thunderstorm those 12 years, he would seek me out and hide behind me, or under the covers with me. There were holidays where it was just him and I. He was a fierce protector. After my daughter was born, he guarded her. He'd sit beside her with his eyes on constant patrol. Jake was a trampler of the garden, king of car rides to the park, tug-a-war olympian, pizza crust lover and most of all a belly rub connoisseur. There wasn't a moment that went by the past 12 years that he didn't request a belly rub.
Four years ago, I found a lump on his shoulder. After a round of test, the vet assured me it was harmless. I was relieved. Last May, Jake started limping and we discovered it was a malignant nerve sheath tumor. We went straight to an oncologist. His left front leg/shoulder were amputated and the cancer was excised completely. Jake started low dose chemo. It would all be worth it for one more game of tug-a-war. The next 6 months were great. Jake played like a puppy. He ran everywhere he went. He tore the trash up, hopped down trails, and took advantage of his missing leg for quick access belly rubs.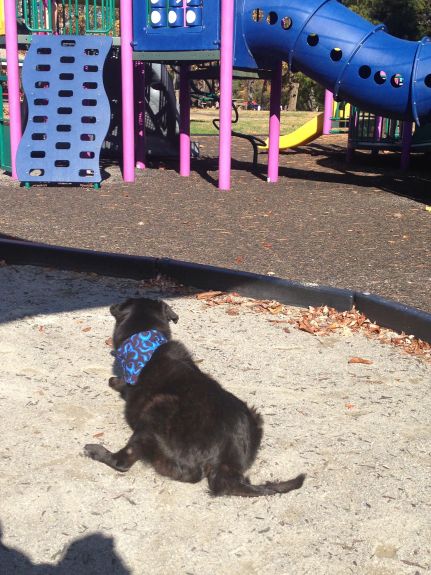 A few weeks ago, Jake started throwing up. A trip to the vet confirmed my worst nightmare. A tumor had grown around his kidney and had penetrated a major artery. Operating would kill him. Any medicine used to shrink it would kill him. I was told to take him home and make him comfortable. I was told to expect to wake up to find him gone one morning, or not to be surprised if he just fell over. I was told it'd be quick and soon. I had not given up hope for him, he was a fighter. We put him on medicine to help with the symptoms, Yunnan Baiyao to help with internal bleeding and I began to hand feed him. He was having trouble standing so we made his bed in the living room and the whole family camped out with him. We were afraid he'd fall off our bed and he's slept at the foot of my bed for 12 years, I wasn't about to change that now. Tuesday night, he started whining and lifting his leg to have his belly rubbed. I was up with him all night, laying beside him, rubbing his belly. If I fell asleep, he pawed at me or whined to let me know "mom, you're slacking, rub my belly", that wasn't unusual :). That morning, he couldn't pick his head up and his body had begun to shut down. We knew that the end was immanent and I made one of the hardest decisions of my life. Our vet came to the house and Jake got his wings peacefully while having his belly rubbed.
My blue-eyed Jake and I had a great 12 years. Looking back, if Id have been told what a horrible battle we'd have to fight. How we'd beat one cancer only to have to fight a 2nd knowing it was unstoppable, I'd do it a hundred times all over again. Jake's life was about way more than what cancer took from him. He was my best friend, camping buddy, hiking partner, tug-a-war champion, my therapist, life coach, and guardian. He was a beautiful soul. Cancer was just a speck amongst the masterpiece painting that was his life. We will miss him for eternity and I feel like the luckiest mom in the world that he adopted me.
How to Get Featured on Tripawd Tuesday
Each Tuesday, Tripawds from around the world can enter for a chance to be "Tripawd of the Week." Just share your Tripawd's story and you're entered to win! On every Tuesday of the week, tell us about your three-legged hero here in the Tripawds Discussion Forums or on the Tripawds Facebook page. Just follow these easy steps:
In a few short sentences, describe your three-legged hero's story.
Include a photo or video.
Include a link to your Trpawds Facebook page, Forum topic and/or Tripawds blog (if applicable)
All entries must be received by Saturday at 11:59 pm. One Tripawd story will be selected at random to be featured the following Tuesday.