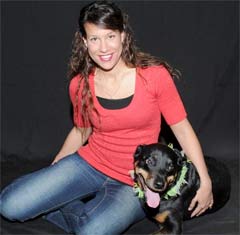 Katrina has shared the following story about her dog Dymond for this week's Tripawd Tuesday.
Read on to find out how you can submit your own Tripawd Tuesday story or consider a personalized copy of Tripawd Heroes featuring your three legged friend!
I've had Dymond since she was eleven weeks old. She has seen me through many hard times and has remained a constant source of love, loyalty and companionship.
Our journey with cancer began early September 2013 when I noticed a lump on Dymond's elbow. Initially I thought she may have hit or bumped her leg, so I began to apply ice thinking the swelling would subside. When it didn't I scheduled her to see her veterinarian, which later referred us to an orthopedic specialist. He took one look at it and immediately said he believed the mass to be a soft tissue sarcoma. After a biopsy, numerous tests and special stain analysis the mass was confirmed as a Histiocytic Sarcoma. Knowing this diagnosis brought many sleepless nights, uncontrolled tears and countless visits to oncology and internal medicine specialists.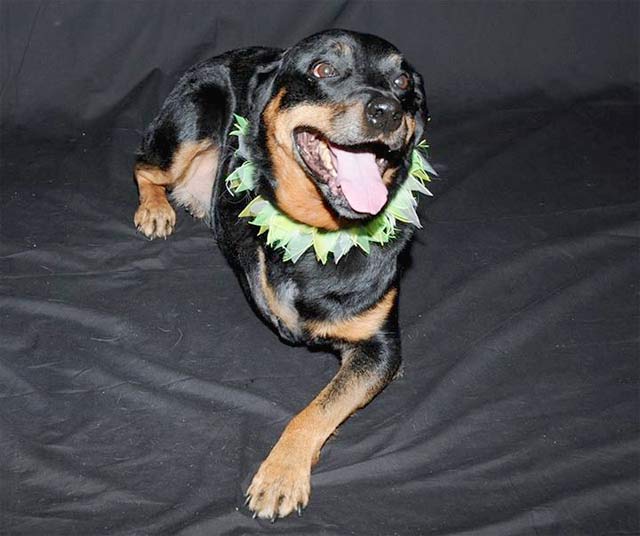 Shortly after I got over my self-pity I began to realize that it is my responsibility to ensure Dymond has the best quality of life possible. I made a vow to her years ago to love her as I would my very own and since she is a member of my family we WILL fight this disease together. Then I began to feel enlightened and began educating myself by reading many articles, books and guides to assist in combating cancer.
The literature pointed to ways of battling cancer through supplements, change in diet, along with conventional and holistic remedies. Most recently Dymond started Chemotherapy, but after one treatment we stopped this regiment because her liver enzymes stayed elevated.
We are not in this alone, with the love, support and guidance of so many amazing people two months post amputation (December 18, 2013) Dymond is going strong. Her spirit is infectious and as she surpasses her abilities in so many ways she remains an inspiration. Dymond has taught me that having a disease does not measure your ability, does not define your capability; instead it tells a story of hope, resiliency, determination, strength and bravery.
Though all of our lives have been changed by this disease it will not shape our future.
How to Get Featured on Tripawd Tuesday
Each Tuesday, Tripawds from around the world can enter for a chance to be "Tripawd of the Week." Just share your Tripawd's story and you're entered to win!
On every Tuesday of the week, tell us about your three-legged hero here in the Tripawds Discussion Forums or on the Tripawds Facebook page. Just follow these easy steps:
In a few short sentences, describe your three-legged hero's story.
Include a photo or video.
Include a link to your Trpawds Facebook page, Forum topic and/or Tripawds blog (if applicable)
All entries must be received by Saturday at 11:59 pm. One Tripawd story will be selected at random to be featured the following Tuesday.