Last Saturday a first-of-its-kind Tripawd victory was witnessed around the world when The American Kennel Club presented its most prestigious honor to Bart, a three-legged Vizsla and five year osteosarcoma bone cancer survivor from Georgia.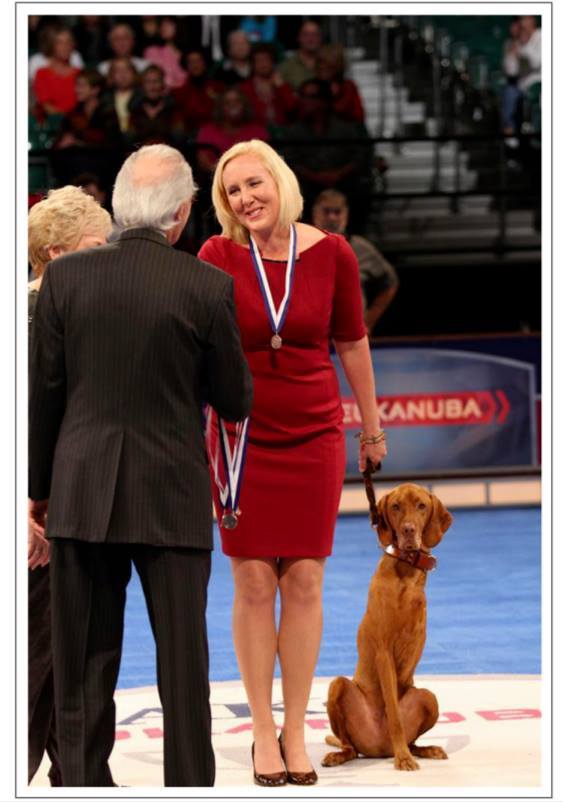 Bart and his mom Darcy were bestowed the AKC Humane Fund Award for Canine Excellence (ACE) at the AKC's Eukanuba National Championship in Orlando, Florida.
As you can see in this awards ceremony video, Bart shined like the superstar he is and Darcy was magnificent as she beamed with pride. What an honor it was when she asked us to create an original leather dog collar just for Bart to wear at this event!
"It was surreal to be standing there, with this applause, screaming and whistling for these amazing dogs and that Bart was one of them," Darcy told us Monday. "I still can't think about that without tears running down my face."
The three-day event drew thousands of enthusiastic dog lovers from around the world, several hundred of which visited the Vizsla Club of America's booth where Bart reigned supreme.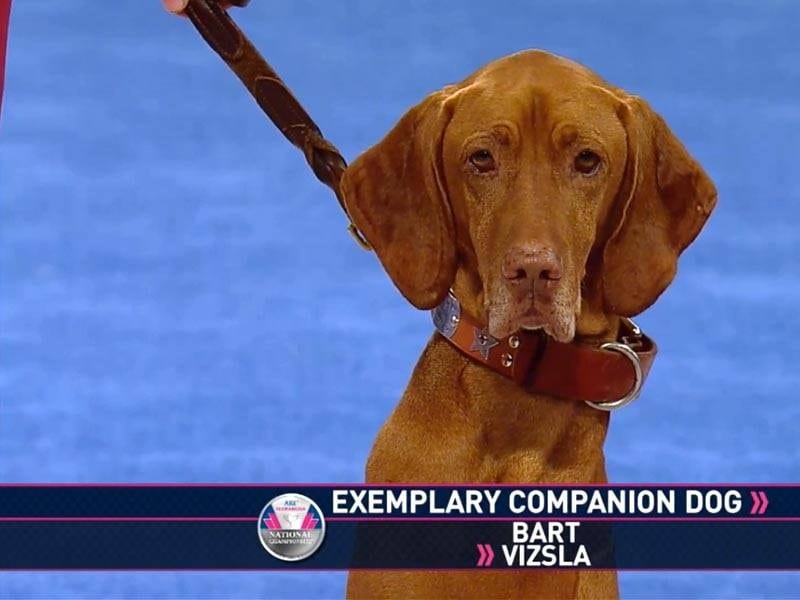 "They treated us like absolute rock stars and Bart was incredible with everyone who came up to meet him," Darcy shared. "The Vizsla booth at the Meet The Breed event had his Gun Dog Magazine cover blown up to 8 x 10 feet and when Bart was there for his appearance, the crowd was 4 deep to meet him. It was crazy and fun and a once in a lifetime experience! Better yet, our booth won 1st place for the sporting dogs. Clearly due to the gorgeous Tripawd who was the main attraction!"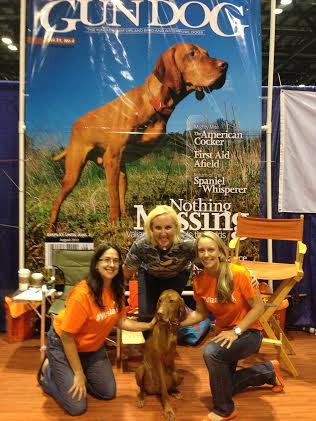 Darcy and Bart experienced three amazing days they'll never forget. "When we would ride in the shuttles, Bart would climb in and just get in a seat like he was a person…everyone would laugh and take pictures, including almost all of the shuttle drivers! There was not a moment that was not amazing," she said.
Be More Dog, Defined
From the moment he was diagnosed with osteosarcoma in 2008, Bart and his mom Darcy have shown the world that cancer and the loss of a limb need not stop anyone from living life to the fullest. This dynamic duo has been a part of the Tripawds community ever since his the earliest days of his cancer battle.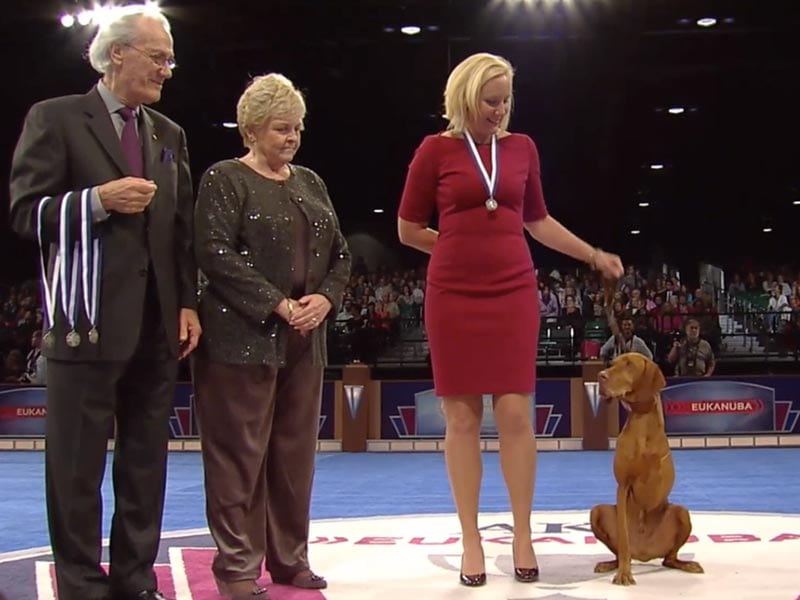 Since then Bart has achieved awards and accolades that no other Tripawd has ever received; from being the first three-legged Vizsla to earn an AKC Master Hunter Title, to his inspawrational cancer survival story, this handsome hero is the ultimate example of how to Be More Dog.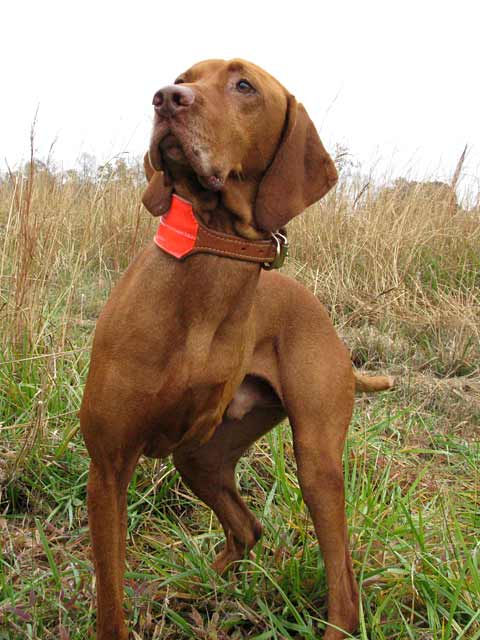 While Darcy is extremely conscientious about making sure his activity level is appropriate for a Tripawd's capabilities, she also understands that Bart was born to live his greatest passions and nothing has gotten in the way of his life's work.
At eight years old, he is officially retired from hunting competitions but we have a strong feeling that the best is yet to come for this one-of-a-kind Tripawd hero.
Please give a 3-paw salute to Bart, winner, hero and inspawration. Congratulations Bart and Darcy!
Recommended Reading
Bart's Story: The Greatest of These is Love
Learn about three-legged hunting champion Vizsla, osteosarcoma survivor and AKC Award Recipient Bart in article by Pam Stuart.
Bart and Darcy Visit Tripawd Talk Radio
Download Tripawd Talk Radio interview with the mom and vet of a Bart, a three year canine cancer survivor and three-legged AKC hunting champion Vizsla.