Some Tripawds are shy when it comes to hopping into our community, but that doesn't mean they don't know about us. Today for Tripawd Tuesday we'd love you to meet Mollie the Twitter superstar! 🙂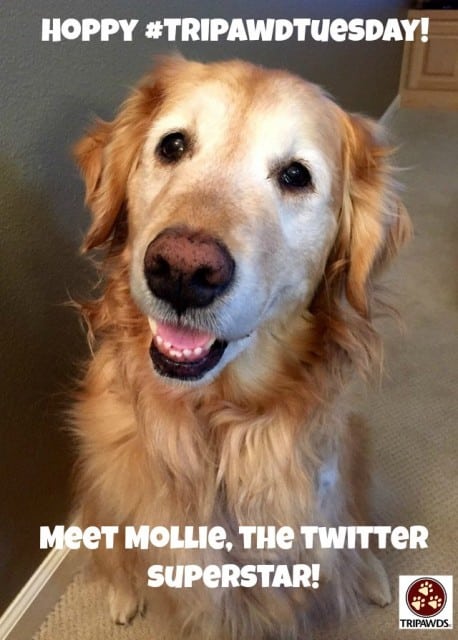 Pictures and video are how Mollie's people share her remarkable pawgress. lmost every day her people @SpursNBeavs and @HoogieHolden tweet Mollie's mirculous milestones such as:
Mollie the @Tripawds enjoying the nice weather yesterday after her hopefully last surgery! #tripawd #happygolden pic.twitter.com/F7FKpBDiD2

— #GoBeavs (@SpursNBeavs) February 8, 2016
Miss Mollie had her first official bath since she became a #tripawds and she did great! #fluffy pic.twitter.com/N5PQBV8Fw0

— Susan (@HoogieHolden) March 6, 2016
Miss Mollie swimming today. She has more stamina and strength from last week. #tripawds @Tripawds pic.twitter.com/aBlcbHDP5a

— #GoBeavs (@SpursNBeavs) March 11, 2016
Happy #NationalPetDay to my #tripawd princess Miss Mollie! 💚💛 pic.twitter.com/IBNa0x59ch

— Susan (@HoogieHolden) April 11, 2016
Wind blown but mostly dry for the 20 minutes we were at the park, I'll take it! #westlinn #tripawd pic.twitter.com/H3VgSNyjYx

— Susan (@HoogieHolden) March 13, 2016
Miss Mollie aka "The Golden Dolphin" shows off her swimming skills at PAWS Aquatics. 💚🐶💛 #tripawd #gimmethatball 🎾 pic.twitter.com/5JyH6HTdNi

— Susan (@HoogieHolden) March 12, 2016
Our #tripawd on the move at Mary S Young State Park this AM. Mollie says "hurry up guys!" at the end. 💚🐶💛 pic.twitter.com/59MFVXkJAB

— Susan (@HoogieHolden) April 2, 2016
We're so hoppy for this golden beauty! Keep on Hoppin Mollie, you make us smile!
Share Your Tripawd Tuesday Tale
Each Tuesday, Tripawds from around the world can enter for a chance to be "Tripawd of the Week." Just share your Tripawd's story and you're entered to win! On every Tuesday of the week, tell us about your three-legged hero here in the Tripawds Discussion Forums or on the Tripawds Facebook page. Just follow these easy steps:
In a few short sentences, describe your three-legged hero's story.
Include a photo or video.
Include a link to your Tripawds Facebook page, Forum topic and/or Tripawds blog (if applicable)
All entries must be received by Saturday at 11:59 pm. One Tripawd story will be selected at random to be featured the following Tuesday.