Nothing could ever hold Dixie back. Not the tether she was tied to during the first year of her life, not the loss of her leg that broke when she escaped her imprisonment, nor the many challenges that lay ahead of her. In her 12 years on earth this beautiful Tripawd led an inspirational life without limits. Sadly, she became an angel on June 15 but her breathtaking story will live on into eternity. Today for Tripawd Tuesday we are honoring an unforgettable hero.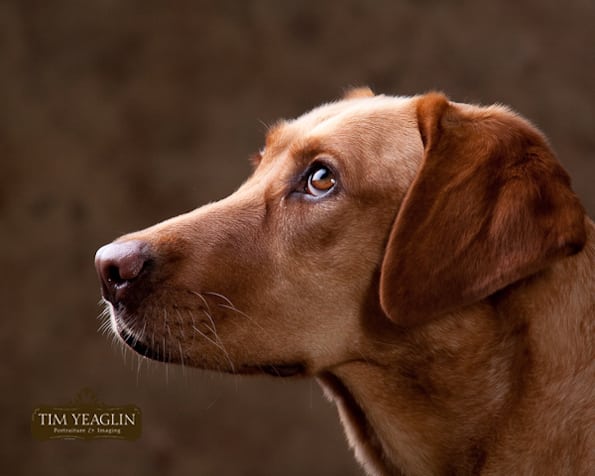 Star of the must-read book, "A Leg to Stand On," Dixie was born on Feb. 14, 2004 and lived to almost 13 years old.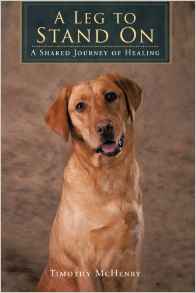 Her Dad, Tim McHenry, said "Besides the 18 agility titles she earned in her career, Dixie participated in countless agility demonstrations and was the unofficial goodwill ambassador for the North American Dog Agility Council (NADAC) events.  She also loved to hike and was a certified therapy dog.  Dixie earned two Canine Good Citizen titles."
An inoperable brain tumor took her from us too soon. Tim wrote this powerful piece for his Facebook page and shared it with us in honor of his valiant girl's life and memory. We know that many of us here can relate.
Long live Dixie. Cancer never wins.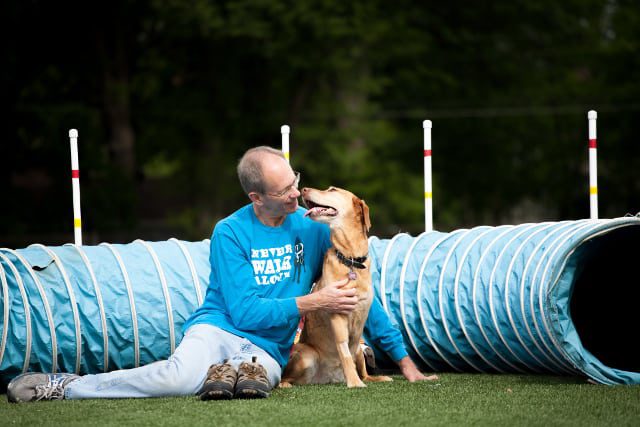 Fine, Evil, you win. Take this body. This 12 ½ year old shell of the dog I once was. Take it all. See what it gets you.

Take these eyes. In the end, they were blind to the world and useless to me. I will keep images of every face I have ever loved, ending with Tim holding me as I hopped toward the light and into another world.

Hey Evil. You want these ears? Take them now, for what they're worth. For in my mind, I have recorded beautiful harmonies and rhythms of nature that speak to my heart. My soul has embraced words of love and friendship that your essence will never comprehend.

My nose? All yours pal. Like you, it's dry and shriveled like stale fruit. I'll keep the scent memories of dew on newborn prairie tallgrass and the titillating stench of a rotting log. I can catalog the bouquet of love and joy, and happiness. I've known them all my life.

These legs all bent and paralyzed? Take them. I only have three so I bet you're feeling short changed. Funny how I never felt that way. What you can never possess is the passion that fueled them. For these legs have elevated me to more mountaintop experiences than you will ever know. I have hiked more miles on flatland trails and city sidewalks than you can count. My legs have run, weaved, and tunneled their way to 18 agility titles. This single front leg has enabled people to see that we are all greater than the sum of our parts.

Last is my heart. The grand prize. Bet you think you've won the lottery with that one. But it rests silently in my chest and will soon be reduced to ashes. The essence of my heart that lived and loved and pumped blood through my body so I could climb mountains and wow agility audiences remains with me in a place that your cancerous tentacles will never penetrate.

You are a hideous mass that took my life. Damn you. I wasn't ready to go just yet. Tim still needed me. But I am still here because death doesn't end relationships. I have legions of beings that have loved me and will continue to do so.

Most of all, I love you, Tim, and I always will. And I will be waiting for you on the other side.

written by Tim McHenry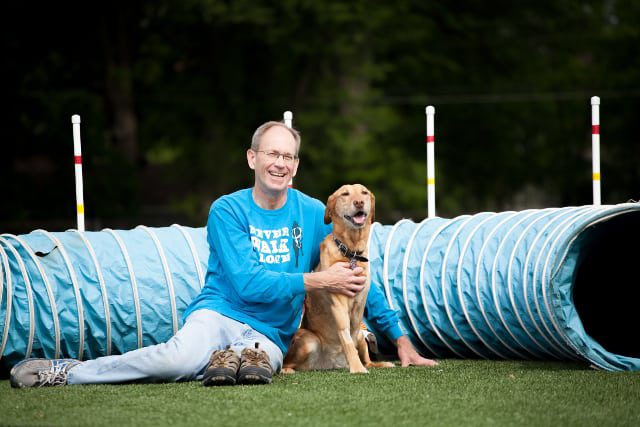 Read All Tripawd Tuesday Stories
Share Your Tripawd Tuesday Tale
Each Tuesday, Tripawds from around the world can enter for a chance to be "Tripawd of the Week." Just share your Tripawd's story and you're entered to win! On every Tuesday of the week, tell us about your three-legged hero here in the Tripawds Discussion Forums or on the Tripawds Facebook page. Just follow these easy steps:
In a few short sentences, describe your three-legged hero's story.
Include a photo or video.
Include a link to your Tripawds Forum topic and/or Tripawds blog, social media handles, etc.

All entries must be received by Saturday at 11:59 pm. One Tripawd story will be selected at random to be featured the following Tuesday.
Save
Save