It's said that all dogs have a job to do and Great Dane Eurydice is no exception. Thanks to this magnificent beauty, never again will a giant breed dog be instantly dismissed as a candidate for amputation.
Tipping the scales at a big but size-appropriate 170 pounds, Eurydice is spending her life on three legs as Tripawds' European Ambassador. From England to Monaco and everywhere in between, she is putting smiles on the faces of kids and adults alike.
She has osteosarcoma, but neither she nor her mum Teresa are letting this fact stop them from living life to the fullest. The team has recently made several trips througout Europe. They're not just seeing the sights. They are changing hearts and minds about what it means to be a three legged dog — a very large one.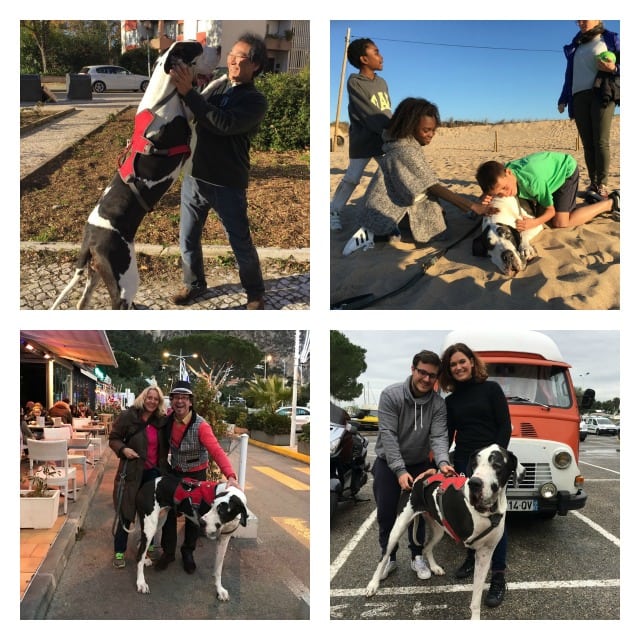 In this very special Tripawd Tuesday blog post written by Teresa, we salute the Great Dane Eurydice and all that she and her mum have done to show the world that life can be good no matter what size a dog may be. Join us in giving them a round of applawse and enjoy this story about Eurydice that Teresa sent to us.
The Great Dane with a Giant Impact
"I would like to introduce my beloved girl Eurydice, she was a 77kg/170lb Great Dane pre amputation, towers at 98 cm to the base of the neck and enjoys life to the full since we first laid loving eyes on each other when she was only two weeks old.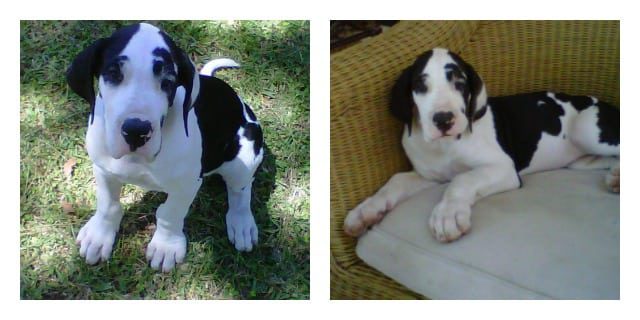 Miss Cow is well humoured, really goofy, adores cats, birds and people (especially young children) and has never had a bad hair day in her life.
Despite being diagnosed with osteosarcoma and subsequently loosing her right front leg her life remained exactly the same as before, she runs, jumps, goes hiking, chews her bones, plays with other dogs … everything but going up and down stairs.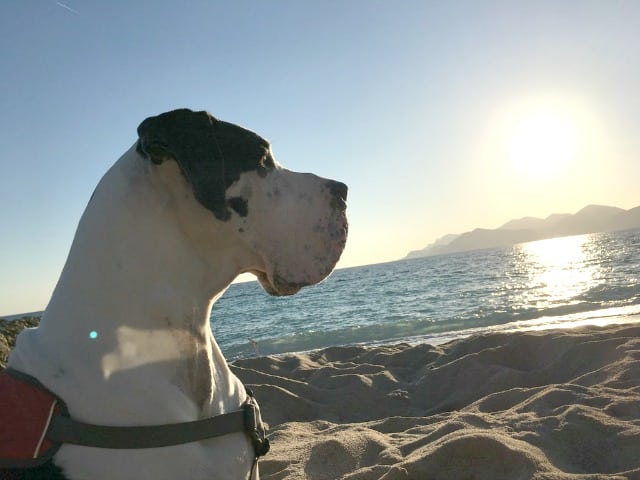 She sailed through 6 courses of carboplatin, 1 1/2 months of metronomic therapy and 3 courses of doxorubicin and took it all like a champ staying happy and energetic during treatments and showing zero side effects.
She makes me laugh every day and has shown me cancer and amputation means nothing to her, she just wants to be with her Mom and make friends with everybody and have lots of adventures."
Read All About Eurydice's Celebrations and Travels
Read All Tripawd Tuesday Stories
Now It's Your Turn: Send Your Tripawd Tuesday Story
Each Tuesday, Tripawd dogs and cats from around the world can enter for a chance to be "Tripawd of the Week." Just share your Tripawd's story and you're entered to win! On every Tuesday of the week, tell us about your three-legged hero. Just follow these easy steps:
In a short paragraph or two (or longer if you'd like!), describe your three-legged hero's story.
Include photos or links to videos already uploaded to YouTube.
Include a link to your Tripawds Forum topic and/or Tripawds blog, social media handles, etc.

Email your story and photos to us.
All entries must be received by Saturday at 11:59 pm. One Tripawd story will be selected at random to be featured the following Tuesday.