It's Tripawd Tuesday everpawdy! Today you'll be amazed by the miraculous recovery of Lu, a brave rescue dog who endured a horrific accident that took her leg but definitely didn't take her zest for life. Her mom Corine explains. Grab a box of tissues and be amazed!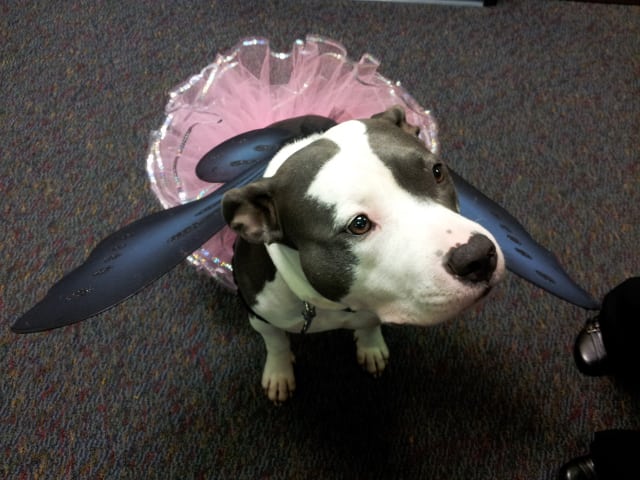 Lu's Great Fall and Amazing Recovery
Lulu (she now goes by Lu) came into the rescue I volunteer at with a litter of seven 6 week old pups. She wouldn't let anyone near, and was so scared. Eventually, when her puppies were old enough, they all got adopted, and she was still there, not letting anyone near her. One day I had extra time (I usually clean and feed more than walk the dogs), and decided to try. I sat attempting to persuade her for about 15 minutes to let me put a slip lead on her, while she just growled nonstop. Eventually I got it on, and we started our journey.
We only went for a short walk, but it was enough. She decided I was hers, and she was mine. Every time I would walk in the door she would scream (more like a yodel, really) until I would take her out, and she would help with whatever I would do that day.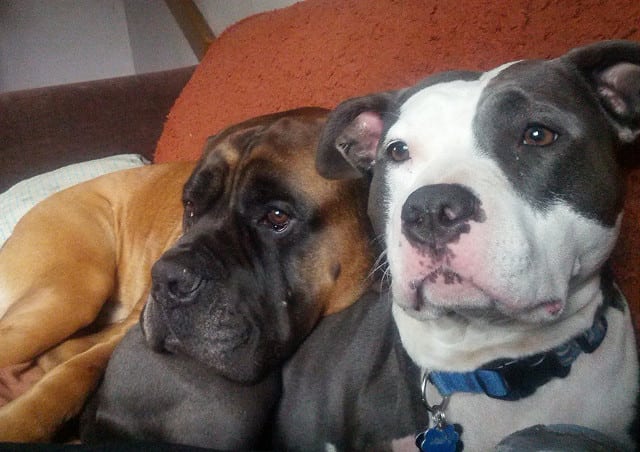 I started taking her to the army barracks, where I lived at the time, on the weekends. I started properly socializing her, taking her into every public place I could think of. I soon learned she could tolerate anything with my guidance, from screaming kids, and running cats, to dogs trying to fence fight.
Eventually I knew I couldn't see another family end up with my favorite dog, so I did what any reasonable person would do… I bought a house, in Alaska, away from my family. See, the rescue group I volunteer at doesn't adopt out Pit Bulls to non-home owners, so I solved my dilemma.
Over the next 9 months she blossomed. Once I got out of active duty army, Lu started coming to work with me almost every day (Its Alaska… of course work allows dogs), watched over my neighbor kids, and helped to teach numerous foster dogs how to be dogs again. It didn't matter if it was a feral dog, or dog aggressive dog (both of which I've had), after her, they were in a much better place to find a forever home. She even decided a bull mastiff, Hank, I fostered while his leg healed from surgery, was hers. So he stayed.
Once spring hit, we were outside every chance we got. We would usually run at a nearby park, Kincaid Park, in the mornings. There was a week of nasty weather so we didn't go, and by the time we went back, Lu was so excited, she just zoomed in every direction. It usually would only last 5-10 minutes, and she would be right back at my side. At this time, I didn't think I had anything to worry about because she knew not to go in the road, she would leave the moose be and the bears weren't awake yet. I didn't think about the old army bunkers that littered the park. These bunkers look like giant hills from 3 sides, and a straight drop in the front, maybe about 18 feet, where the door is. Well, Lu ran right over the hill and off the front (there is nothing there to stop anyone or anything). She must have done it at an angle, because it was clear the front right leg was broke bad.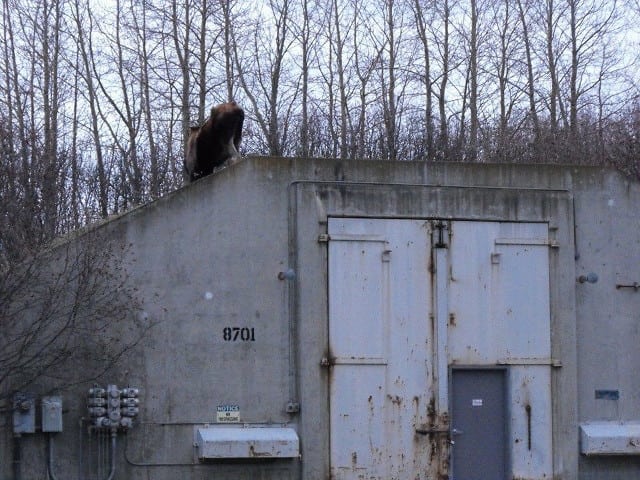 After the worst death scream I had ever heard, I ran to her. Her mouth was all bloody and front leg was bowed. She tried to stand up on the other leg and fell over. I picked up my 65lb princess, and headed back for the car. Luckily, There was a city worker driving through that I was able to wave down to get a ride the rest of the way. We headed to the vet and I was freaking. I thought she may have had brain damage the way she had no balance.
I had to leave her at the vet, and he called me a bit later. It started with the leg has to be removed (both bones were completely shattered), and the bloody chin was from scrapes. No biggie, my dog would live. We hung up. 30 min later, I got another call. The leg Foot on the left front was also broke in multiple places. They were worried about her quality of life if it didn't heal right, as it would be the only supporting leg for her front half. He wanted me to think about ending her suffering, and explained how hard it would be. Not about to happen!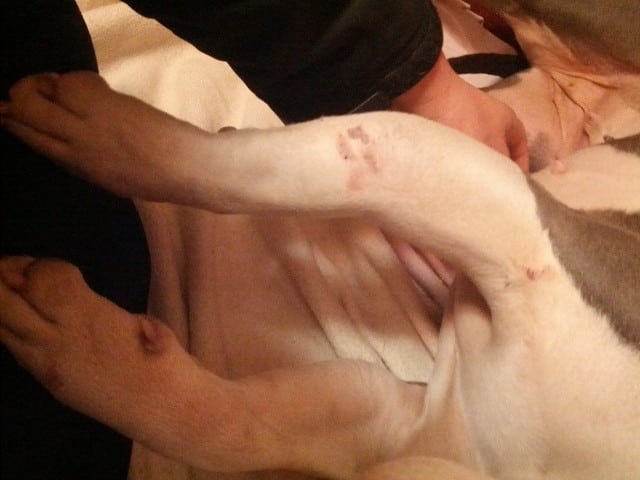 I got to see her that night. She hadn't moved since I left her and she was pumped full of morphine and other drugs. Once I saw her it was the same cry as when she first attached. Lu was so happy to see me, despite the pain. After I left she was up trying to break free and screaming for another hour or so.
We proceeded with the surgery. It took much longer than expected, and I was asked not to come see her after. They wanted her to stay asleep.
After 10 weeks of being in a splint, and going through her not being able to control her bowels, the day came she got the splint off. Lu healed remarkably. She was very nervous of stairs and jumping off the bed or couch or out of the car, but never hesitated to jump on them. She will still yodel for me to come get her off the bed when she is ready.
She's finally back to being my happy little girl. Back to camping, swimming and day care. It was a long and not so easy last few months, but totally worth it.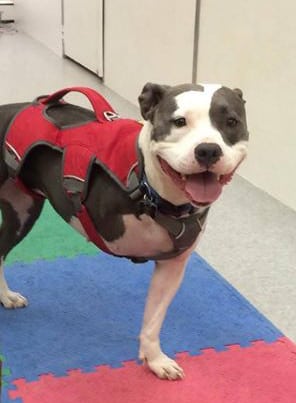 Get Featured on Tripawd Tuesday
Each Tuesday, Tripawds from around the world can enter for a chance to be "Tripawd of the Week." Just share your Tripawd's story and you're entered to win! On every Tuesday of the week, tell us about your three-legged hero here in the Tripawds Discussion Forums or on the Tripawds Facebook page. Just follow these easy steps:
In a few short sentences, describe your three-legged hero's story.
Include a photo or video.
Include a link to your Trpawds Facebook page, Forum topic and/or Tripawds blog (if applicable)
All entries must be received by Saturday at 11:59 pm. One Tripawd story will be selected at random to be featured the following Tuesday.