Our Tripawd Tuesday feature is usually about a Tripawd, but today we're celebrating a Great Dane who is not a Tripawd, and that's a good thing! Meet Hazel, a nine-year old beauty who was not an amputation candidate. But she is beating the odds with osteosarcoma palliative care including cyber knife radiation therapy, carboplatin chemotherapy and pain management.
Cyber Knife Gives Hazel More Happy Days
Coping with any pet cancer once is tough. Dealing with it twice is unbelievable. When Hazel the Great Dane was diagnosed with osteosarcoma in November 2016, we were almost as shocked as her dads Joel and Ross.
Hazel has been a very healthy girl, sweet as can be. Unfortunately, yesterday we noticed her limping on her front leg. My automatic reflex was to immediately check out her legs for lumps. Sure enough, she had a lump on her wrist in the exact same place and same leg as Moose presented over 10 years ago. — Joel
You see, nine year-old Hazel is the couple's second Dane to fight osteosarcoma. Their first was Moose, an extra special Tripawd with a dear place in our hearts. Moose was the whole reason why we proceeded with amputation for Tripawds' founder, Spirit Jerry. We figured if Moose could be happy on three legs, than Jerry could too!
Loving Life with Osteosarcoma Palliative Care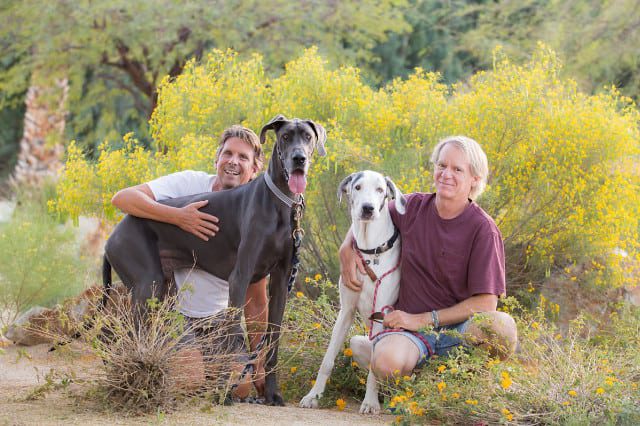 Hazel's diagnosis was upsetting, but one look at her happy life now, six months later, drives home the point that there IS life after a cancer diagnosis, even if your pet isn't a candidate for amputation surgery. Hazel is under the care of the terrific vets in Carlsbad, California, at the amazing California Veterinary Specialists Angel Care Cancer Center. Here's how she's doing, according to Joel:
Hazel is doing amazing. Since the cyber knife we have been able to wean her off all pain pills except the Piroxicam.

Other than the big lump on her leg (it has gotten big, but they said that is the bone trying to heal), you would not know there was anything wrong with that leg, no visible pain or favoring. Her bigger problem actually is her hind legs are weak and every so often they kinda go out.

But she is in great spirits, still loves our twice a day walks, all good . . . She finished her sixth round of carboplatin, no complications at all.

We know it will eventually get her, but so grateful to have had this time. Hoping for a bit more too.
We are thrilled that Hazel didn't lose her leg, she still got extra quality time and she continues putting smiles on the faces of everyone around her! AND we just heard that Hazel's latest round of x-rays came back clean with no sign of metastasis anywhere. YAY!
Read All Tripawd Tuesday Stories
We Want Your Tripawd Tuesday Story!
Each Tuesday, Tripawd dogs and cats from around the world can enter for a chance to be "Tripawd of the Week." Just share your Tripawd's story and you're entered to win! On every Tuesday of the week, tell us about your three-legged hero. Just follow these easy steps:
In a short paragraph or two (or longer if you'd like!), describe your three-legged hero's story.
Include photos or links to videos already uploaded to YouTube.
Include a link to your Tripawds Forum topic and/or Tripawds blog, social media handles, etc.

Email your story and photos to us.
All entries must be received by Saturday at 11:59 pm. One Tripawd story will be selected at random to be featured the following Tuesday.