Tripawd or "bi-pawd", we love celebrating the stories of inspirational animals from around the globe. That's why today's Tripawd Tuesday shines a light on Antouanetta, a beautiful large two-legged dog from Greece. We know you'll love getting to know her!
Awesome Antouanetta is Queen of the Pack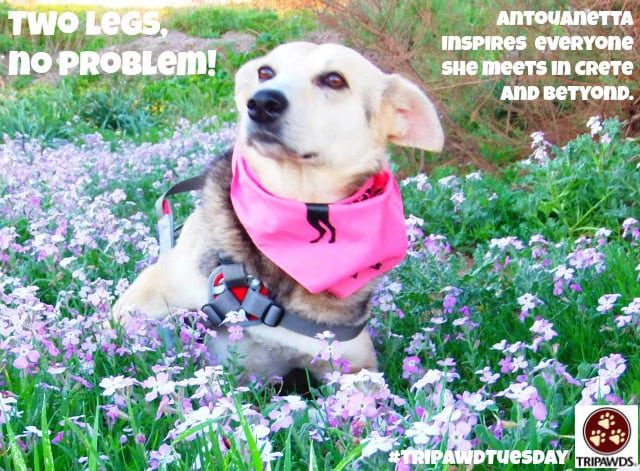 Every day somewhere in the world a beautiful person is giving loving care to animals who once suffered at the hands of humans. Our Greek friend Eva is one such outstanding individual. By day she is a scientist on the beautiful island of Crete. At home, she dedicates her life to helping rescued animals enjoy the lives they deserve. This is her Antouanetta's story: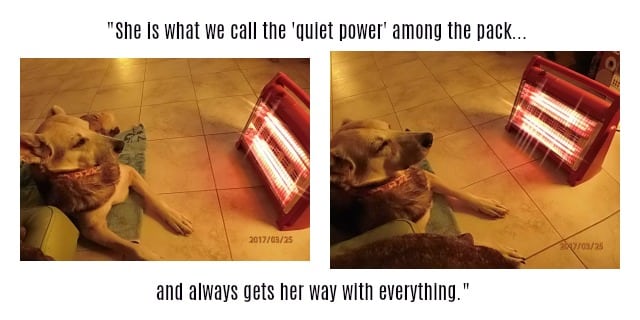 She was found run over by a car as a puppy about 10 years ago, in the town Giannitsa of north Greece. She was rescued by the Giannitsa animal welfare society. She was lying helpless for a couple of days near the side of the road before anyone attended to her assistance and as a result the wounds on her hind legs got infected all the way up to her pelvis and the vets back then decided to amputate them both in order to save her from septicemia. With zero adoption potential she spent the first 5 years of her life in a kennel at the local animal welfare society that rescued her.
That was until 2012 when she was finally adopted by a dog-trainer from Athens. Tragically her new owner died in a car crash a few months later. The trainer's brother who got custody of Andie put up a notice for adoption for her on facebook with a 3 week adoption deadline before euthanasia.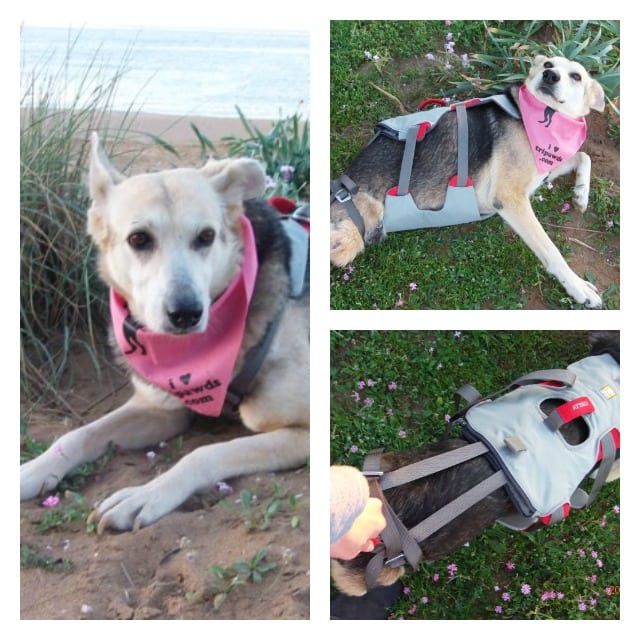 That's when I came across her facebook album in December 2012 and I got in touch with the family in order to cancel the euthanasia and get some extension time to make plans for her adoption. I adopted her officially on January 17th 2013 (Saint Antony's day), and that's where she got her name from.
The Quiet Power of a Large Two-Legged Dog
Since then and for the last 4 and a half years I'm doing my best to make sure she lives the life of a Queen along with her 7 bros and sisters. As a compensation to her very unfortunate earlier days.
She is a local celebrity in the town of Chania where we live in Crete. She has been hosted on local TV news, numerous blogs, newspapers, and last year she won the Greek Dog of the year award.(2nd place out of 2500 entries).
I would describe her as a wise dog, with an attitude of superiority. She is what we call the "quiet power" among the pack, and always gets her way with everything.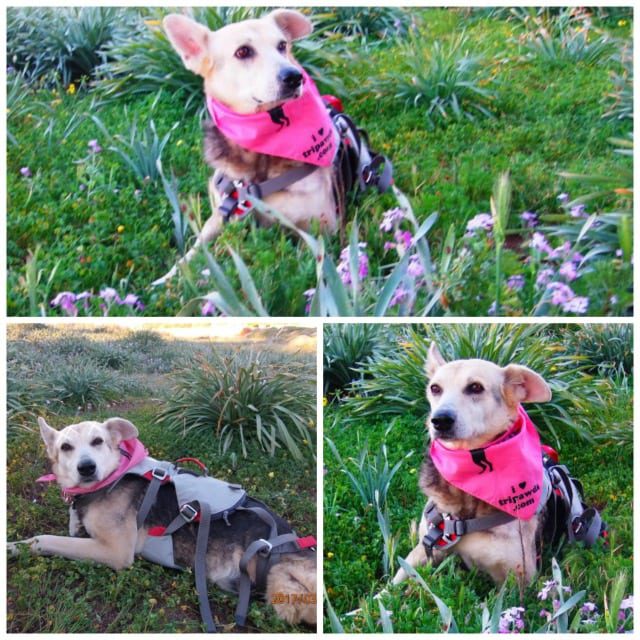 She has a "thing" about recycling. She enjoys moving all the tins and carton boxes from the recycling bin to her bed late in the night. But no plastics. She has been doing this since the first day I took her home. Maybe a habit she had from her stray puppy days.
As for her caring routine. She needs to be on a special diet so that she doesn't put on weight. She takes special chondroitin, collagen and hyaluronic acid supplements to keep her joints and bones in good condition. She gets massages every night and acupuncture every few months to prevent inflammation and joint aches and also special supplements for her bladder to prevent urinary infections as she is incontinent. Apart from that she is an "ordinary dog."
She enjoys walks on the beach every weekend, and also loves to fry herself under the sun throughout spring and summer.
I hope she will be with me for many more years to come.
Read All Tripawd Tuesday Stories
We Want Your Tripawd Tuesday Story!
Each Tuesday, Tripawd dogs and cats from around the world can enter for a chance to be "Tripawd of the Week." Just share your Tripawd's story and you're entered to win! On every Tuesday of the week, tell us about your three-legged hero. Just follow these easy steps:
In a short paragraph or two (or longer if you'd like!), describe your three-legged hero's story.
Include photos or links to videos already uploaded to YouTube.
Include a link to your Tripawds Forum topic and/or Tripawds blog, social media handles, etc.

Email your story and photos to us.
All entries must be received by Saturday at 11:59 pm. One Tripawd story will be selected at random to be featured the following Tuesday.