You may recall seeing a Tripawds Discussion Forums post about Shaya, a Tripawd Malinois who saves elephants and rhinos from poachers in Africa. Shaya has such an incredible story, we thought it was perfect for a Tripawd Tuesday spotlight!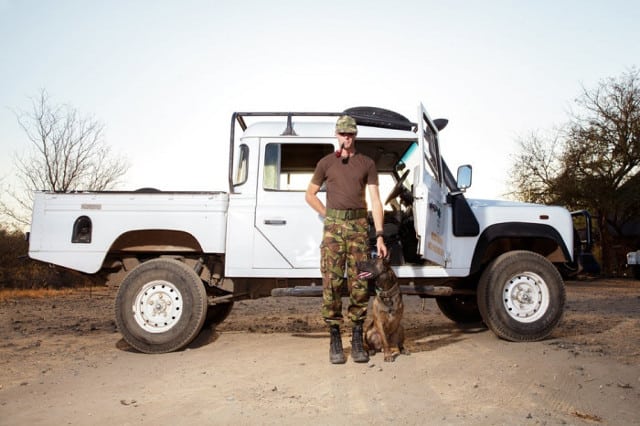 Shaya's partner told us all about this amazing Malinois. Meet Craig Spencer, founder of the Transfrontier Africa & Black Mamba APU, an organization he founded to protect wildlife in the Balule Nature Reserve in South Africa. Craig was kind enough to take time from his work to give us more details about Shaya.
Please remember that Shaya is an exceptional Tripawd and 99% of three-legged dogs in the world don't have the strength or stamina that this boy does. Prepare to be amazed!
Tripawd Malinois Shaya Saves Elephants, Rhinos from Bad Guys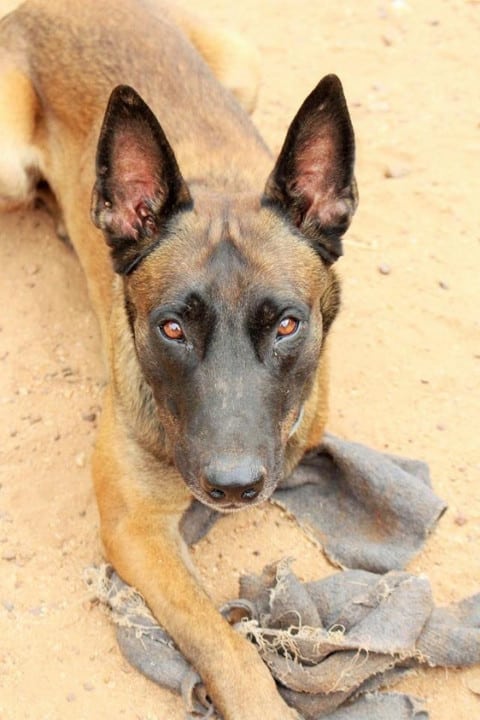 Q: Other than the work itself, what are some ways that Shaya keeps in shape to avoid injury? How does he let you know he's had enough on any given day?
Shaya receives daily exercise to keep his cardio-vascular fitness level high and his weight down! Detection dogs need to be super-fit and also need to keep their minds stimulated and also need to be acclimatised to the heat of the African savannah. For this, I take him daily to walk on the banks of the Olifants River, where he is tested by bullets and wildlife products hidden in the bushes. Then, if we find a pool that is free of crocodiles and hippos, he swims for hours! chasing sticks and rubber toys!
He never tires out and will never miss an opportunity to smell new smells, explore interesting things and places and just play in every single waterhole and mud-puddle! We have a very strict exercise regime and this is god for me also.
I can tell if he is tiring, but he will not show any sign of weakness. I must watch him and feel his ears and top of his head as this is his "radiator". If his ears are hot, we will rest. If I notice that he is also breathing a lot through his mouth and not his nose, whilst working, it is an indicator that he is tired.
2) What is the greatest lesson you've learned from Shaya's recovery and new life on three legs?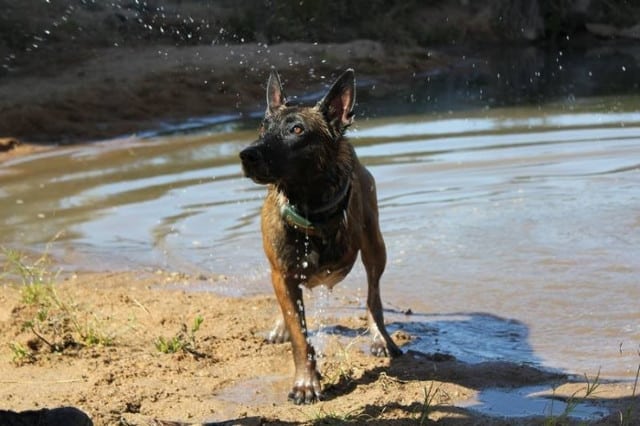 We humans are tortured by our own minds! Our psychology is not as strong as the animals! I was shattered when Shaya lost his leg, but he did not seem to notice! He was happy as ever and lived for working and impressing me with his skills. Therefore, I have learned that so much more can go wrong in our lives, before we have the right to complain or seek sympathy.
Shaya has such basic needs and asks for nothing. I have learned that these are values are important in people also, especially when we are working for a greater cause and personal discomfort as a part of life. Every day, Shaya is self-motivated and keen to do his bit! His reward is nothing more that personal gratification of a day not wasted!!! So many of us need to take lessons from this.
3) Most working dogs are instantly retired when they lose a limb. What would you say to handlers who are facing the same situation you once were?
This was a huge debate and it must be recognised that Shaya has a disability, even if he will not admit it! Therefore, the handler must adjust to ensure that the dog can still function for a reasonable working life-span.
In my case, I have to prevent Shaya from jumping out of the Land Rovers as they are very high and the impact on his single front-leg will reduce his comfortable working life. He looks very embarrassed and gets grumpy when he is lifted out, but it is in his own best interests.
Also, he struggles to maintain a walking pace and must trot when on the move. Therefore, the handler must set the pace that is comfortable for him also. In my case, Shaya is a detection dog, looking for rhino horn, ivory, weapons and munitions; therefore, he is seldom required to walk very far.
Gone are the days that I will take him on an extended patrol as his front leg will be over-worked. We now drive as far as we can before walking to a crime-scene. Small adjustments are required, as with anything. But there is a major quality of life left in a working dog who has lost a limb, if the working environment can be modified to accommodate them.
Another example is that Shaya struggles to stand up on a moving vehicle as he keeps falling over! Now he sits inside and props himself up on the back-rest of a seat. Problem is now everyone else must sit in the back! How the tides have turned!! Ha Ha.
To help Shaya and Craig save elephants and rhinos
from poachers, please visit the
Black Mamba Anti-Poaching Unit website.

Read All Tripawd Tuesday Stories
Share Your Tripawd Tuesday Tale
Each Tuesday, Tripawd dogs and cats from around the world can enter for a chance to be "Tripawd of the Week." Just share your Tripawd's story and you're entered to win! On every Tuesday of the week, tell us about your three-legged hero here in the Tripawds Discussion Forums or on the Tripawds Facebook page. Just follow these easy steps:
In a few short sentences, describe your three-legged hero's story.
Include a photo or video.
Include a link to your Tripawds Forum topic and/or Tripawds blog, social media handles, etc.

All entries must be received by Saturday at 11:59 pm. One Tripawd story will be selected at random to be featured the following Tuesday.
Save