Sometimes it's hard to see, but progress IS being made in the fight against pet cancer. At the eighth annual Morris Animal Foundation K9 Cancer Walk in Elk Grove, California, we saw living proof. Check out the interview with UC Davis vet scientists making huge advances in diagnosing, treating and one day ending pet cancer in dogs and cats.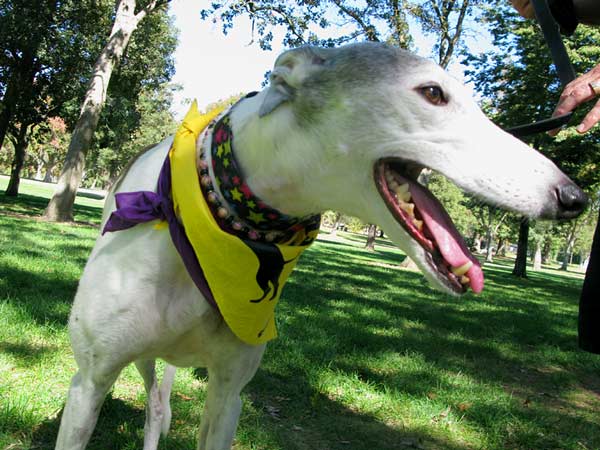 Look Out Cancer, Here Comes Team Tripawds and UC Davis!
On October 9, Team Tripawds members from Northern California, along with Tripawds Spokespup Wyatt Ray and his humans, gathered to showcase the Tripawds community and Tripawds Foundation programs.
Blue, sunny skies kicked off the long-awaited celebration. Tripawd heroes Elly, Austin, Hannah, Wyatt and newcomers too showed off their canine core strength and balance skills.
When all was said and done, Team Tripawds, along with 350 walkers and vendors helped raise nearly $40,000 to fight cancer in dogs! Our members raised nearly $600 of that total.
All walk funds are going toward studies at Morris Animal Foundation aimed at making advances in the detection, prevention and treatment of canine cancer. Morris funds cat cancer studies as well, but this event was focused on dogs.
UC Davis Dog Cancer Clinical Trials for Mast Cell and Osteosarcoma
Thanks to funding from Morris, the UC Davis School of Veterinary Medicine's Oncology Department is making huge strides in the pet cancer fight. At the Morris walk ee were honored to meet two Davis scientists leading the way. Meet Dr. Michael Kent, DVM, MAS, DACVIM, DAVCR and Heather Schrader, MA, RVT, two UC Davis clinical trials team members dedicated to advancing cures for osteosarcoma, mast cell tumors and other pet cancers in dogs and cats.
More details about these UC Davis dog cancer clinical trials are at the UC Davis Veterinary Medicine oncology website.
Lear More About Dog Cancer Clinical Trials
The word "clinical trial" can sound intimidating, but don't let it. These
Save
Save
Save
Save