We hope that our recent #AnimalPainAwarenessMonth articles about Tripawd pain management helped keep this important topic on your mind.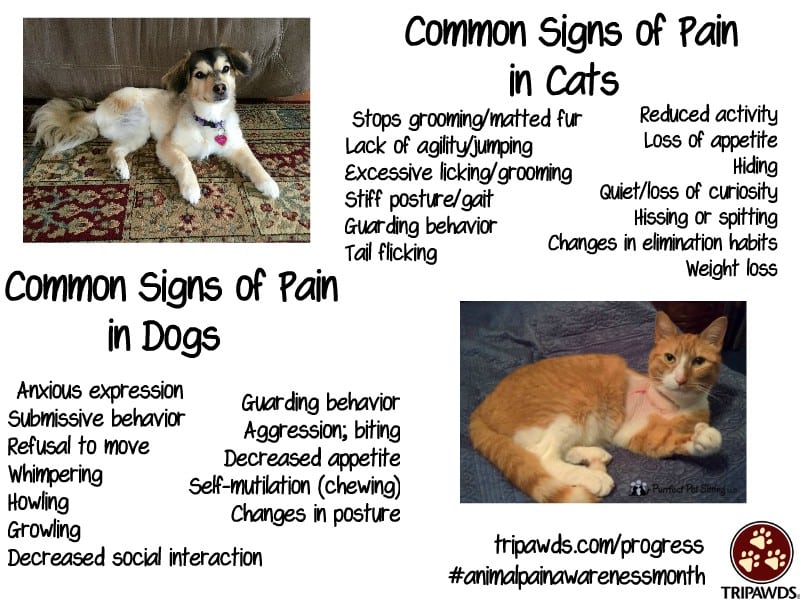 As pet parents it's our responsibility to ensure that our animals don't suffer in silence, and for Tripawd heroes this is even more critical. Amputee pets are more prone to joint and muscle stress, but there's so much you can do to minimize the risk. You can start by reviewing our Best Pain Management Tips for Tripawds (so far)!
Keep the Pain Away with Our Tripawd Pain Management Tips
For both species:
Post-Surgery Pain in Tripawd Dogs and Cats, Part 1
Best Pain Relief Tips for Tripawd Dogs and Cats
Heat and Ice Therapy Tips for Tripawd Cats and Dogs
All About Gabapentin for Tripawd Dogs and Cats
How To Help Your Tripawd's Post-Amputation Recovery Pain
Four Great Post-Amputation Tips for Managing Pain
Easy Massage Tips for Phantom Leg Pain in Tripawd Dogs and Cats
All About Acupuncture for Tripawd Cats, Dogs, Rabbits and Other Pets
Is Your Vet Following Current Pain Management Guidelines?
Can Our Smart Devices Interfere with Our Tripawd's Pain Relief?
Just For Cats:
How to Spot Acute and Chronic Pain Signs in Cats
Tripawd Cats Pain Management Tips and Tricks
Just For Dogs:
How Dogs Show Pain and What You Can Do About It
Orthopedic Health Tips from Colorado State University
For more great pain management tips, explore recent and archived posts in the Tripawds Featured Blogs!