Most of us don't think about preventing joint injuries in our dogs — until we're faced with it. If your Tripawd has lost a leg and you're worried about injury to the other remaining limbs, your concerns are valid; Tripawds are at greater risk of long-term injury than their four-legged counterparts.
Learn How to Prevent Tripawd Joint Injuries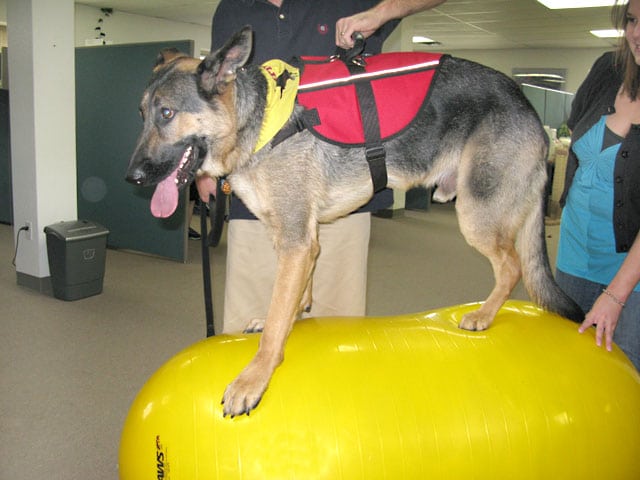 It's up to you to know how to prevent joint injuries in your Tripawd. By watching this three-part video interview series you're taking proactive steps to help keep your Tripawd hero healthy and injury-free. Congratulations!
In this first video, you'll learn:
How amputation affects large dogs
Which dogs adjust better to the loss of a limb
The importance of weight management
Which supplements prevent joint problems
How rehabilitation therapy helps tripawds
As part of our mission to provide tips for keeping Tripawds healthy, we're pleased to bring you orthopedic surgeon Dr. Felix Duerr, DVM, DACVS-SA, DECVS, DACVSMR. Dr. Duerr is a faculty member of Colorado State University Veterinary Teaching Hospital's Small Animal Orthopaedic Surgery department.
Many thanks to Dr. Duerr and his team at Colorado State University for allowing us to film on-site and bring this important information to you. See what Dr. Duerr and his team at the CSU Small-Animal Sports Medicine and Rehabilitation Clinic have been up to in this great article, "Specialists Bring High-Quality Medicine to Orthopaedic Patients."
About Dr. Duerr
Dr. Duerr is the only practicing veterinarian in Colorado that is double boarded by both the American College of Veterinary Surgeons (ACVS) and the American College of Veterinary Sports Medicine and Rehabilitation (ACVSMR).  Dr. Duerr's clinical interests include sports medicine and rehabilitation, cranial cruciate ligament injury, hip dysplasia, elbow dysplasia, minimally invasive surgery (arthroscopy) and arthritis. Current research projects include the development of novel gait analysis techniques, evaluation of new treatment options for arthritis (surgical and non-surgical), and investigation of techniques to enhance bone healing.
Stay tuned for parts 2 and 3 of this Orthopedic Health Tips for Tripawds series.