Many new amputee cats, dogs and humans will experience a condition known as "phantom leg pain." This happens when a person or animal loses a limb but still has the sensation that it's attached to the body.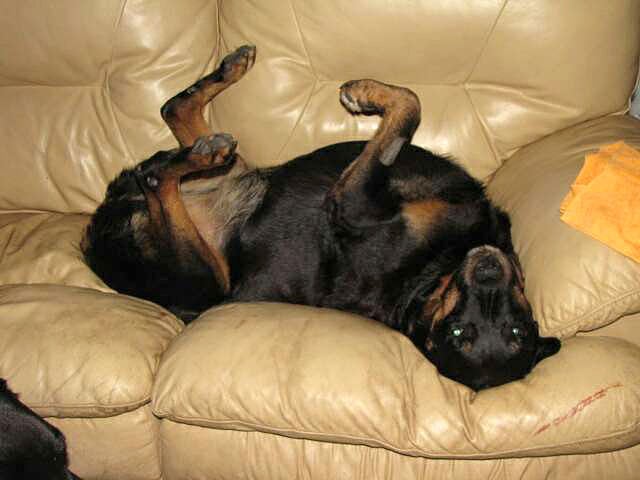 At it's simplest definition, phantom pain happens when the brain gives the missing limb a command to do something, but because the limb is gone, the message "short circuits" and results in a sudden, sharp pain. If your new Tripawd is violently itching, suddenly yelping or crying out, or licking their amputation site, they may be suffering from phantom leg pain.
If you suspect your dog or cat has phantom leg pain, ask your vet about prescribing gabapentin and amantadine which can theoretically help control phantom pain.
Massage is another easy (and free!) step you can do for your new Tripawd. We asked animal massage therapist Wendy Richardson of Pawsitive Hands Canine Massage in Ontario Canada if she could share her expertise with us and she said yes! Here are her massage tips for helping to control phantom pain.

Massage Phantom Limb Pain Away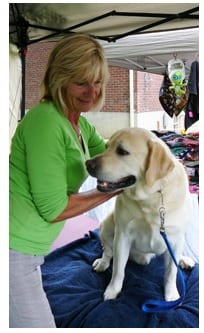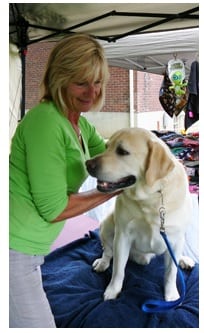 "Here are some tips for managing phantom pain. Please understand that I am not a veterinarian and my role is that of a facilitator, assisting dogs to attain and maintain a natural healthy state.
Massage Therapy manipulates soft tissue to improve the overall health and wellness of your dog. Regular massage will prevent compensatory tension from developing in other muscles. Blood flow to the injured area will assist in the overall healing process. Before you begin, keep these important tips in mind:
When should you begin massage on the stump or incision?
First, you need to understand the stages of surgery recovery, which are as follows:
Acute Stage: the 24 hours following any surgery of procedure.
Sub Acute Stage: 24-72 hours after surgery. Usually the injury/surgery has stabilized.
Chronic Stage: 72 hours after surgery.
Never begin working on the injury site or incision until well into the chronic stage. Check with your veterinarian before proceeding in case there are any contraindications, or complications.
How do you begin the process of massage?
To receive the best results from massage, incorporate it into the pet's regular daily routine. Dogs and cats love routine! If your pet is most relaxed after your morning stroll or after grooming, then this may be the best time. Try not to massage directly after eating perhaps waiting a couple of hours and make sure your pet has relieved him/herself before beginning.
You can choose a morning or evening schedule, you are the judge and just use common sense. If your pet is anxious, wait until they are more relaxed then proceed.
Make sure the room is quiet with no distractions, for you and your dog or cat. Keep other animals out of the room maintaining a quiet environment.
What kind of pressure is used?  What kind of strokes?
You will always start out with very light pressure especially following surgery. Watch for the reactions of your pet. This will be a true indication of your touch.
Start away from the surgery site and always work towards the heart with all your strokes.  Very little pressure is needed. Too much pressure can bruise the muscle fibers without even noticing.
Use a bathroom scale and you will see how little pressure is required to obtain say 1-3 lbs pressure. Try and keep the pressure consistent. Practice on the scale…then on your pet.
Keeping your fingers/hands on the dog or cat at all times will give them a sense of consistency and reassurance that there will be no surprises.  As the pet heals and scar tissue forms more  pressure can be used, but again check with your vet.
Try these massage techniques:
Stroking: Using finger tips or palm of the hand…very light strokes across the animal's back and legs to ground and relax them prior to massage. Approx .5 lb pressure. Always start your massage with stroking.

Effleurage: This is a gliding movement with the palm of your hands. Your thumb never leads the movement, but follows it. Your hands are always in contact with the body, as you repeat the movement. This has a draining effect of the body fluids such as lymph and blood.  One stroke every 2-3 seconds., again working towards the heart.

Petrissage: Consists of many techniques…to help with the circulatory system. It is a deeper massage. Kneading, compression, muscle squeezing and skin rolling to name a few.
Should ice and heat be used?
Closer to the chronic stage (48-72 hours) after surgery, apply heat for 3 minutes and cold for 2 minutes. Follow with a light effleurage (discussed earlier) towards the heart or light stroking if the body is too sensitive.
Beyond 72 hours, use heat to loosen the fibers and increase blood flow to the area. After a massage you can apply some cold to soothe the tender tissue.
Beyond the chronic stage, a walk prior to massage should warm the muscles enough to begin massage. Laying your warm hands on the areas prior to massage is also effective.
Crushed ice can be used, wrapped in a thin towel for the cold application. Heated wet towels are very effective a opposed to dry towels, or a hot water bottle is also effective.
How long should you massage and how frequently?
Working for 15 minutes should be plenty. You may want to start with 5 minutes and work from there. You can overwork an area so be careful. You can massage every day, make a routine of it and your dog or cat will be looking forward to it. It is a wonderful way to connect.!!!
We hope Wendy's tips help your new Tripawd. If you have additional ones of your own, please comment and share. Thanks!
Recommended Reading