"My dog is limping but he's not in pain." We hear that a lot around here, usually from new Tripawds members whose dog is suspected of having a limb cancer. Sadly, the unfortunate truth is that whenever an animal is limping, they hurt. And when that happens, it's up to us to do something about it. This week we are focusing on how dogs show pain as part of Animal Pain Awareness Month.
Ten Ways How Dogs Show Pain (and how to help them)
All animals have non-verbal ways to tell us they hurt. It's our duty to recognize and interpret their pain indicators, then do something to help.
In the article "Is My Dog in Pain?" Dr. Christine New, DVM, of The Texas Veterinary Medical Association (TVMA), explains that the most common way dogs show pain is with these ten non-verbal clues:
Panting
Restlessness/agitation
Reluctance to lie down
Lack of Appetite
Trembling
Sensitivity to touch
Unexplained vocalization
Holding tail in a downward position
Reluctance to move head/neck
Limping
Lip-Smacking
Persistent Licking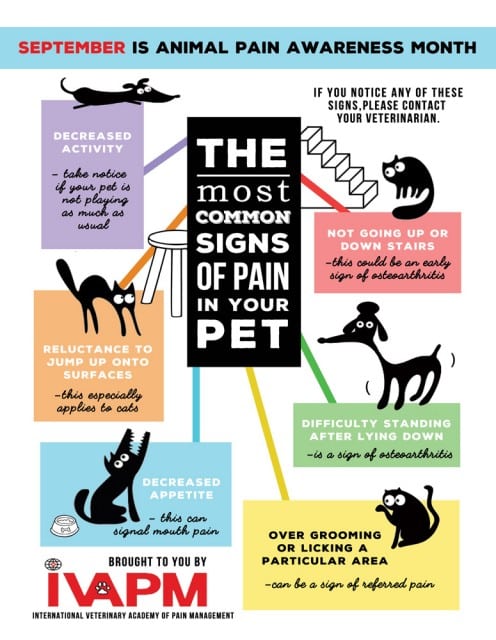 As we discussed last week in "How to Spot Acute and Chronic Pain Signs in Cats," all pain comes in two distinct types:
Chronic, like arthritis aches, and
Acute, which results from injuries and post-surgery pain.
Dogs may give you one or several of pain indicators listed above, but as time goes on and the pain gets worse, limping is one of the most common signals that something is wrong.
"Limping is always a sign of pain, whether the limp is subtle or noticeable," explains Dr. New. The hard part is that for a Tripawd who seems in otherwise good health, pinpointing a limp is tough. Tripawds already have an odd walk, so close attention to their gait is critical.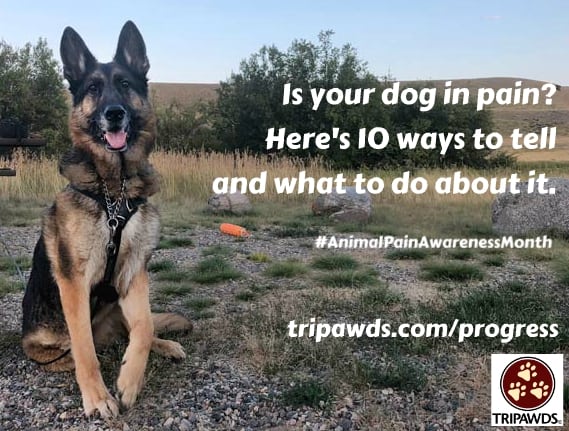 Take Tripawds Spokesdog Wyatt Ray, for example. Lately he's developed a subtle shift in his gait, which started after a short lake swimming session. While getting out of the water, we think he twisted something on the rocky shoreline.
Can you see his odd gait? We had a hard time seeing it, but when we showed this video to the sports medicine team at Colorado State University, his therapist Dr. Sasha Foster could tell something is up, possibly with his tarsus (hock) or his cranial cruciate ligament. We explained that he was hesitating to climb onto our couch (just 22″ off the ground), and when going up steps. Wyatt is seeing Sasha tomorrow, and will keep you posted on what she says.
How to Help a Painful Dog
Meanwhle Dr. New explains that if you suspect your Tripawd is in pain, it's important to let your vet know as soon as possible. "Schedule a same-day appointment with your family veterinarian. If your family's veterinarian is not open, bring your pet to your local veterinary emergency clinic," she urges. And most importantly, never give your pet any pain medications at home without instructions from a veterinarian.
In the meantime, you can also
Tripawd dogs and cats are pre-disposed to chronic arthritis and joint pain more than four-legged pals. As Tripawd pet parents, it's our responsibility to stay on top of all the ways they are trying to tell us they hurt, in order to give them a quality, pain-free life.
Recommended Reading
Best Pain Relief Tips for Tripawd Dogs and Cats
Post-Surgery Pain in Tripawd Dogs and Cats, Part 1
#ItsMyHomeToo Asks How to Arthritis Proof Your Home?
Pain Signs in Cats and Dogs: Learn the Symptoms
Is Your Dog or Cat in Pain? Here's How to Know the Signs.
Read all Tripawds pain management posts.