One cancer diagnosis is tough. Two cancer diagnoses seems unbearable. But to a dog like this one, it was just another way to showcase her strength and courage. Today for our Tripawd Tuesday spotlight, you are going to love the story of Lexi, two time cancer survivor, three year Tripawd and one beautiful ambassador of hope.
Lexi's Legacy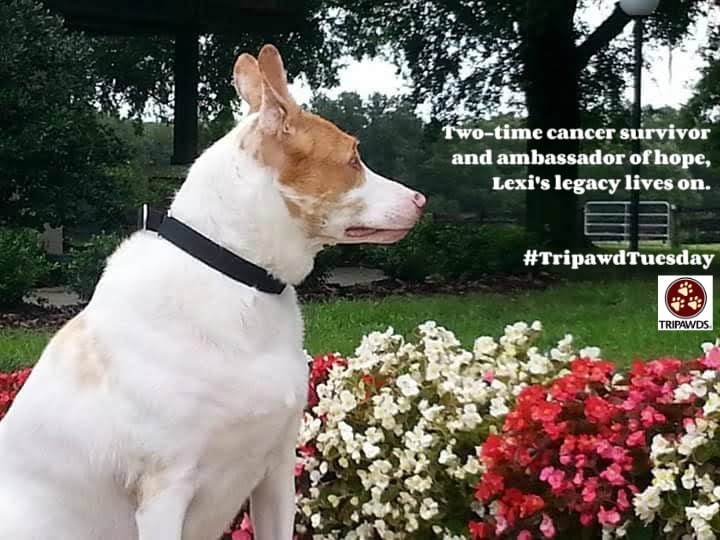 Few humans are made of such extraordinary stuff. She beat the lymphoma odds, lost a leg and then received a mammary cancer diagnosis all within seven years, but Lexi didn't let that stop her from enjoying life. Happy and friendly, she never failed to impress friends and family alike in the RV park where she lived in Florida. Lexi passed away recently but that's not the end of her story according to hear mom, Meri:
To be honest she inspired me. She always made people smile and realize that life is so short and to really live a life of less is more. To get out there and experience life for all it is… after all dogs never ponder the past or fret for the future they live for now.
It's been now almost a month since my Lexi passed and she continues to inspire me. She was my emotional support dog so I lost quite a bit when she left but I want the next pup to keep her story going. The story hasn't ended for her …it's just begun.
I hope I find more opportunities to travel in our new 5th wheel (which thank goodness she was able to make our first of many trips in) and continue her story…her legacy. She changed me forever and I hope she continues to change others view of life in our future meetings.
Read All Tripawd Tuesday Stories
Your Pet Can Star in Tripawd Tuesday
Each Tuesday, Tripawd dogs, cats and other critters from around the world can enter for a chance to be "Tripawd of the Week." Just share your Tripawd's story and you're entered to win! On every Tuesday of the week, tell us about your three-legged hero. Just follow these easy steps:
In a short paragraph or two (or longer if you'd like!), describe your three-legged hero's story.
Include photos or links to videos already uploaded to YouTube.
Include a link to your Tripawds Forum topic and/or Tripawds blog, social media handles, etc.

Email your story and photos

to us.
All entries must be received by Saturday at 11:59 pm. One Tripawd story will be selected at random to be featured the following Tuesday.